Travel Images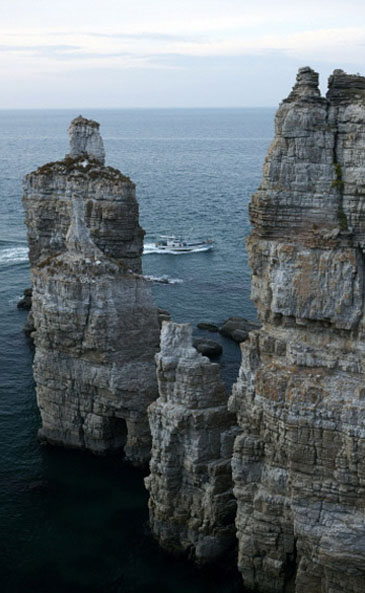 Dumujin (ÔéÙëòÐ)'s Seondaeam (¼±´ë¾Ï) CliffThe majestic beauty of Dumujin (ÔéÙëòÐ)'s Seondaeam (¼±´ë¾Ï in Korean) Cliff attracts the attention of the travelers.

Located in Baengnyeong Island (¹é·Éµµ: ÛÜÖ¿Óö), , 45.8-sq. km island, closer to North Korean coast than South Korea, Dumujin's Seondaeam is one of the most frequently visited islands.

Dumujin is designated as nation's No. 8 natural beauty, and the most beautiful place on the Baengnyeong Island.

Dumujin (ÔéÙëòÐ) is named after the shape of two military generals having a meeting head to head. It literally means "two generals' port."

Baengnyeong Island (sometimes spelled Baekryeong; ¹é·Éµµ in Korean) is a 45.8-square-kilometre (17.7 sq mi) island in Ongjin County, Incheon, South Korea, located near the Northern Limit Line, which is the maritime demarcation between North and South Korea.

It has a population of approximately 4,329, according Wikipedia.

The meaning of its name is "white wing island (ÛÜÖ¿Óö)," since the island resembles an Ibis flying with the wings spread.

Given its proximity to North Korea, it has served as a base for intelligence activity by the R.O.K.

Numerous North Korean defectors have also boated here to escape economic and political conditions in their homeland. In the recent past there have been several naval skirmishes between the two countries in the area.
ST Photo Gallery
Photo News
Embassy Events
Econo People 2005
Fashion Images
New Movies
Travel Images
Nayan Sthankiya's Photo Features New
Abuses of Iraqi Prisoners of War
Academy Awards Photos 2004
Adolf Hitler
Aishwarya Rai-Indian actress
Buddha`s Birthday 2004
Cannes 2004 — 57th Cannes Film Festival
Choi Tae-Ji Photo Gallery
Comfort Woman Picture Gallery
Crown Prince Felipe of Spain
Dokdo Photo Gallery
Erotic Paintings of Hyewon and Danwon
Franz`s Art Exhibition
Gando Photo Gallery
Geisha in Japan
Gwangju Massacre
Jeju Island
Kim Jong-Il and Kim Il-Sung
Koguryo Murals
Korean War (1950-53)
Madonna
Miss Universe 2004
Miss World Contest 2003
Mt. Kumkang or Mt. Diamond New
Natural Beauty of Korea
Rape of Nanjing (Nanjing Massacre)
Rio Carnival 2004
Ronald Reagan`s Life in Pictures
ST Family
Sonia Gandhi and Gandhi Clan
Taj Mahal Photo Gallery
Ukrainian Embassy
World War Two
Photo Gallery of World Newspapers/Media
Times of India
Hindustan Times
SantaBanta.com
Straights Times (Singapore)
Chicago Sun-Times
Moscow Times