Travel Images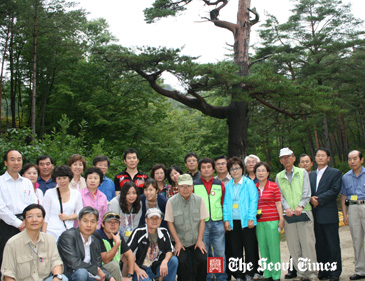 Journalists, Tour Agents Visit Hahoe Village in AndongLocal Journalists, tour operators pose for the camera under the 500-year-old Diamond Pine Tree in Sogwangri, Seomyon, Uljin County in North Gyeongsang Province on Sept. 24, 2008. Native to Korea, the Diamond Pine Tree is dubbed "King of the Pine Tree."

Scores of local travel writers and tour operators took part in the trip to the remote area of North Gyeongsang Province on Sept. 23-24, 2008.

On a locally called "fam (familiarization) tour" organized by the provincial government, they visited a series of famous tourist spots in the province.

They places they visited included the traditional village of Andong Hahoe Village, Byeongsan Seowon, an Andong-based private college of Jeoseon Dynast (1392-1910), the scenic beauty of Bulyoung Valley in Uljin County , and the Diamond Pine Forest in Uljin County.
ST Photo Gallery
Photo News
Embassy Events
Econo People 2005
Fashion Images
New Movies
Travel Images
Nayan Sthankiya's Photo Features New
Abuses of Iraqi Prisoners of War
Academy Awards Photos 2004
Adolf Hitler
Aishwarya Rai-Indian actress
Buddha`s Birthday 2004
Cannes 2004 — 57th Cannes Film Festival
Choi Tae-Ji Photo Gallery
Comfort Woman Picture Gallery
Crown Prince Felipe of Spain
Dokdo Photo Gallery
Erotic Paintings of Hyewon and Danwon
Franz`s Art Exhibition
Gando Photo Gallery
Geisha in Japan
Gwangju Massacre
Jeju Island
Kim Jong-Il and Kim Il-Sung
Koguryo Murals
Korean War (1950-53)
Madonna
Miss Universe 2004
Miss World Contest 2003
Mt. Kumkang or Mt. Diamond New
Natural Beauty of Korea
Rape of Nanjing (Nanjing Massacre)
Rio Carnival 2004
Ronald Reagan`s Life in Pictures
ST Family
Sonia Gandhi and Gandhi Clan
Taj Mahal Photo Gallery
Ukrainian Embassy
World War Two
Photo Gallery of World Newspapers/Media
Times of India
Hindustan Times
SantaBanta.com
Straights Times (Singapore)
Chicago Sun-Times
Moscow Times