Travel Images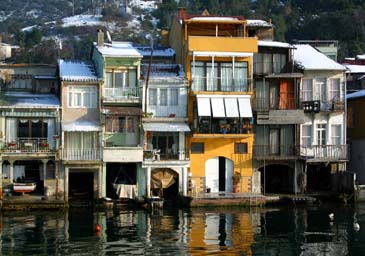 Anadolu Kavagi in TurkeyAnadolu Kavagi (Anatolian Poplar) is the last port of Turkish maritime city lines on the Anatolian side. You may feel at home with the familiar groups surrounding you, since foreigners are far more than the local people. Everyday ferries sailing off from Eminönü port bring groups here and than takes them back in the afternoon.
The restaurants around the small square generate most of the income of the village. Most of these restaurants are named after sea, such as Yosun (Seaweed), Altın Balık (Golden Fish), Sahil (Seaside) and Mercan (Coral). We suggest you to try one of them and enjoy the fresh fish and the splendid panorama. There are also several cafes for those who want to have a cup of tea or coffee
Yoros Castle is one of the places that should be seen. In fact you have to walk a little more to reach this castle, however you sure will be fascinated by the view once there. Anadolu Kavağı is also famous with its grape yards.
ST Photo Gallery
Photo News
Embassy Events
Econo People 2005
Fashion Images
New Movies
Travel Images
Nayan Sthankiya's Photo Features New
Abuses of Iraqi Prisoners of War
Academy Awards Photos 2004
Adolf Hitler
Aishwarya Rai-Indian actress
Buddha`s Birthday 2004
Cannes 2004 — 57th Cannes Film Festival
Choi Tae-Ji Photo Gallery
Comfort Woman Picture Gallery
Crown Prince Felipe of Spain
Dokdo Photo Gallery
Erotic Paintings of Hyewon and Danwon
Franz`s Art Exhibition
Gando Photo Gallery
Geisha in Japan
Gwangju Massacre
Jeju Island
Kim Jong-Il and Kim Il-Sung
Koguryo Murals
Korean War (1950-53)
Madonna
Miss Universe 2004
Miss World Contest 2003
Mt. Kumkang or Mt. Diamond New
Natural Beauty of Korea
Rape of Nanjing (Nanjing Massacre)
Rio Carnival 2004
Ronald Reagan`s Life in Pictures
ST Family
Sonia Gandhi and Gandhi Clan
Taj Mahal Photo Gallery
Ukrainian Embassy
World War Two
Photo Gallery of World Newspapers/Media
Times of India
Hindustan Times
SantaBanta.com
Straights Times (Singapore)
Chicago Sun-Times
Moscow Times