ST Family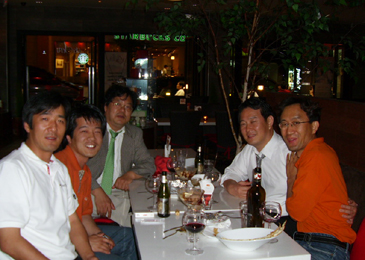 BuonItalia "Members" Invited at "Star Sera" for DinnerSouth Korean members of BuonItalia gathered at an Italian restaurant, "Sta Sera" in the posh Apkujong-dong, Gangnam-gu, Seoul on May 31, 2007.

KTS Senior Manager Shin Hyun-Shik, President Jung Boo-In (Ben Jung) of Italimenti Inc., Italimenti Manager Wou Jai-Ha (Gerald Woo), and Manager Cha Yong-Nam of Forward GFG(Global Fashion & Food), and Managing Editor Joseph Joh attended the gettogether for dinner and drinking.

Manager Cha treated the participants with dinner at "Sta Sera." After dinner at Sta Sera the members moved to a café near Gangnam Severance Hospital and drank Western liquor and beer thanks to the generosity of Senior Manager Shin until 1 p.m. President Jung suggested another around but it was already too late.

Over dinking, members talked about the trip to Italy back in April.
Along with other businessmen and journalists they made an observation tour of Italian food industries April 11-18, 2007. The educational tour was organized by Buonitalia, the Italian company established by the Ministry for Agricultural Food and Forestry Policies.

They said that they would attend the Italian National Day reception to be held at the Italian Ambassador's residence at 6 p.m. on June 4 (Monday), 2007.

For details or inquiries please contact Gerald Woo at 019-373-6462 or Mr. Cha at 011-469-1124.
ST Photo Gallery
Photo News
Embassy Events
Econo People 2005
Fashion Images
New Movies
Travel Images
Nayan Sthankiya's Photo Features New
Abuses of Iraqi Prisoners of War
Academy Awards Photos 2004
Adolf Hitler
Aishwarya Rai-Indian actress
Buddha`s Birthday 2004
Cannes 2004 — 57th Cannes Film Festival
Choi Tae-Ji Photo Gallery
Comfort Woman Picture Gallery
Crown Prince Felipe of Spain
Dokdo Photo Gallery
Erotic Paintings of Hyewon and Danwon
Franz`s Art Exhibition
Gando Photo Gallery
Geisha in Japan
Gwangju Massacre
Jeju Island
Kim Jong-Il and Kim Il-Sung
Koguryo Murals
Korean War (1950-53)
Madonna
Miss Universe 2004
Miss World Contest 2003
Mt. Kumkang or Mt. Diamond New
Natural Beauty of Korea
Rape of Nanjing (Nanjing Massacre)
Rio Carnival 2004
Ronald Reagan`s Life in Pictures
ST Family
Sonia Gandhi and Gandhi Clan
Taj Mahal Photo Gallery
Ukrainian Embassy
World War Two
Photo Gallery of World Newspapers/Media
Times of India
Hindustan Times
SantaBanta.com
Straights Times (Singapore)
Chicago Sun-Times
Moscow Times