Photo News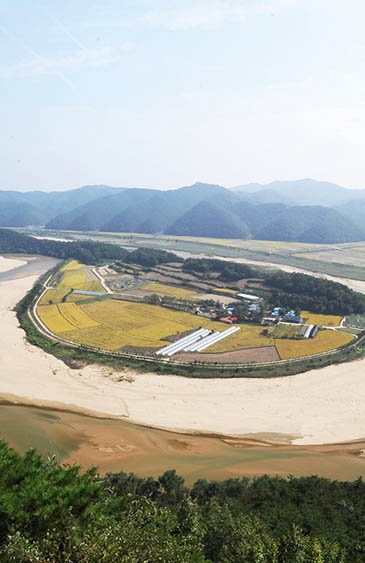 Village of Hoeryongpo (Serpentine Dragon) in YechoenRice fields are turning yellow as the rice ripens in the village that looks like an island in the middle of the river at Hoeryongpo (üÞ×£øÝ) in Yonggungmyeon (éÌÏàØü) in Yeocheongun, North Gyeongsang Province, South Korea in mid-October in 2017.

The fantastic photo was taken from top of the Mt. Biryong (ޫףߣ) or Mountain of Flying Dragon overlooking the picturesque farming village by which a small river or stream called Naeseongcheon twists and turns along its serpentine paths.

The stream runs through a number of small villages before it reaches Nakdong River (Õ¦ÔÔË°), which runs into the seas via the port city of Busan. Nakdong River is the longest river in South Korea.

Legends say that the village of Hoeryongpo (üÞ×£øÝ) was the earthly paradise as it literally means the Port of Serpentine Dragon.

Nearby area is still called Yonggungmyeon (éÌÏàØü), the Area of Dragon Palace, meaning Shangri La of Undersea Palace. The place is full of beautiful ponds dubbed ponds of dragon head or flying dragons.

Nearly unapproachable Hoeryongpo was used as a safe shelter for the refugees fleeing from the invading Communists during the Korean War (1950-53). It was also used as a place for political prisoners during the ancient Jeoseon Dynasty.
ST Photo Gallery
Photo News
Embassy Events
Econo People 2005
Fashion Images
New Movies
Travel Images
Nayan Sthankiya's Photo Features New
Abuses of Iraqi Prisoners of War
Academy Awards Photos 2004
Adolf Hitler
Aishwarya Rai-Indian actress
Buddha`s Birthday 2004
Cannes 2004 — 57th Cannes Film Festival
Choi Tae-Ji Photo Gallery
Comfort Woman Picture Gallery
Crown Prince Felipe of Spain
Dokdo Photo Gallery
Erotic Paintings of Hyewon and Danwon
Franz`s Art Exhibition
Gando Photo Gallery
Geisha in Japan
Gwangju Massacre
Jeju Island
Kim Jong-Il and Kim Il-Sung
Koguryo Murals
Korean War (1950-53)
Madonna
Miss Universe 2004
Miss World Contest 2003
Mt. Kumkang or Mt. Diamond New
Natural Beauty of Korea
Rape of Nanjing (Nanjing Massacre)
Rio Carnival 2004
Ronald Reagan`s Life in Pictures
ST Family
Sonia Gandhi and Gandhi Clan
Taj Mahal Photo Gallery
Ukrainian Embassy
World War Two
Photo Gallery of World Newspapers/Media
Times of India
Hindustan Times
SantaBanta.com
Straights Times (Singapore)
Chicago Sun-Times
Moscow Times