Photo News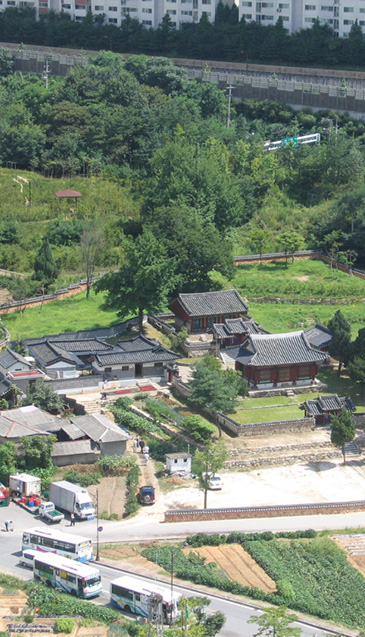 Shimgok Seowon (ä¢ÍÛßöêÂ) in YonginSurrounded by the high-rise apartment buildings in Yongin south of Seoul, stand Shimgok Seowon (ä¢ÍÛßöêÂ), a private educational institution and local shrine for famous Confucian scholars of Jeoseon Dynast (1392-1897) of Korea.

The provincial private institution of higher learning also functioned as a shrine for the highly respected Confucian scholar Jeongam (ð¡äÝ) Cho Gwangjo (ðáÎÃðÓ:1482-1519) who served as a high-level government official including a post of minister.

The reform-minded was killed by his political rivals for a series of his drastic policies directed at the conservative court officials. Later Cho Gwangjo was revered as the symbol of exemplary Confucian scholar among the people.

Shimgok Seowon is located at Shanghyeon-dong, Suji-gu, Yongin City in Gyeonggi Province. It was originally built in 1649.

Seowon (ßöêÂ), literally library or printing house, is one of the 47 seowons survived from the harsh crackdown by Daewongun, father of King Gojong around the end of Jeoseon Dynasty.

During the time as many as 1,000 seowons in the country were forcibly closed by Daewongun fro they were the sources of political rivalry and corruptions among the local scholars and clans.

Seowons blossomed during the middle of Jeonseon Dynasty, multiflying in its number during mid-Jeoseon Dynasty and thereafter on the strength of state religion of Confucianism officially adopted by Jeoson as its governing ideology.

At its peak the number of seowon reached over 1,200 around the country in 17th century.

Currently, there are a total of 648 seowons scattered around the country in South Korea.
ST Photo Gallery
Photo News
Embassy Events
Econo People 2005
Fashion Images
New Movies
Travel Images
Nayan Sthankiya's Photo Features New
Abuses of Iraqi Prisoners of War
Academy Awards Photos 2004
Adolf Hitler
Aishwarya Rai-Indian actress
Buddha`s Birthday 2004
Cannes 2004 — 57th Cannes Film Festival
Choi Tae-Ji Photo Gallery
Comfort Woman Picture Gallery
Crown Prince Felipe of Spain
Dokdo Photo Gallery
Erotic Paintings of Hyewon and Danwon
Franz`s Art Exhibition
Gando Photo Gallery
Geisha in Japan
Gwangju Massacre
Jeju Island
Kim Jong-Il and Kim Il-Sung
Koguryo Murals
Korean War (1950-53)
Madonna
Miss Universe 2004
Miss World Contest 2003
Mt. Kumkang or Mt. Diamond New
Natural Beauty of Korea
Rape of Nanjing (Nanjing Massacre)
Rio Carnival 2004
Ronald Reagan`s Life in Pictures
ST Family
Sonia Gandhi and Gandhi Clan
Taj Mahal Photo Gallery
Ukrainian Embassy
World War Two
Photo Gallery of World Newspapers/Media
Times of India
Hindustan Times
SantaBanta.com
Straights Times (Singapore)
Chicago Sun-Times
Moscow Times