Photo News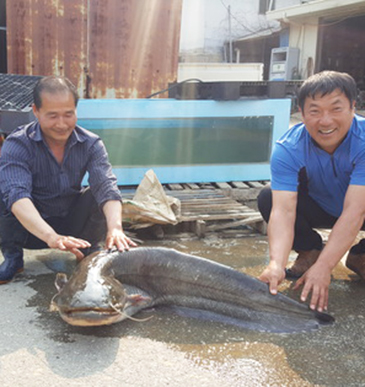 Monster Catfish Caught in S. KoreaA monster catfish was caught by a fishing net cast by the two local fishermen in South Korea's Cheongyang on April 27, 2018, local news media reported recently.

The 135-cm and 38-kg catfish was netted in the Geumgang River at Gamagol, Hwangyang-ri, Mokmyon in South Chungcheong Province's Cheongyang County on the day.

It is one of the largest catfish caught recently in South Korea. Massive catfishes are often found in the rivers of South Korea.

"I spent the whole 70 years of my life around this Geumgang River area, and this is the first time to catch this huger fish," the fisherman Bang Ho-Gyeong was quoted as saying. "It was caught by me while it was moving to the spawning ground in the shallow water to lay their eggs"

Normally, the spawning season for catfish here in Korea is known between May and June. Catfish are known to favor the bottom areas of the pond or the river where the water flow is slow.

Nocturnal catfish prey on small victims including crustaceans and aquatic insects.

"I believe the big catfish is the result of our refraining from using pesticide in farming," Bang added. Bang is the village chief.
ST Photo Gallery
Photo News
Embassy Events
Econo People 2005
Fashion Images
New Movies
Travel Images
Nayan Sthankiya's Photo Features New
Abuses of Iraqi Prisoners of War
Academy Awards Photos 2004
Adolf Hitler
Aishwarya Rai-Indian actress
Buddha`s Birthday 2004
Cannes 2004 — 57th Cannes Film Festival
Choi Tae-Ji Photo Gallery
Comfort Woman Picture Gallery
Crown Prince Felipe of Spain
Dokdo Photo Gallery
Erotic Paintings of Hyewon and Danwon
Franz`s Art Exhibition
Gando Photo Gallery
Geisha in Japan
Gwangju Massacre
Jeju Island
Kim Jong-Il and Kim Il-Sung
Koguryo Murals
Korean War (1950-53)
Madonna
Miss Universe 2004
Miss World Contest 2003
Mt. Kumkang or Mt. Diamond New
Natural Beauty of Korea
Rape of Nanjing (Nanjing Massacre)
Rio Carnival 2004
Ronald Reagan`s Life in Pictures
ST Family
Sonia Gandhi and Gandhi Clan
Taj Mahal Photo Gallery
Ukrainian Embassy
World War Two
Photo Gallery of World Newspapers/Media
Times of India
Hindustan Times
SantaBanta.com
Straights Times (Singapore)
Chicago Sun-Times
Moscow Times