Photo News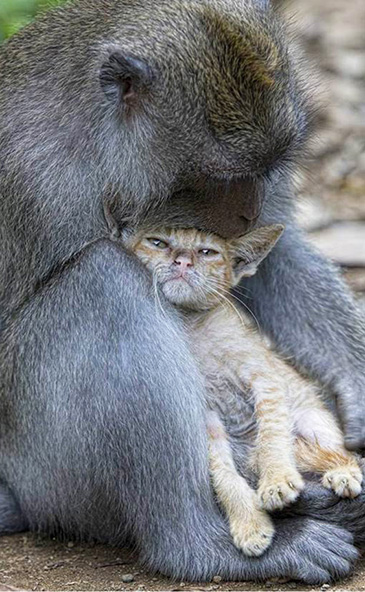 Monkey Hugging A kitten in Indonesian ForestWhat do you imagine when you think of "the wild?" Animal instincts? A beautiful symbiosis of life and death where animals kill to eat? It's phenomenal how breathtaking the wild can be, even when a shark is about to devour a bird.

Many of us may think of a jungle as having ferocious animals doing what they need to do to survive, ruthless. But do you picture a monkey taking in a different species as a friend, caring for a cat in the middle of the jungle?

Believe it! These photos show an absolutely adorable relationship. A young, long-tailed macaque monkey has been spotted cradling a ginger kitten in an Indonesian forest.

Amateur wildlife photographer, Anne Young, was visiting the Monkey Forest Park in the Ubud region of Bali when she stumbled upon these two. Can you imagine walking up to this sight in person?

The little ginger cat must be pretty popular among those monkeys. Here they are, just chillin' together.

Looks like this monkey has become the official protector of this cat, cradling him as if he were a baby.

"Do it. Just try to mess with me and my little friend! I dare you!"

We would not dare to give them any trouble! How sweet it is to see this inter-species relationship, where a monkey still recognizes a different being as sentient one.

Macaques are the most widespread genus of primate on the planet besides humans. When you look at these photos, it's easy to see the similarities between our species. We both want companionship and to care for others. We find friendship in the most unlikely beings.

We fall in love without plan, and we can set aside those animal instincts to just sit back, relax and savor what's really important. Us humans can learn a lot from this (like the importance of caring for all living things equally), and we hope these two continue to be very good friends!
ST Photo Gallery
Photo News
Embassy Events
Econo People 2005
Fashion Images
New Movies
Travel Images
Nayan Sthankiya's Photo Features New
Abuses of Iraqi Prisoners of War
Academy Awards Photos 2004
Adolf Hitler
Aishwarya Rai-Indian actress
Buddha`s Birthday 2004
Cannes 2004 — 57th Cannes Film Festival
Choi Tae-Ji Photo Gallery
Comfort Woman Picture Gallery
Crown Prince Felipe of Spain
Dokdo Photo Gallery
Erotic Paintings of Hyewon and Danwon
Franz`s Art Exhibition
Gando Photo Gallery
Geisha in Japan
Gwangju Massacre
Jeju Island
Kim Jong-Il and Kim Il-Sung
Koguryo Murals
Korean War (1950-53)
Madonna
Miss Universe 2004
Miss World Contest 2003
Mt. Kumkang or Mt. Diamond New
Natural Beauty of Korea
Rape of Nanjing (Nanjing Massacre)
Rio Carnival 2004
Ronald Reagan`s Life in Pictures
ST Family
Sonia Gandhi and Gandhi Clan
Taj Mahal Photo Gallery
Ukrainian Embassy
World War Two
Photo Gallery of World Newspapers/Media
Times of India
Hindustan Times
SantaBanta.com
Straights Times (Singapore)
Chicago Sun-Times
Moscow Times