Photo News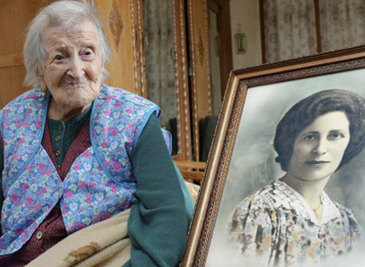 World's Oldest Person Says She "Thinks Positively" in Addition to Her Genetic Longevity116-Year-Old Italian Woman Emma Morano Eats 3 Raw Eggs Daily, Enjoys Homemade Brandy, Chocolate

The world's oldest living person Emma Morano Martinuzzi (born on Nov. 29, 1899) is an Italian supercentenarian at the age of 116 years. She is the the last verified living person to have been born in the 1800s.

She is the oldest verified Italian person ever, the second oldest person from Europe ever behind Jeanne Calment and one of the ten verified oldest people ever.

Her personal doctor, Dr. Bava, said that Emma has never had a very balanced diet, relying mostly on animal protein, the occasional banana and grapes in season.

Her diet now includes two raw eggs and 100g of raw steak a day, which Dr. Bava prescribed after she had a bout of anaemia some years back. Her nieces also make her apple sauce.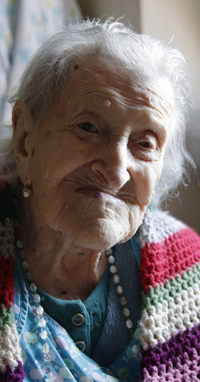 Emma Morano at age 116



Italy is known for its centenarians. Many of them reside on the Mediterranean island of Sardinia.

Gerontologists at the University of Milan are studying Emma and a handful of other Italians over 105 in their effort to figure out why they enjoy such a longevity.

Dr. Bava, who visits her every Friday, is convinced that there is a genetic component to Emma's longevity as well as her positive attitude. One of Emma's sisters lived over 100 and her another sister lived nearly 100.

She has been in stable health for years, Dr. Bava explained. She had no chronic ailments.

"Her longevity is a genetic fact, nothing else," Dr. Bava went on. "She is a person who from a young age had a difficult life that would have sapped the energy out of anyone."

He explained that Emma's husband beat her and she lost an infant son to cot death at six months. Emma had to support herself with working in a factory, manufacturing jute bags. Later she worked at a hotel. She kept working well over her retirement age.

"She abandoned the husband in the Fascist era, when women were supposed to be submissive," her doctor added. "She was always very decisive."

Dr. Bava has been taking care of Emma since she was 90. He praised her emotional stability.

"She is always a very serene. The beauty of Emma is that it is normal that she smiles, but also in difficulties, she is very decisive," he continued. "But perhaps this tranquillity comes with age, which becomes wisdom. Who knows?"

"I sang in my house, and people on the road stopped to hear me singing. And then they had to run, because they were late and should go to work," Emma recalled in an interview last summer, before breaking into a round of the 1930s Italian love song Parlami d'amore Mariu.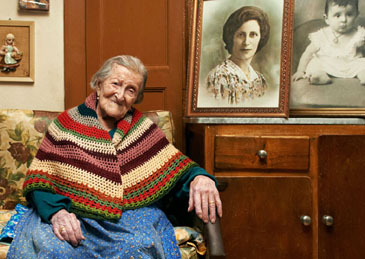 116-Year-Old Italian woman Emma Morano at home in Italy



"Ahh, I don't have my voice any more," she lamented.

The Gerontology Research Group has confirmed the ages of dozens of living supercentenarians, those who are 110 and older.

Nearly all are women, and most are located in North America, Europe, and Japan, where proof-of-age records are more readily available.

Emma (Martina Luigia) Morano was born on Nov. 29, 1899 in Civiasco, Vercelli, Piedmont, Italy, to Giovanni Morano and Matilde Bresciani. She was the eldest of eight children: five daughters and three sons.

Emma had a long-lived family: her mother, an aunt and some of her siblings turned 90, and one of her sisters, Angela Morano (1908–2011), died at age 102.

When she was a child, she moved from the Sesia Valley to Ossola for her father's job, but the climate was so unhealthy there that a physician advised her family to live somewhere with a milder climate.

So Emma moved to Pallanza, on Lake Maggiore, where she still lives. In October 1926, she married Giovanni Martinuzzi (1901–1978), and in 1937 her only child was born but died when he was only six months old.

The marriage was not happy, so in 1938 Morano separated from her husband, driving him out of the house; despite the couple's separation, they remained married until his death in 1978.

Until 1954, she was a worker for the Maioni Industry, a jute factory in her town. Then she had another job, in the kitchen of "Collegio Santa Maria," a Marianist boarding school in Pallanza, until she was 75, when she retired.

Morano was still living alone in her home on her 115th birthday. When asked about the secret of her longevity, she said that she had never used drugs, eats three eggs a day, drinks a glass of homemade brandy, and savors a chocolate sometimes, but, above all, she thinks positively about the future.

Morano credits her long life to her diet of raw eggs and being single.

In 2011, Morano was visited as part of a worldwide study conducted by George Church for Harvard Medical School of Boston, to study the secret of her longevity.

In December 2011, she was awarded the honor of Knight of Order of Merit of the Italian Republic by President Giorgio Napolitano.

Morano became the oldest living person in Italy and Europe after the death of Maria Redaelli on Apirl 2, 2013.

On the occasion of her 114th birthday, she gave a short live TV interview to a RAI show. On her 116th birthday, Morano received congratulations from Pope Francis.

On May 12, 2016, upon the death of American woman Susannah Mushatt Jones, Morano became the world's oldest living person and also the last verified living person born in the 1800s.
ST Photo Gallery
Photo News
Embassy Events
Econo People 2005
Fashion Images
New Movies
Travel Images
Nayan Sthankiya's Photo Features New
Abuses of Iraqi Prisoners of War
Academy Awards Photos 2004
Adolf Hitler
Aishwarya Rai-Indian actress
Buddha`s Birthday 2004
Cannes 2004 — 57th Cannes Film Festival
Choi Tae-Ji Photo Gallery
Comfort Woman Picture Gallery
Crown Prince Felipe of Spain
Dokdo Photo Gallery
Erotic Paintings of Hyewon and Danwon
Franz`s Art Exhibition
Gando Photo Gallery
Geisha in Japan
Gwangju Massacre
Jeju Island
Kim Jong-Il and Kim Il-Sung
Koguryo Murals
Korean War (1950-53)
Madonna
Miss Universe 2004
Miss World Contest 2003
Mt. Kumkang or Mt. Diamond New
Natural Beauty of Korea
Rape of Nanjing (Nanjing Massacre)
Rio Carnival 2004
Ronald Reagan`s Life in Pictures
ST Family
Sonia Gandhi and Gandhi Clan
Taj Mahal Photo Gallery
Ukrainian Embassy
World War Two
Photo Gallery of World Newspapers/Media
Times of India
Hindustan Times
SantaBanta.com
Straights Times (Singapore)
Chicago Sun-Times
Moscow Times