Photo News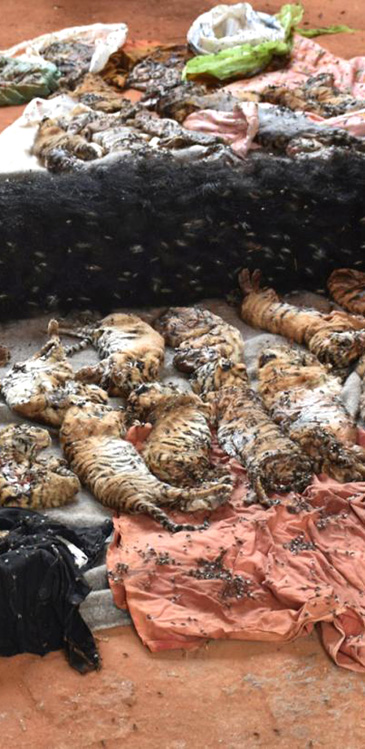 40 dead tiger cubs found in freezer at Thai templeA Thai official holds up one of the dead cubs at a Buddhist temple in Thailand, surprising a number of animal lovers around the world.

As many as 40 dead tiger cubs have recently been found in a freezer at a controversial Buddhist temple in Thailand.

The gruesome discovery was made after the country's infamous Tiger Temple was raided by wildlife authorities.

The monastery in Kanchanaburi province is being investigated over claims of animal abuse and illegal wildlife trafficking.

It is famed for having 137 tigers and has become a popular tourist attraction, with many westerners paying to take selfies with bottle-fed cubs.

The 40 carcasses were found in a freezer in a kitchen area, said Adisorn Nuchdamrong, deputy director-general of the Department of National Parks.

"They must be of some value for the temple to keep them," he said. "But for what is beyond me."

Officials have so far moved 52 live tigers from the temple since Monday, leaving 85 still there.

They are being tranquilized and transported as part of a massive operation involving hundreds of government officials and dozens of vets.

Animal rights activists have long accused the temple of mistreating the tigers. The government suspects the monks have been involved in illegal breeding and trafficking of the animals.

The People for the Ethical Treatment of Animals group says the temple is "hell for animals" and has called on tourists to stop visiting animal attractions at home and abroad.
ST Photo Gallery
Photo News
Embassy Events
Econo People 2005
Fashion Images
New Movies
Travel Images
Nayan Sthankiya's Photo Features New
Abuses of Iraqi Prisoners of War
Academy Awards Photos 2004
Adolf Hitler
Aishwarya Rai-Indian actress
Buddha`s Birthday 2004
Cannes 2004 — 57th Cannes Film Festival
Choi Tae-Ji Photo Gallery
Comfort Woman Picture Gallery
Crown Prince Felipe of Spain
Dokdo Photo Gallery
Erotic Paintings of Hyewon and Danwon
Franz`s Art Exhibition
Gando Photo Gallery
Geisha in Japan
Gwangju Massacre
Jeju Island
Kim Jong-Il and Kim Il-Sung
Koguryo Murals
Korean War (1950-53)
Madonna
Miss Universe 2004
Miss World Contest 2003
Mt. Kumkang or Mt. Diamond New
Natural Beauty of Korea
Rape of Nanjing (Nanjing Massacre)
Rio Carnival 2004
Ronald Reagan`s Life in Pictures
ST Family
Sonia Gandhi and Gandhi Clan
Taj Mahal Photo Gallery
Ukrainian Embassy
World War Two
Photo Gallery of World Newspapers/Media
Times of India
Hindustan Times
SantaBanta.com
Straights Times (Singapore)
Chicago Sun-Times
Moscow Times