Photo News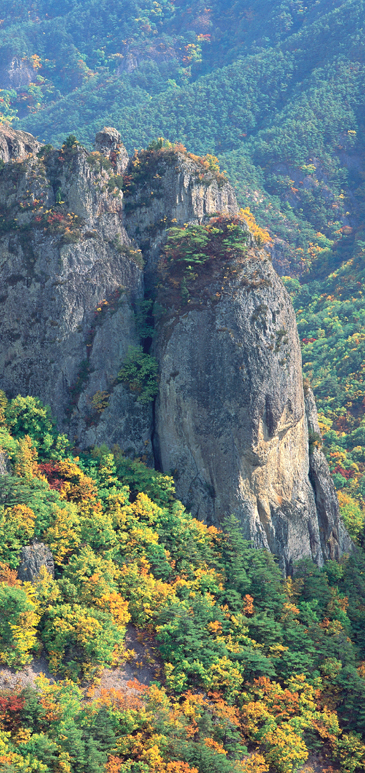 Autumnal Beauty of Mt. Juwang in S. KoreaAutumn deepens on the huge rocks of Mt. Juwang or Juwangsan (ñ²èÝߣ) in South Korea's Cheongsong County around the end of October of 2016.

The beautiful mountain is 720 meters above the sea level. It is located in Juwangsan National Park (ñ²èÝߣÏÐØ¡Íëê®) in North Gyeongsang Province. It is part of the Taebaek mountain range.

Designated the 12th national park in South Korea in 1976, the mountain spreads over some 107 sq. kms. There are about 90 plant species and some 900 animal species.

The other peaks and mountains within the national park — Taehaengsan (933m), Daedunsan (905m), Myeongdongjae (875m), and Wanggeoam (907m) — are all inter connected in a horseshoe shape.

All together they are creating a beautiful mountain scenery as if they are natural fortresses.

Geologically, the lava flows of 70 million years ago made a round formation of ignimbrites, or volcanic tuffs, which shows how this unique and beautiful scenery was created.

Juwangsan has been well-known as the best scenic spot in North Gyeongsang Province and regarded as one of the top three rocky mountains in South Korea thanks.

According to a local legend, in the late Tongilsilla Dynasty, the rebel Judo, who called himself Juwang (King of Zhou) attempted a coup against Tang Dynasty of China and fled to this mountain.

Thereafter local people started to call the mountain Juwangsan, namely the Mountain of King Ju.
ST Photo Gallery
Photo News
Embassy Events
Econo People 2005
Fashion Images
New Movies
Travel Images
Nayan Sthankiya's Photo Features New
Abuses of Iraqi Prisoners of War
Academy Awards Photos 2004
Adolf Hitler
Aishwarya Rai-Indian actress
Buddha`s Birthday 2004
Cannes 2004 — 57th Cannes Film Festival
Choi Tae-Ji Photo Gallery
Comfort Woman Picture Gallery
Crown Prince Felipe of Spain
Dokdo Photo Gallery
Erotic Paintings of Hyewon and Danwon
Franz`s Art Exhibition
Gando Photo Gallery
Geisha in Japan
Gwangju Massacre
Jeju Island
Kim Jong-Il and Kim Il-Sung
Koguryo Murals
Korean War (1950-53)
Madonna
Miss Universe 2004
Miss World Contest 2003
Mt. Kumkang or Mt. Diamond New
Natural Beauty of Korea
Rape of Nanjing (Nanjing Massacre)
Rio Carnival 2004
Ronald Reagan`s Life in Pictures
ST Family
Sonia Gandhi and Gandhi Clan
Taj Mahal Photo Gallery
Ukrainian Embassy
World War Two
Photo Gallery of World Newspapers/Media
Times of India
Hindustan Times
SantaBanta.com
Straights Times (Singapore)
Chicago Sun-Times
Moscow Times