Photo News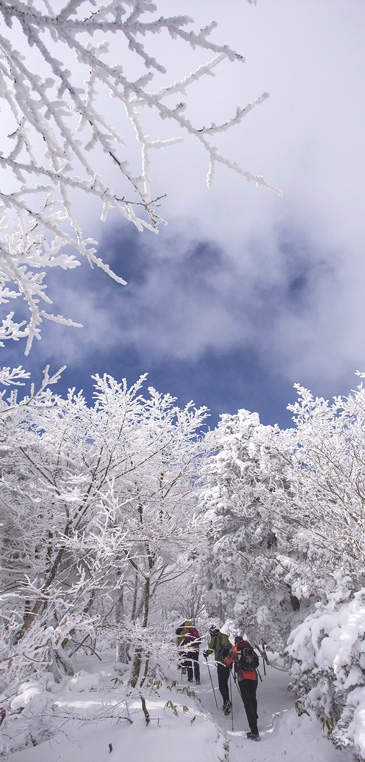 Stunning Beauty of Mt. Halla in WinterThe winter beauty of Mt. Halla or Halla Mountain (ùÓÑÙߣ) is definitely a winter wonderland for both locals and foreigners alike.

All the trees and branches are covered pure white snow or snowflakes, leading winter hikers into the winter wonderlands around this holiday season.

The 1,947-meter Halla Mountain is the roof of the semi-tropical Jeju Island, the largest island in South Korea. On top of the volcanic mountain is caldera lake called "Baerokdam (ÛÜÖãÓÁ)," literally "White Deer Pond."

Along with Jiri Mountain, and Diamond Mountain, Halla Mountain is revered by the Korean folks as one of the three Godly Mountains (ß²ãêߣ) on the Korean Peninsula.

Halla Mountain became the national mountain in 1970. It was designated as the natural monument's No. 182 by the government. It was also designated as UNESCO's world's natural heritage in 2007.
ST Photo Gallery
Photo News
Embassy Events
Econo People 2005
Fashion Images
New Movies
Travel Images
Nayan Sthankiya's Photo Features New
Abuses of Iraqi Prisoners of War
Academy Awards Photos 2004
Adolf Hitler
Aishwarya Rai-Indian actress
Buddha`s Birthday 2004
Cannes 2004 — 57th Cannes Film Festival
Choi Tae-Ji Photo Gallery
Comfort Woman Picture Gallery
Crown Prince Felipe of Spain
Dokdo Photo Gallery
Erotic Paintings of Hyewon and Danwon
Franz`s Art Exhibition
Gando Photo Gallery
Geisha in Japan
Gwangju Massacre
Jeju Island
Kim Jong-Il and Kim Il-Sung
Koguryo Murals
Korean War (1950-53)
Madonna
Miss Universe 2004
Miss World Contest 2003
Mt. Kumkang or Mt. Diamond New
Natural Beauty of Korea
Rape of Nanjing (Nanjing Massacre)
Rio Carnival 2004
Ronald Reagan`s Life in Pictures
ST Family
Sonia Gandhi and Gandhi Clan
Taj Mahal Photo Gallery
Ukrainian Embassy
World War Two
Photo Gallery of World Newspapers/Media
Times of India
Hindustan Times
SantaBanta.com
Straights Times (Singapore)
Chicago Sun-Times
Moscow Times