Photo News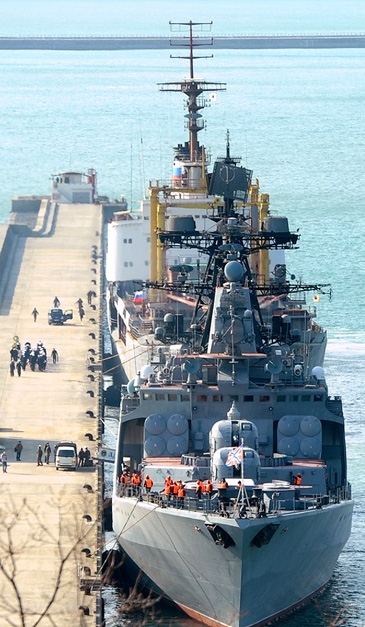 Russian Pacific Fleet Ships Arrive in BusanMoscow, Seoul in Cordial Military Ties Despite THAAD

Russian Pacific Fleet's large anti-submarine warfare destroyer "Admiral Tributs" and major tanker "Boris Butoma" visited South Korea, docking at Busan Port on Jan. 13, 2017 in a friendly visit to the Asia Pacific nation.

The two Russian warships visited the Philippines and Thailand for naval exercise or on a good-will mission before they came to South Korea.

The Russian warships had been operating in the Pacific and Indian Oceans since October 2016. They performed combat operations in the oceans, participating in the Indo Defence Expo & Forum 2016.

The 6,955-ton and 163-meter Russian destroyer and the 7,150-ton tanker ship are led by Rear Adm. Eduard Mikhailov, deputy commander of Russia's Pacific Fleet.

The Russian Pacific Fleet's visit to the Asia Pacific nations was part of Moscow's plan to play a bigger role in the contested South China Sea.

Rear Adm. Mikhailov previously said that the Russian ships were conducting joint exercises with the Philippine Navy to fight maritime piracy and terrorism.

The two Russian warships will stay in South Korea until Jan. 18, 2017 for good-will visit.

Unlike Beijing goverment, Moscow is not strongly opposed to the issue of deploying US defense system called "THAAD (Terminal High Altitude Area Defense) on the soil of South Korea.

Last year Chinese government refused to receive South Korean naval ships to its port of Qingdao, showing a strong opposition to the planned deployment of THAAD anti-ballistic missile system in South Korea.

In principle Russia also objects THAAD system to be deployed in South Korea, but the general military exchanges and cooperations between Seoul and Moscow seem to have no problem, according to the local military analysts.

After their arrival, the Russian Navy delegates were warmly received by their South Korean counterparts in a special ceremony at the Busan Port.

The Russian ship crews will replenish their storages with food and water while docking at Busan Port.

While in South Korea the Russian Pacific Fleet detachment will take part in the various projects and programs for military exchanges and cooperation.

The Russian military delegates will also enjoy such friendly programs as local tours and sports events.

The Russian naval ships will leave Busan Port on Jan. 18, 2017.

The Russian destroyer has been conducting a variety of activities, protecting Russian vessels at the Persian Gulf since it was launched in 1983.

The destroyer with a maximum speed of 29.5 knots can accommodate 293 servicemen and women.

The warship is equipped with 64 missiles, 26 mines, and a state-of-the-art rocket torpedo system.

It is also armed with 2 x 100-mm AK-100 gun mounts, 4 x 6-barreled 30-mm machineguns AK-630M, RBU-6000 antisubmarine rocket launchers, and 2 Ka-27 helicopters.
ST Photo Gallery
Photo News
Embassy Events
Econo People 2005
Fashion Images
New Movies
Travel Images
Nayan Sthankiya's Photo Features New
Abuses of Iraqi Prisoners of War
Academy Awards Photos 2004
Adolf Hitler
Aishwarya Rai-Indian actress
Buddha`s Birthday 2004
Cannes 2004 — 57th Cannes Film Festival
Choi Tae-Ji Photo Gallery
Comfort Woman Picture Gallery
Crown Prince Felipe of Spain
Dokdo Photo Gallery
Erotic Paintings of Hyewon and Danwon
Franz`s Art Exhibition
Gando Photo Gallery
Geisha in Japan
Gwangju Massacre
Jeju Island
Kim Jong-Il and Kim Il-Sung
Koguryo Murals
Korean War (1950-53)
Madonna
Miss Universe 2004
Miss World Contest 2003
Mt. Kumkang or Mt. Diamond New
Natural Beauty of Korea
Rape of Nanjing (Nanjing Massacre)
Rio Carnival 2004
Ronald Reagan`s Life in Pictures
ST Family
Sonia Gandhi and Gandhi Clan
Taj Mahal Photo Gallery
Ukrainian Embassy
World War Two
Photo Gallery of World Newspapers/Media
Times of India
Hindustan Times
SantaBanta.com
Straights Times (Singapore)
Chicago Sun-Times
Moscow Times