Photo News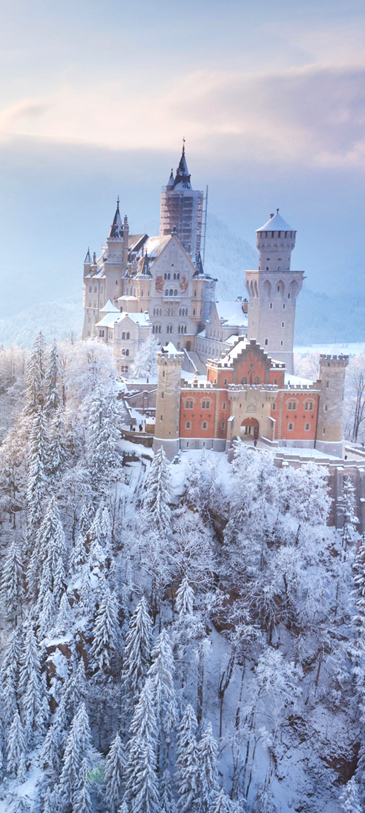 Neuschwanstein Castle in SnowPerhaps the most beautiful snow-covered Castle in the world is Neuschwanstein Castle in Bavaria, Germany.

Against the backdrop of the snow-covered mountains the "fairy tale" Neuschwanstein Castle attracts winter travellers from around the world.

Initially built at the behest of reclusive King Ludwig II as a private retreat, Neuschwanstein is one of the most popular tourists spots in the world.

Neuschwanstein Castle (German: Schloss Neuschwanstein) means "New Swanstone Castle" in English.

Neuschwanstein is a nineteenth-century Romanesque Revival palace built on a rugged hill above the village of Hohenschwangau near Fussen in southwest Bavaria, Germany.

The palace was commissioned by Ludwig II of Bavaria as a retreat and as a homage to Richard Wagner.

Ludwig paid for the palace out of his personal fortune and by means of extensive borrowing, rather than Bavarian public funds.

The palace was intended as a personal refuge for the reclusive king, but it was opened to the paying public immediately after his death in 1886.

Since then more than 61 million people have visited Neuschwanstein Castle. More than 1.3 million people visit annually, with as many as 6,000 per day in the summer.

The palace has appeared prominently in several movies such as Chitty Chitty Bang Bang and The Great Escape and serves as the inspiration for Disneyland's Sleeping Beauty Castle and later, similar structures.
ST Photo Gallery
Photo News
Embassy Events
Econo People 2005
Fashion Images
New Movies
Travel Images
Nayan Sthankiya's Photo Features New
Abuses of Iraqi Prisoners of War
Academy Awards Photos 2004
Adolf Hitler
Aishwarya Rai-Indian actress
Buddha`s Birthday 2004
Cannes 2004 — 57th Cannes Film Festival
Choi Tae-Ji Photo Gallery
Comfort Woman Picture Gallery
Crown Prince Felipe of Spain
Dokdo Photo Gallery
Erotic Paintings of Hyewon and Danwon
Franz`s Art Exhibition
Gando Photo Gallery
Geisha in Japan
Gwangju Massacre
Jeju Island
Kim Jong-Il and Kim Il-Sung
Koguryo Murals
Korean War (1950-53)
Madonna
Miss Universe 2004
Miss World Contest 2003
Mt. Kumkang or Mt. Diamond New
Natural Beauty of Korea
Rape of Nanjing (Nanjing Massacre)
Rio Carnival 2004
Ronald Reagan`s Life in Pictures
ST Family
Sonia Gandhi and Gandhi Clan
Taj Mahal Photo Gallery
Ukrainian Embassy
World War Two
Photo Gallery of World Newspapers/Media
Times of India
Hindustan Times
SantaBanta.com
Straights Times (Singapore)
Chicago Sun-Times
Moscow Times