Photo News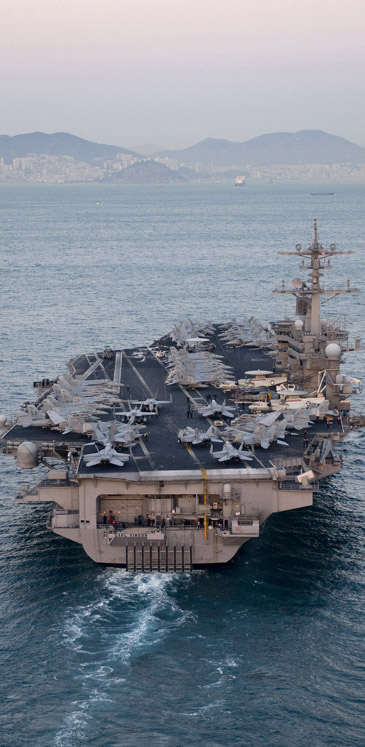 Carrier USS Carl Vinson Arrives in Busan, South KoreaAmerican aircraft carrier USS Carl Vinson (CVN-70) arrived in Busan, South Korea in the morning of March 15, 2017 to join in joint exercises with the Republic of Korea armed forces.

The carrier and its strike group will be part of the bilateral Operation Foal Eagle and Key Resolve 2017 exercise series that train for potential conflict with North Korea.

"Carl Vinson's presence is another tangible example of how the ROK – U.S. Alliance continues to enhance interoperability and key capabilities to ensure security and stability on the Korean Peninsula and the region," commander U.S. Forces Korea Army Gen. Brooks said in a statement from the carrier. "Seeing the crew in action and how the U.S. Navy conducts their operations while underway is always impressive."

Key Resolve began on March 13, 2017 and is expected to run till the end of this month.

The US-ROK combined military drill is the largest ever in scale, with the participation of about 300,000 troops.

Like last year, the allies will train to execute Operation Plan 5015 – the plan to deter North Korea use of weapons of mass destruction with a preemptive attack, according to local press reports.

Included in the exercise this year will be Marine F-35B Lighting II Joint Strike Fighters, the U.S. Army's Terminal High Altitude Area Defense (THAAD) ballistic missile defense system and special operations forces (SOF).

Pentagon officials denied reports that the exercise would include the Naval Special Warfare Development Group, known as DEVGRU or SEAL Team Six that would train for a so-called "decapitation mission" as part of the exercise, reported Fox News.

The Vinson Strike Group deployment is being overseen by U.S. Third Fleet based in San Diego, Calif. as a test of the Navy's ability to command and control forces in the Western Pacific, reported USNI News last month.
ST Photo Gallery
Photo News
Embassy Events
Econo People 2005
Fashion Images
New Movies
Travel Images
Nayan Sthankiya's Photo Features New
Abuses of Iraqi Prisoners of War
Academy Awards Photos 2004
Adolf Hitler
Aishwarya Rai-Indian actress
Buddha`s Birthday 2004
Cannes 2004 — 57th Cannes Film Festival
Choi Tae-Ji Photo Gallery
Comfort Woman Picture Gallery
Crown Prince Felipe of Spain
Dokdo Photo Gallery
Erotic Paintings of Hyewon and Danwon
Franz`s Art Exhibition
Gando Photo Gallery
Geisha in Japan
Gwangju Massacre
Jeju Island
Kim Jong-Il and Kim Il-Sung
Koguryo Murals
Korean War (1950-53)
Madonna
Miss Universe 2004
Miss World Contest 2003
Mt. Kumkang or Mt. Diamond New
Natural Beauty of Korea
Rape of Nanjing (Nanjing Massacre)
Rio Carnival 2004
Ronald Reagan`s Life in Pictures
ST Family
Sonia Gandhi and Gandhi Clan
Taj Mahal Photo Gallery
Ukrainian Embassy
World War Two
Photo Gallery of World Newspapers/Media
Times of India
Hindustan Times
SantaBanta.com
Straights Times (Singapore)
Chicago Sun-Times
Moscow Times