Photo News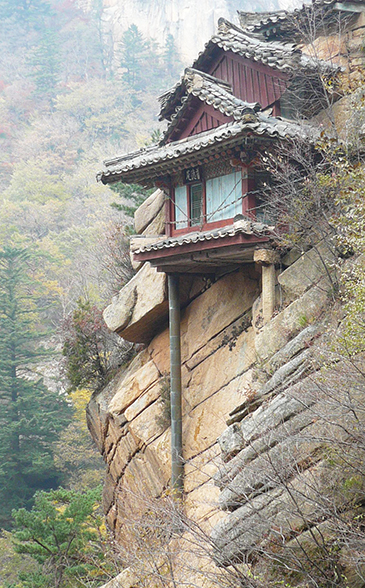 Bodeokam Temple on Mt. GeumgangNestled in Manpokdong Valley in Inner Geumgang Mountain (Diamond Mountain) in North Korea, Bodeokam (ÜÅÓìäÝ) or small Buddhist grotto temple hangs on the steep cliff, supported by only a lone copper pillar.

Experts say that the Buddhist grotto temple showcases the architectural beauty of the traditional roof style of the Korean construction. The nine-meter-long pilar coated by copper prevents the pillar from decaying.

Underneath the cliffs crystal-clear water runs through Manpokdong Valley stream.

The tiny Buddhist building was actually constructed to protect the grotto to protect from the rain and snow, so that the monks can practice Zen even in the winter.

The Bodeokam was originally built in 627 by a Buddhist monk Bodeok (ÜÅÓì) in the ear of Goryo Dynasty (936-1392). The existing building was rebuilt in 1675 during Jeocheon Dynasty, but was restored again in 1808.

The pillar was originally made out of wood, but records says that it was coated by the copper in 1511.

The Bodeokam (ÜÅÓìäÝ) was designated as the national treasure No. 39 by North Korea. It was visited by the late North Korean founder Kim Il-Sung in 1949.

The Inner Geumgang Mountain or Naegeumgang was open to the South Korean tourists as North and South Korean relations ameliorated in the past.

But it was closed as the inter-Korean ties froze over the past conservative South Korean regimes took power.

Legend has it that there lived a lad practicing Zen Buddhism in this area. His name was Hoejeong.

Hoejeong entered Mt. Geumgang as he wanted to study Buddhism and to practice Zen for 10 years to become a respected Buddhist.

Seven years passed by. One day he was washing his face in the stream. Then he saw a feature of beautiful lady reflected over the surface of the water.

He thought it was lady Bodeok he saw in his dream last night. He turned over and searched for the lady. He was shouting "Lady Bodeok!" loud and clear, but to no avail.

She disappeared quickly. Hoejeong instantly fell in love with her, becoming lazy with his study. Again she appeared in his dream, scolding him about his laziness with his study.

She even starting whipping him in the calf with a rod. He woke up from his dream. Thereafter he became determined again to finish his 10-year study.

Howjeong entered a cave and built a shack on the cliff, living and studying Buddhism, becoming a Great Zen Master Bodeok.
ST Photo Gallery
Photo News
Embassy Events
Econo People 2005
Fashion Images
New Movies
Travel Images
Nayan Sthankiya's Photo Features New
Abuses of Iraqi Prisoners of War
Academy Awards Photos 2004
Adolf Hitler
Aishwarya Rai-Indian actress
Buddha`s Birthday 2004
Cannes 2004 — 57th Cannes Film Festival
Choi Tae-Ji Photo Gallery
Comfort Woman Picture Gallery
Crown Prince Felipe of Spain
Dokdo Photo Gallery
Erotic Paintings of Hyewon and Danwon
Franz`s Art Exhibition
Gando Photo Gallery
Geisha in Japan
Gwangju Massacre
Jeju Island
Kim Jong-Il and Kim Il-Sung
Koguryo Murals
Korean War (1950-53)
Madonna
Miss Universe 2004
Miss World Contest 2003
Mt. Kumkang or Mt. Diamond New
Natural Beauty of Korea
Rape of Nanjing (Nanjing Massacre)
Rio Carnival 2004
Ronald Reagan`s Life in Pictures
ST Family
Sonia Gandhi and Gandhi Clan
Taj Mahal Photo Gallery
Ukrainian Embassy
World War Two
Photo Gallery of World Newspapers/Media
Times of India
Hindustan Times
SantaBanta.com
Straights Times (Singapore)
Chicago Sun-Times
Moscow Times