Photo News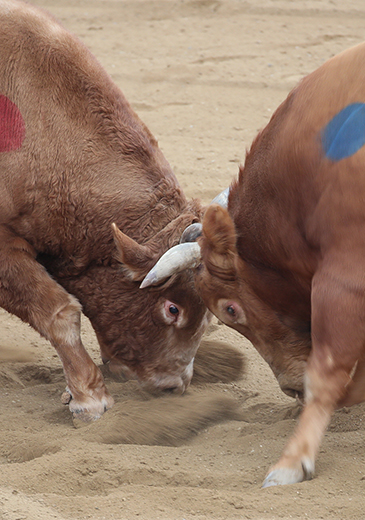 Cheongdo Bullfights Draw Big CrowdLargest Bullfighting Festival in South Korea

Special Contribution
By Rick O'Shaughnessy

I've been to Cheongdo a number of times and made some great friends there. The city, with a population of about 50,000 or roughly the size of a Chinese shopping mall, is beautifully nestled between gardens, small farms, and the Korean mountains.

This year I talked with a couple of friends, Teresa and Kate who live in Cheongdo about the weekend bullfights when I first heard the term bull wrestling.

Hm, bull wrestling I thought wondering if it's anything like Saturday night wrestling in the States where one masked dude wearing black panties and a little cape takes a chair hits the other dude with it, climbs on a rope, and then jumps on him.

Korean bull wrestling I thought got to be something more to this and still wondered how they were going to get the black panties on the bull. Getting black panties on a two-ton angry bull, I guess is Bull wrestling. Because in Spanish bullfighting you get to eat the winner after it's over.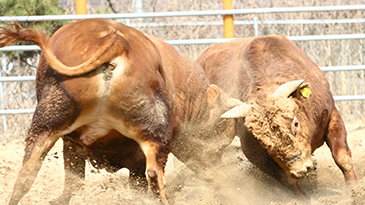 Cheongdo bullfighting


As an American tourist to Korea over the last few years, I've often heard about the traditional bullfights or bull wrestling in the small city of Cheondo just south of Daegu.

Needless to say, the two ladies were not amused by this thought and agreed to share a little Korean culture.

After a short 25-minute train ride to Cheongdo where I found Teresa waiting under a thick blanke of clouds pregnant with rain that never came, we drove over narrow country roads sprinkled with late blossoming cherry trees to meet Kate and her husband.

After a quick tea ceremony by Kate in a garden blooming with flowers we set off into the Korean mountains to find the ancient tradition of bullfighting um wrestling festival.

Rounding a bend on a mountain road l saw our destination in the valley below. A large modern dome arena pulsating with people and cars all jockeying for position.

After a few minutes we found ourselves in that mix, but what surprised me was how organized and fluid the traffic was moving.

Ten minutes and Kate's husband dropped us off at the entrance and in the middle of a very festive atmosphere.

The place was bustling with kids, families with friends among family-run booths selling locally produced woodcrafts and traditional Korean foods. Music filled the air and a magic show was in full swing when we arrived.

After a quick but delicious lunch and soju, it was time for the bullfighting. We found seats in an open and spacious arena to find a very enthusiastic crowd when they brought in two massive, hulking bulls.

No black panties here. With handlers at the ready, a referee, and line judges the two bulls immediately went nose to nose. It was fun and exciting and nobody got hurt. It was bull wrestling without the little capes. It was a festive afternoon to be out with great friends.

Cheongdo Bullfighting Festival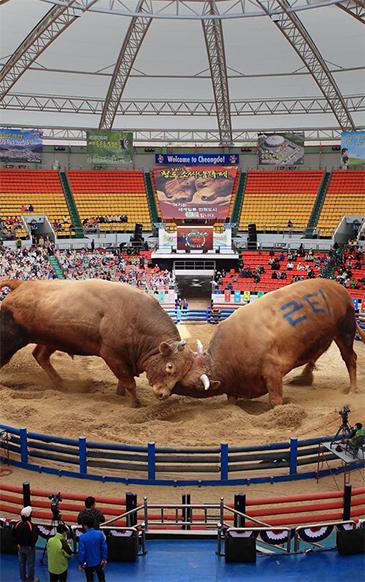 Cheongdo Bullfighting Festival


This year the festival of Cheongdo bullfighting was held in four years due to the outbreak of the Covid-19 pandemic.

Cheongdo bullfighting is the largest of the nation's 11 major bullfighting events. The second one is the Traditional Bullfighting Festival in Jinju.

A total of 300,000 tourists including foreigners took part in the three-day festival held from April 14 to 17, 2023.

The first-place winner clinches a prize of 130,000,000 won (roughly 97,900 US dollars).

The traditional Cheongdo bullfighting was first held in 1990. It was revived back then after a long hiatus of Japanese colonialists who banned it to prevent Koreans from uniting through the bullfighting.

Since its revival in 1990 the Cheongdo bullfighting has been held annually in April. It was in 1999 the name of the bullfighting was changed into the festival of Cheongdo bullfighting.

Unlike the Spanish bullfights there is no killing the bulls in the Korean bullfighting.

The festival of Cheongdo bullfighting is designated as the nation's 10 major festivals of culture and tourism by the Tourism Ministry.

The above writer, Mr. O'Shaughnessy, serves as a copyeditor for The Seoul Times. Born in England to an American military family he is a pilot with a background in electronics and teaching English. He is a screenplay writer who learned the art of creative writing while having spent many years in Slovakia before coming to Daegu, S. Korea. He enjoys the creative mindset that S. Korea offers and believes everyone has a story to tell.
ST Photo Gallery
Photo News
Embassy Events
Econo People 2005
Fashion Images
New Movies
Travel Images
Nayan Sthankiya's Photo Features New
Abuses of Iraqi Prisoners of War
Academy Awards Photos 2004
Adolf Hitler
Aishwarya Rai-Indian actress
Buddha`s Birthday 2004
Cannes 2004 — 57th Cannes Film Festival
Choi Tae-Ji Photo Gallery
Comfort Woman Picture Gallery
Crown Prince Felipe of Spain
Dokdo Photo Gallery
Erotic Paintings of Hyewon and Danwon
Franz`s Art Exhibition
Gando Photo Gallery
Geisha in Japan
Gwangju Massacre
Jeju Island
Kim Jong-Il and Kim Il-Sung
Koguryo Murals
Korean War (1950-53)
Madonna
Miss Universe 2004
Miss World Contest 2003
Mt. Kumkang or Mt. Diamond New
Natural Beauty of Korea
Rape of Nanjing (Nanjing Massacre)
Rio Carnival 2004
Ronald Reagan`s Life in Pictures
ST Family
Sonia Gandhi and Gandhi Clan
Taj Mahal Photo Gallery
Ukrainian Embassy
World War Two
Photo Gallery of World Newspapers/Media
Times of India
Hindustan Times
SantaBanta.com
Straights Times (Singapore)
Chicago Sun-Times
Moscow Times