Photo News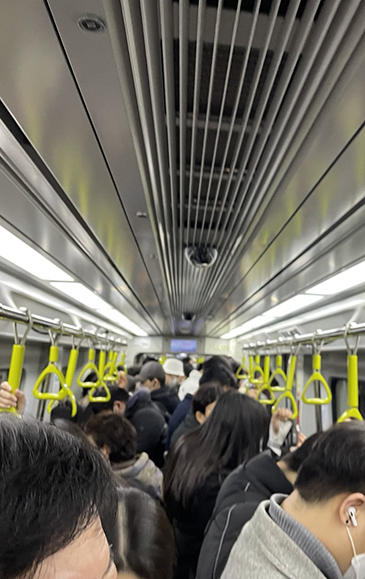 Seoul Subway Jam-Packed with CommutersBy Park Bok-Won
Staff Reporter

A Seoul subway is filled with numerous commuters at Bomunguk Station near Mt. Bukhan area in the morning of Dec. 20, 2021, running counter to government's social distancing policy.

Subways in South Korea's large cities, just like Seoul, and a number buses are literally jam-packed with citizens going to work in the morning and coming back home in the evening. As of Dec. 21, 2021 South Koreans are getting infected with coronavirus or its variants by the thousands per day.

Those confirmed as corona patients are increasing like a snowball in spite of the government's strong anti-corona policies. A South Korean citizen on the subway was quoted as saying "I cannot trust government because its coronavirus policies differ from place to place."

As of Dec. 21, 2021 a total of 4,828 South Koreans died of corona-related illness. A total of 575,615 have been confirmed as corona patients, according to the Korea Disease Control and Prevention Agency (KDCA).
ST Photo Gallery
Photo News
Embassy Events
Econo People 2005
Fashion Images
New Movies
Travel Images
Nayan Sthankiya's Photo Features New
Abuses of Iraqi Prisoners of War
Academy Awards Photos 2004
Adolf Hitler
Aishwarya Rai-Indian actress
Buddha`s Birthday 2004
Cannes 2004 — 57th Cannes Film Festival
Choi Tae-Ji Photo Gallery
Comfort Woman Picture Gallery
Crown Prince Felipe of Spain
Dokdo Photo Gallery
Erotic Paintings of Hyewon and Danwon
Franz`s Art Exhibition
Gando Photo Gallery
Geisha in Japan
Gwangju Massacre
Jeju Island
Kim Jong-Il and Kim Il-Sung
Koguryo Murals
Korean War (1950-53)
Madonna
Miss Universe 2004
Miss World Contest 2003
Mt. Kumkang or Mt. Diamond New
Natural Beauty of Korea
Rape of Nanjing (Nanjing Massacre)
Rio Carnival 2004
Ronald Reagan`s Life in Pictures
ST Family
Sonia Gandhi and Gandhi Clan
Taj Mahal Photo Gallery
Ukrainian Embassy
World War Two
Photo Gallery of World Newspapers/Media
Times of India
Hindustan Times
SantaBanta.com
Straights Times (Singapore)
Chicago Sun-Times
Moscow Times