Photo News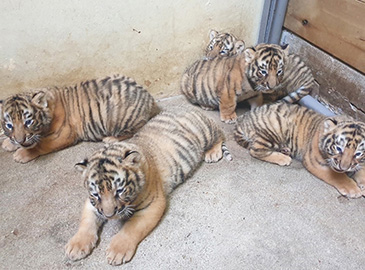 5 Siberian Tiger Cubs Naturally Born in S. KoreaBy Park Soung-Jin
Staff Reporter & Editor

South Korea's global company Samsung Corp. has recently presented five siblings of newly born Siberian Tigers on the verge of extinction, its subsidiary Samsung Resort Group announced.

The company said that the five Siberian Tiger cubs, 50 days old now, were born naturally at Everland Zoo in Yongin south of Seoul. Among the five are three females. They were born on June 27, 2021.

Experts said that it was very rare that as many as five tiger cubs were born in natural birth. Their father was 16-year-old Taeho and mother was 16-year-old Keongon.

Previously the Siberian Tiger couple successfully fathered other cubs.

Experts also said that normally Siberian Tigers give birth to two to three cubs at most. Internationally it is very rare as well for the Siberian Tigers give birth to five cubs at one time.

Globally there remain no more than 1,000 Siberian Tigers. Half of them are inhabiting the wild habitat in Russia's Far East and in Northeast China.

The Siberian Tigers, also called Amur Tigers, are protected by international agreement dubbed Convention on International Trade in Endangered Species of Wild Fauna and Flora (CITES) and by the CITES "Appendix Ⅰ" clause.

Once the Siberian Tigers roamed on the Korean Peninsula by the hundreds perhaps by the thousands, according to animal experts. Local Koreans call them Korean Tigers.

They say that it was the Imperialist Japan that killed the Korean Tigers into extinction as they colonized the Korean Peninsula from 1910 till 1945.

Experts estimate that there are some 20 Siberian Tigers in North Korea.

From 1592-98 Japanese generals hunted and killed hundreds of Korean Tigers when they raped the Korean Peninsula in Hideyoshi Invasion.
ST Photo Gallery
Photo News
Embassy Events
Econo People 2005
Fashion Images
New Movies
Travel Images
Nayan Sthankiya's Photo Features New
Abuses of Iraqi Prisoners of War
Academy Awards Photos 2004
Adolf Hitler
Aishwarya Rai-Indian actress
Buddha`s Birthday 2004
Cannes 2004 — 57th Cannes Film Festival
Choi Tae-Ji Photo Gallery
Comfort Woman Picture Gallery
Crown Prince Felipe of Spain
Dokdo Photo Gallery
Erotic Paintings of Hyewon and Danwon
Franz`s Art Exhibition
Gando Photo Gallery
Geisha in Japan
Gwangju Massacre
Jeju Island
Kim Jong-Il and Kim Il-Sung
Koguryo Murals
Korean War (1950-53)
Madonna
Miss Universe 2004
Miss World Contest 2003
Mt. Kumkang or Mt. Diamond New
Natural Beauty of Korea
Rape of Nanjing (Nanjing Massacre)
Rio Carnival 2004
Ronald Reagan`s Life in Pictures
ST Family
Sonia Gandhi and Gandhi Clan
Taj Mahal Photo Gallery
Ukrainian Embassy
World War Two
Photo Gallery of World Newspapers/Media
Times of India
Hindustan Times
SantaBanta.com
Straights Times (Singapore)
Chicago Sun-Times
Moscow Times