Photo News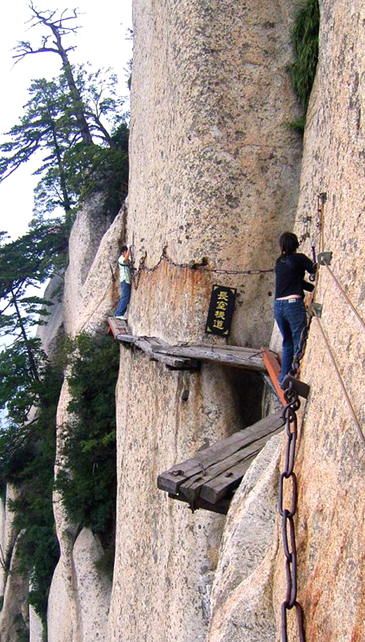 Changkong Cliff on China's HuashanTourists brave terrifying hiking the treacherous Chang Kong Cliff Road on the edge of China's Huashan mountain.

Made of wooden boards just wide enough for a footstep, the 'path' is crudely nailed together and some sections are in desperate need of repair. Conditions are even worse during the winter months, when hiking is still permitted.

With only a harness around their shoulders, tourists dressed casually in jeans and trainers cling to safety chains as they creep along the rock face in Shaanxi province. Despite the dangers, the route is popular with tourists and monks alike as it is seen as a holy place – and besides, it has views to die for.

The road is believed to have been built more than 700 years ago by hermits seeking 'immortals' they thought were living high up in the mountains.

Huashan has a variety of temples on its slopes but it also has its fair share of hawker stalls to revive the spirits of the odd shell-shocked hiker.
ST Photo Gallery
Photo News
Embassy Events
Econo People 2005
Fashion Images
New Movies
Travel Images
Nayan Sthankiya's Photo Features New
Abuses of Iraqi Prisoners of War
Academy Awards Photos 2004
Adolf Hitler
Aishwarya Rai-Indian actress
Buddha`s Birthday 2004
Cannes 2004 — 57th Cannes Film Festival
Choi Tae-Ji Photo Gallery
Comfort Woman Picture Gallery
Crown Prince Felipe of Spain
Dokdo Photo Gallery
Erotic Paintings of Hyewon and Danwon
Franz`s Art Exhibition
Gando Photo Gallery
Geisha in Japan
Gwangju Massacre
Jeju Island
Kim Jong-Il and Kim Il-Sung
Koguryo Murals
Korean War (1950-53)
Madonna
Miss Universe 2004
Miss World Contest 2003
Mt. Kumkang or Mt. Diamond New
Natural Beauty of Korea
Rape of Nanjing (Nanjing Massacre)
Rio Carnival 2004
Ronald Reagan`s Life in Pictures
ST Family
Sonia Gandhi and Gandhi Clan
Taj Mahal Photo Gallery
Ukrainian Embassy
World War Two
Photo Gallery of World Newspapers/Media
Times of India
Hindustan Times
SantaBanta.com
Straights Times (Singapore)
Chicago Sun-Times
Moscow Times