Photo News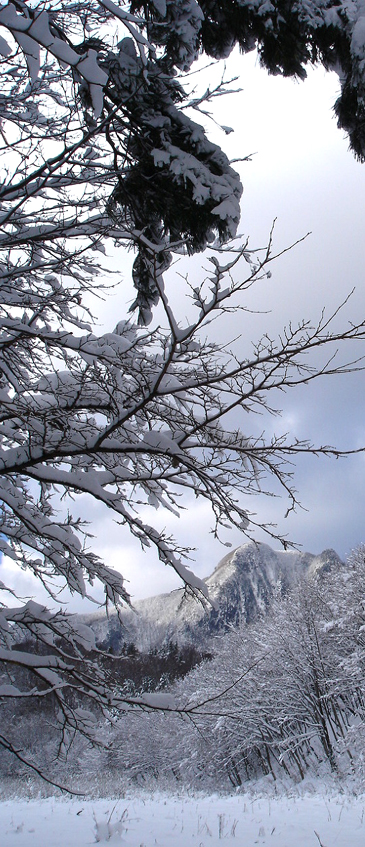 Ulleung Island Covered by SnowUlleung-do (鬱陵島) or Ulleung Island is the island at high seas called "East Sea" between the Korean Peninsula and Japan.

This year also the pentagon-shaped island had lots of snow as deep as two meters as January 25, 2017, making it one of the most beautiful winter wonderlands in the nation.

Around this holiday seasons tourists from the mainland South Korea visit the rocky steep-sided volcanic island, the largest Korean island at "East Sea" with the elevation of 984 metres (3,228 ft) at Seonginbong Peak.

The island is 11.3 kilometres (7.0 mi) in length and 12.4 kilometres (7.7 mi) in width; it has an area of 73.15 km2 (28.24 sq mi). It has a population of 10,426 inhabitants.

The island makes up the main part of Ulleung County, North Gyeongsang Province, South Korea and is a popular tourist destination. The main city of Ulleung-do is the port of Dodong (道洞), which serves as the main ferry port between Ulleung-do and the South Korean mainland.

After tourism, the main economic activity is fishing, including its well-known harvest of squid, which can be seen drying in the sun in many places.

The island was made from a series of volcanic eruptions. Its highest peak is called Seonginbong Peak, and there is a village along the coastline on the slope. On the north side is a caldera crater which collapsed to create the Nari Basin and the Albong Basin.

Level ground is difficult to find here and the shores are mostly cliffs. There are a lot of snow in the winter. About half of the people work in the fishing industry.

Corn, potatoes, wheat and beans were cultivated here, but nowadays mountain plants and medicinal herbs are mostly grown instead.

There are dongbaek trees and some 650 other plants and trees thriving on the island. The neighboring waters is the junction line between two cold & warm ocean currents, where many squids, saury and pollacks are caught.

The Ulleungdo squid is especially famous for their outstanding quality. It has been said that there are no thieves, pollution or snakes on Ulleungdo Island.

On the other hand, there are many aromatic trees, wind, beautiful women, water and rocks. This is why it is called the island of The Three Mu (The Chinese character meaning ' have nothing') and Five Da (The Chinese character meaning 'have many of').

You can enjoy the scenery by taking a cruise around Ulleungdo, Gwaneumdo Islands, and a natural tunnel. Elephant Rock, Samseonan, and Lion Rock are some of the other tourist attractions praised by tourists.
ST Photo Gallery
Photo News
Embassy Events
Econo People 2005
Fashion Images
New Movies
Travel Images
Nayan Sthankiya's Photo Features New
Abuses of Iraqi Prisoners of War
Academy Awards Photos 2004
Adolf Hitler
Aishwarya Rai-Indian actress
Buddha`s Birthday 2004
Cannes 2004 — 57th Cannes Film Festival
Choi Tae-Ji Photo Gallery
Comfort Woman Picture Gallery
Crown Prince Felipe of Spain
Dokdo Photo Gallery
Erotic Paintings of Hyewon and Danwon
Franz`s Art Exhibition
Gando Photo Gallery
Geisha in Japan
Gwangju Massacre
Jeju Island
Kim Jong-Il and Kim Il-Sung
Koguryo Murals
Korean War (1950-53)
Madonna
Miss Universe 2004
Miss World Contest 2003
Mt. Kumkang or Mt. Diamond New
Natural Beauty of Korea
Rape of Nanjing (Nanjing Massacre)
Rio Carnival 2004
Ronald Reagan`s Life in Pictures
ST Family
Sonia Gandhi and Gandhi Clan
Taj Mahal Photo Gallery
Ukrainian Embassy
World War Two
Photo Gallery of World Newspapers/Media
Times of India
Hindustan Times
SantaBanta.com
Straights Times (Singapore)
Chicago Sun-Times
Moscow Times