Photo News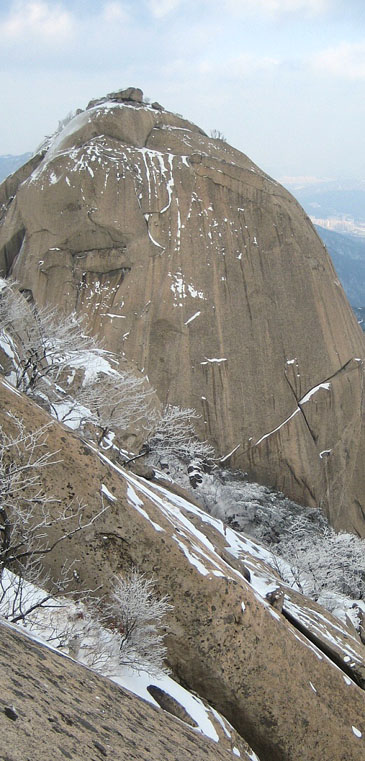 Winter Beauty of Insubong on Mt. BukhansanThe majestic peak of Insubong on Mt. Bukhansan, most favored by the local rock climbers, is one of the three peaks on the Bukhan Mountain along with Baegundae and Mangyeongdae peaks.

The 810-meter Insubong boasts of nearly 60 routes for the climbers scaling the magnificent granite peak in the middle of capital city of Seoul.

Mt. Bukhansan is a mountain on the northern periphery of Seoul, South Korea.

Because of its height and the fact that it borders a considerable portion of the city, Bukhansan is a major landmark visible from most city districts.

The name "Bukhansan" means "mountain north of Han River", referring to the fact that it is the northern border of the city.

During the Joseon era, the peaks marked the extreme northern boundary of Seoul.

Bukhansan is the highest mountain within Seoul city boundaries. Apart from Bukhansan, there are seven other mountains including Dobongsan and Suraksan that are over 600 meters high within the city.

Popular throughout the year, Bukhansan, and Bukhansan National Park, which was formed in 1983, are renowned for birdwatching, hiking and rockclimbing. Bukhansan attracts a large number of hikers; around 5 million per year.

Since 2002 there has been a movement to revert the name of Bukhansan to Samkaksan. For many years up until now, the three main peaks of the park have collectively been called "Bukhansan"; however, the original collective name of these three peaks was Samkaksan, meaning "three-horned mountain."

The head of the Gangbuk-gu District Office in Seoul is leading a petition to have the central government change the name back to the original.

There are numerous hiking courses accessible to the average hiker within Bukhansan National Park. The trails are open year-round but may be closed during fire season in the Spring and Autumn at the discretion of the park director.
ST Photo Gallery
Photo News
Embassy Events
Econo People 2005
Fashion Images
New Movies
Travel Images
Nayan Sthankiya's Photo Features New
Abuses of Iraqi Prisoners of War
Academy Awards Photos 2004
Adolf Hitler
Aishwarya Rai-Indian actress
Buddha`s Birthday 2004
Cannes 2004 — 57th Cannes Film Festival
Choi Tae-Ji Photo Gallery
Comfort Woman Picture Gallery
Crown Prince Felipe of Spain
Dokdo Photo Gallery
Erotic Paintings of Hyewon and Danwon
Franz`s Art Exhibition
Gando Photo Gallery
Geisha in Japan
Gwangju Massacre
Jeju Island
Kim Jong-Il and Kim Il-Sung
Koguryo Murals
Korean War (1950-53)
Madonna
Miss Universe 2004
Miss World Contest 2003
Mt. Kumkang or Mt. Diamond New
Natural Beauty of Korea
Rape of Nanjing (Nanjing Massacre)
Rio Carnival 2004
Ronald Reagan`s Life in Pictures
ST Family
Sonia Gandhi and Gandhi Clan
Taj Mahal Photo Gallery
Ukrainian Embassy
World War Two
Photo Gallery of World Newspapers/Media
Times of India
Hindustan Times
SantaBanta.com
Straights Times (Singapore)
Chicago Sun-Times
Moscow Times