Photo News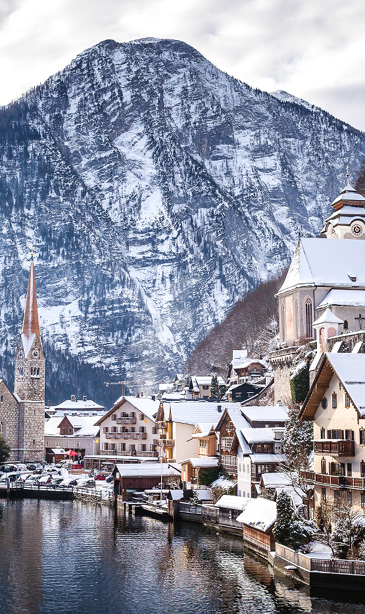 Hallstatt in WinterThe winter scenery in Hallstatt in Austria's salzkammergut makes us all fall into the mood for Christmas and holidays.

The above photo was taken someday shortly after Christmas Day.

In spite of nippy weather particularly the winter chills in Europe the photographer took the courage to go all the way to Austria for this majestic photo.

The incredible winter scene makes people fall into the old memories of yonder years, and think about old friends as well as family members.

Among a myriad of breathtaking landscapes in Austria, the time-honored Hallstatt boasts of its own beauty with many pretty lake-front houses.

Driving on the Autobahns and on the steepy mountain roads adds extra pleasure to the holiday makers and travelers in the mountainous European country.

Around this time of the year travellers and visitors can enjoy the real white Christmas feeling right here at Hallstatt. The houses, shops, town square, and all the streets are embellished with Christmas decorations.

Such winter sports as skiing, snow boarding, and sledging can make you extra excited around this yuletide season. Don't be afraid of visiting this fantastic white landscapes and majestic frozen lakes this winter.
ST Photo Gallery
Photo News
Embassy Events
Econo People 2005
Fashion Images
New Movies
Travel Images
Nayan Sthankiya's Photo Features New
Abuses of Iraqi Prisoners of War
Academy Awards Photos 2004
Adolf Hitler
Aishwarya Rai-Indian actress
Buddha`s Birthday 2004
Cannes 2004 — 57th Cannes Film Festival
Choi Tae-Ji Photo Gallery
Comfort Woman Picture Gallery
Crown Prince Felipe of Spain
Dokdo Photo Gallery
Erotic Paintings of Hyewon and Danwon
Franz`s Art Exhibition
Gando Photo Gallery
Geisha in Japan
Gwangju Massacre
Jeju Island
Kim Jong-Il and Kim Il-Sung
Koguryo Murals
Korean War (1950-53)
Madonna
Miss Universe 2004
Miss World Contest 2003
Mt. Kumkang or Mt. Diamond New
Natural Beauty of Korea
Rape of Nanjing (Nanjing Massacre)
Rio Carnival 2004
Ronald Reagan`s Life in Pictures
ST Family
Sonia Gandhi and Gandhi Clan
Taj Mahal Photo Gallery
Ukrainian Embassy
World War Two
Photo Gallery of World Newspapers/Media
Times of India
Hindustan Times
SantaBanta.com
Straights Times (Singapore)
Chicago Sun-Times
Moscow Times