Photo News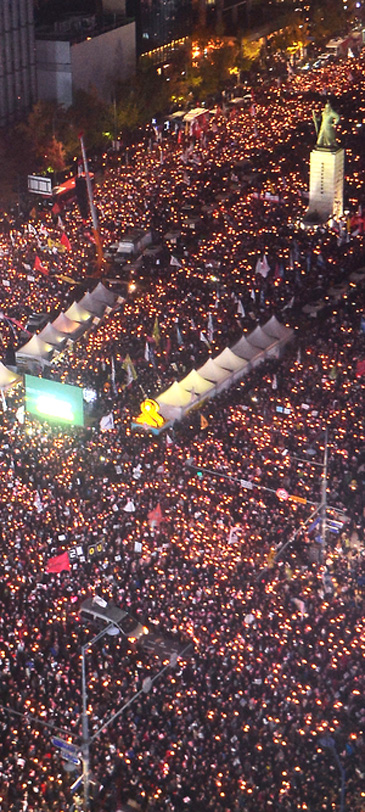 S. Korea Shouts "Down with Park Geun-Hye!"1 Million Angry People Gather in Anti-Park Geun-Hye Protest in Seoul on Saturday in Largest Ever Protest

A tsunami of angry candle light procession by infurious anti-Park Geun-Hye demonstration is milling with South Korean police just 200 meters before the Blue House in downtown Seoul on Nov. 12, 2016.

As many as 850,000 South Koreans nearly from all walks of life including students and housewives with kids gathered in streets of Gwanhwamun areas, calling for immediate step down of President Park Geun-Hye.

"Down with Park Geun-Hye," "Park Sould Step Down," were some of the anti-Park slogans shouted by the growing number of protesters.

Ashahi Shinbun, Japan's largest daily, estimated the number of demonstrators at nearly 1 million, saying the number is fastly growing as eventing sets in.

Nearly entire news media including "Big Three" large conservative dailies of Chusun, JoongAng, and DongA were in one voice in demanding the immediate resignation of the President Park.

Tens of thousands of local Korean people including farmers came up to Seoul from their villages in the provincial areas for today's massive demonstration.

TV pundits are worried that the massive number of angry protesters might clash with the police mobilized in the largest number.

Almost entire South Koreans from all age groups and from the all walks of life have taken part in the ever-growing anti-Park Geun-Hye demonstration in the past three weeks.

Yesterday a total of 3,288 nation's lawyers held an emergency meeting in Seoul, calling for the staggering President Park to step down from power.

They excoriated Park for her messing with the national politics by allowing her confidant Choi Sun-Sil to abuse presidential power in so-called "Choi Sun-Sil Gate," which is shocking the entire people.

Up until now some 90 universities across the nation have joined the anti-Park protests and the number will soon reach over 100, staging candle light vigil protests.

Thousands of university professors also took part in the demonstrations, condemning the abuse of power and the breaches of nation's Constitution in the statements. They delivered their petition to the Blue House.

Korean residents in over overseas 30 cities including Washington DC, New York City, London, and Berlin either held anti-Park protests or will host demonstrations to demand for the withdrawal of Park from the presidency.
ST Photo Gallery
Photo News
Embassy Events
Econo People 2005
Fashion Images
New Movies
Travel Images
Nayan Sthankiya's Photo Features New
Abuses of Iraqi Prisoners of War
Academy Awards Photos 2004
Adolf Hitler
Aishwarya Rai-Indian actress
Buddha`s Birthday 2004
Cannes 2004 — 57th Cannes Film Festival
Choi Tae-Ji Photo Gallery
Comfort Woman Picture Gallery
Crown Prince Felipe of Spain
Dokdo Photo Gallery
Erotic Paintings of Hyewon and Danwon
Franz`s Art Exhibition
Gando Photo Gallery
Geisha in Japan
Gwangju Massacre
Jeju Island
Kim Jong-Il and Kim Il-Sung
Koguryo Murals
Korean War (1950-53)
Madonna
Miss Universe 2004
Miss World Contest 2003
Mt. Kumkang or Mt. Diamond New
Natural Beauty of Korea
Rape of Nanjing (Nanjing Massacre)
Rio Carnival 2004
Ronald Reagan`s Life in Pictures
ST Family
Sonia Gandhi and Gandhi Clan
Taj Mahal Photo Gallery
Ukrainian Embassy
World War Two
Photo Gallery of World Newspapers/Media
Times of India
Hindustan Times
SantaBanta.com
Straights Times (Singapore)
Chicago Sun-Times
Moscow Times