Photo News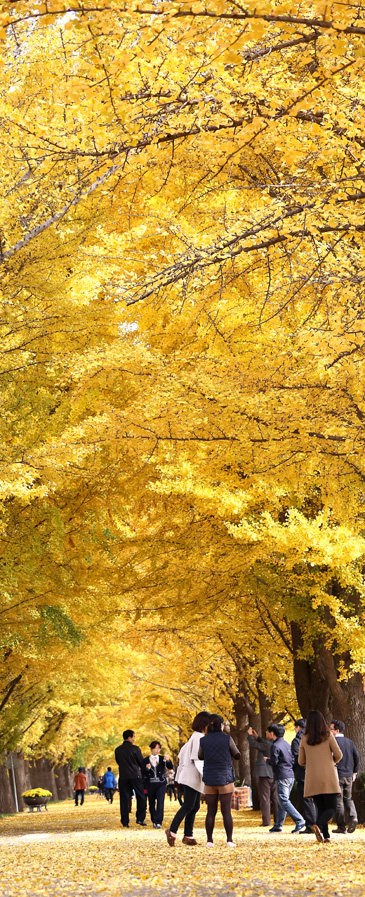 Autumnal Beauty of "Ginkgo Avenue"In South Korea as in elsewhere around the world the temperature will drop sharply after the autumnal rain which fell on the soil of the republic on Nov. 7, 2016.

There will be even snow on mountainous areas as temperature is on the steep decrease. Holiday makers better hurry up to visit tourist attractions in the nation as the autumnal leaves will culminate in this weekend in showing their beautiful hue of red and yellow.

Local travellers never fail to point to one place to visit around this time of the autumn. A local street lined with tall Ginkgo trees whose leaves turning yellow near Hyunchungsa in Asan, South Chungcheong Province.

Visitors express their feeling of loneliness and a bit of coldness when waling under the yellow-tinged Ginkgo leaves. They say it is their privilege to walk under the tree on the so-called "Ginkgo Avenue."

The beautiful gold-colored Ginkgo leaves fall everytime the wind blows.

Visitors urge Seoulites to visit the avenue (street) of Ginkgo trees and the forest of pine trees in Asan coming weekend before it is too late.

The "Street of Ginkgo" or "Ginkgo Avenue" stretches two to three killo meters toward the road to Hyunchungsa in Asan. Along the way is a stream called "Gokgyo."

The fat Ginkgo trees are as tall as 10 meters, making the street as if its is a tunnel made out of Ginko leaves turning yellow.

Motorists can feel as if they are going through a tunnel of gold while driving through the Ginkgo Avenue on the road to Hyeonchungsa Shrine built in memory of Admiral Yi Sun-Shin, who defeated Japanese fleets during Hydeyoshi invasion (1592-98). It is at 126, Hyeonchungsa-gil, Asan-si, South Chungcheong Province.
ST Photo Gallery
Photo News
Embassy Events
Econo People 2005
Fashion Images
New Movies
Travel Images
Nayan Sthankiya's Photo Features New
Abuses of Iraqi Prisoners of War
Academy Awards Photos 2004
Adolf Hitler
Aishwarya Rai-Indian actress
Buddha`s Birthday 2004
Cannes 2004 — 57th Cannes Film Festival
Choi Tae-Ji Photo Gallery
Comfort Woman Picture Gallery
Crown Prince Felipe of Spain
Dokdo Photo Gallery
Erotic Paintings of Hyewon and Danwon
Franz`s Art Exhibition
Gando Photo Gallery
Geisha in Japan
Gwangju Massacre
Jeju Island
Kim Jong-Il and Kim Il-Sung
Koguryo Murals
Korean War (1950-53)
Madonna
Miss Universe 2004
Miss World Contest 2003
Mt. Kumkang or Mt. Diamond New
Natural Beauty of Korea
Rape of Nanjing (Nanjing Massacre)
Rio Carnival 2004
Ronald Reagan`s Life in Pictures
ST Family
Sonia Gandhi and Gandhi Clan
Taj Mahal Photo Gallery
Ukrainian Embassy
World War Two
Photo Gallery of World Newspapers/Media
Times of India
Hindustan Times
SantaBanta.com
Straights Times (Singapore)
Chicago Sun-Times
Moscow Times