Photo News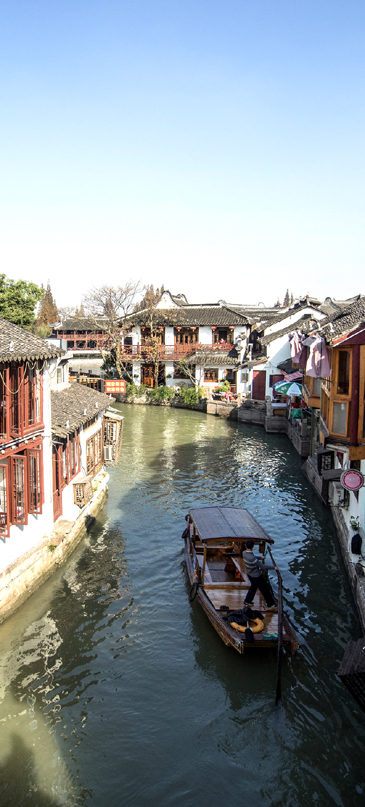 Ancient Water Town Zhujiajiao (ñ¹Ê«ÊÇ) in ChinaThe ancient water town of Zhujiajiao (ñ¹Ê«ÊÇ) on the outskirts of Shanghai was established about 1,700 years ago, still attracting a myriad of tourists from the world as well as from China.

Located in the Qingpu District of Shanghai. The small town of a population of 60,000 boasts of 36 stone bridges. And numerous rivers runs through Zhujiajiao with many ancient buildings still lined on the riverbanks today

The town has a very vibrant ancient water village.
In the past Zhujiajiao was an important trading hub for the surrounding countryside, and many of the buildings still intact date back to the Ming and Qing dynasties.

Traditionally, goods and people were ferried on the small canals from house to house, passing under the 36 ancient stone bridges that are all still in use by locals and tourists alike.

The village prospered through clothing and rice businesses. Today, old historical buildings such as rice shops, banks, spice stores and even a Qing dynasty post office can still be found.

Zhujiajiao has many sights of historic interest, such as Fangsheng Bridge, Kezhi Garden and the Yuanjin Buddhist Temple.

However, recent overdevelopment threatens the village's authenticity - most notably the current (2012) conversion of its people's square into shops and the large-scale shopping and entertainment complexes being constructed in and around the Old Town.

Something which is absolutely worth visiting though, is the Water Heavens performance by Tan Dun. Located by the riverbank in the old town, just a few minutes walking straight from Kezhi garden parking lot.
ST Photo Gallery
Photo News
Embassy Events
Econo People 2005
Fashion Images
New Movies
Travel Images
Nayan Sthankiya's Photo Features New
Abuses of Iraqi Prisoners of War
Academy Awards Photos 2004
Adolf Hitler
Aishwarya Rai-Indian actress
Buddha`s Birthday 2004
Cannes 2004 — 57th Cannes Film Festival
Choi Tae-Ji Photo Gallery
Comfort Woman Picture Gallery
Crown Prince Felipe of Spain
Dokdo Photo Gallery
Erotic Paintings of Hyewon and Danwon
Franz`s Art Exhibition
Gando Photo Gallery
Geisha in Japan
Gwangju Massacre
Jeju Island
Kim Jong-Il and Kim Il-Sung
Koguryo Murals
Korean War (1950-53)
Madonna
Miss Universe 2004
Miss World Contest 2003
Mt. Kumkang or Mt. Diamond New
Natural Beauty of Korea
Rape of Nanjing (Nanjing Massacre)
Rio Carnival 2004
Ronald Reagan`s Life in Pictures
ST Family
Sonia Gandhi and Gandhi Clan
Taj Mahal Photo Gallery
Ukrainian Embassy
World War Two
Photo Gallery of World Newspapers/Media
Times of India
Hindustan Times
SantaBanta.com
Straights Times (Singapore)
Chicago Sun-Times
Moscow Times