Photo News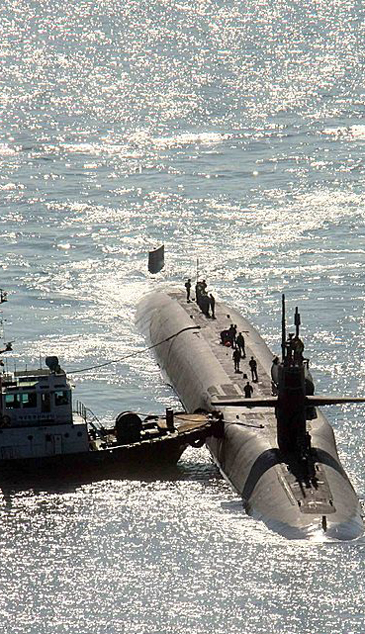 USS-Ohio Class Nuke Sub Arrives in BusanNuclear-powered guided missile submarine "USS Ohio (SSGN 726)" arrived in Busan Port in South Korea on July 13 (Wednesday), 2016.

The Ohio-Class submarine entered in the port of Busan, South Korea's second largest city amid strong opposition of China over the planned deployment of the U.S.-led Terminal High Altitude Area Defense (Thaad) system over South Korea.

The US submarine will stay in the port for several days.

Earlier on March 23 (Wednesday) this year USS Ohio visited Subic Bay in the Philippines

It was commissioned in 1981 at the height of the Cold War between the US and the former Soviet Union.

With its 150 crew and officers, Ohio will conduct missions and showcase the latest capabilities of the US Navy's submarine fleet.

Measuring 560 feet long and displacing more than 18,000 tons of water when submerged, Ohio is one of the largest and most versatile submarines in the world.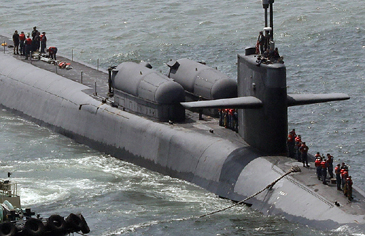 "USS Ohio (SSGN 726)" arrived in Busan Port in S. Korea on July 13 (Wednesday), 2016.



It is capable of supporting a vast multitude of missions, including anti-submarine warfare, anti-surface ship warfare, tomahawk strike, naval special warfare involving special operations forces, and intelligence, surveillance, and reconnaissance.

Ohio is equipped with advanced sonar, fire control, and weapons systems and state-of-the-art sound silencing equipment allowing it to conduct its missions while remaining completely undetected.

Commissioned in 1981 as SSBN-726, Ohio was once the lead boat of the Ohio-class ballistic missile submarine.

From 2002 to 2005, Ohio underwent an extensive refuel and overhaul where it was converted from a ballistic missile submarine into a guided missile submarine.

Ohio was re-commissioned in 2005 as SSGN-726.

Equipped with dual drydock shelters, Ohio is uniquely capable of supporting extensive naval special warfare operations.

Ohio is armed with up to 154 tomahawk cruise missiles, far more than any other submarine or surface warship, and can launch its entire payload in a matter of hours while remaining submerged.

Ohio is homeported at Naval Base Kitsap in Bangor, Washington but remains forward deployed out of Apra Harbor, Guam, for most of its 16-month operational cycle.

It is manned by two separate crews (Blue and Gold) who alternate every four month.
ST Photo Gallery
Photo News
Embassy Events
Econo People 2005
Fashion Images
New Movies
Travel Images
Nayan Sthankiya's Photo Features New
Abuses of Iraqi Prisoners of War
Academy Awards Photos 2004
Adolf Hitler
Aishwarya Rai-Indian actress
Buddha`s Birthday 2004
Cannes 2004 — 57th Cannes Film Festival
Choi Tae-Ji Photo Gallery
Comfort Woman Picture Gallery
Crown Prince Felipe of Spain
Dokdo Photo Gallery
Erotic Paintings of Hyewon and Danwon
Franz`s Art Exhibition
Gando Photo Gallery
Geisha in Japan
Gwangju Massacre
Jeju Island
Kim Jong-Il and Kim Il-Sung
Koguryo Murals
Korean War (1950-53)
Madonna
Miss Universe 2004
Miss World Contest 2003
Mt. Kumkang or Mt. Diamond New
Natural Beauty of Korea
Rape of Nanjing (Nanjing Massacre)
Rio Carnival 2004
Ronald Reagan`s Life in Pictures
ST Family
Sonia Gandhi and Gandhi Clan
Taj Mahal Photo Gallery
Ukrainian Embassy
World War Two
Photo Gallery of World Newspapers/Media
Times of India
Hindustan Times
SantaBanta.com
Straights Times (Singapore)
Chicago Sun-Times
Moscow Times