Photo News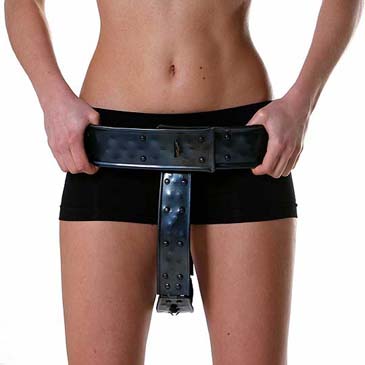 Medieval Chastity BeltA model poses with a metal chastity belt, made by craftsman Lucio Valentini, in the central Italian town of Gubbio November 13, 2006. Valentini works with the Medievo company producing the medieval belts for film makers, museums, and individuals.

History of the Chastity Belt

The history of the chastity belt is difficult to prove. With little documentary evidence available until the 15th Century any myths, legends and stories before that time can only really be considered as conjecture.

Some of that conjecture includes:

Stories of Roman female slaves who were locked into chastity belts and were only granted release for the sexual pleasure of their masters and mistresses.

Tales of Roman prostitutes being forced to wear chastity belts which exposed their vulvas, these were worn to tease potential male customers, the belts only being removed once money had exchanged hands!

Legends and myths of Medieval Ladies being locked within chastity belts until their Knights and Lords returned from fighting in the Crusades to free them. Chaucer does mention chastity in his writings, and medieval knights of the Crusades did swear vows of obedience, loyalty, poverty and chastity. However, chastity belts which claimed to have been manufactured around that time have since been proven to be 19th Century "replicas", "curiosities" or "fakes. In 1996, Felicity Riddy, a representative of Medieval Studies at York University said "There is no medieval evidence, from Chaucer or anyone else. It all points to an early urban myth brought back to life by the Victorians".

Two of the best examples of so called Medieval chastity belts can be found in Mus? National du Moyen, the Cluny Museum of Paris. The photograph, left, below is a belt originally thought to be made in the 12th Century, which has been proven to be a "curiosity". It has it has a metal waist band covered in velvet and a crotch guard made of ivory which is supposed to press firmly against the vagina. To the right of that is another in the Cluny collection.

Chastity Facts:

The first documented reference to the term "chastity belt" is credited to R'gine Pernoud, a Medieval historian who, in the 14th Century explained that a simple cord worn around the waist was a symbol of chastity (such as the robes of a monk or priest - the cord around his waist is a symbol of his vows of chastity and purity).

The first written evidence of a chastity belt was recorded by Keyser von Eichstad, a retired solider who compiled a manuscript in 1405 about the art of war and military equipment. In his book "Bellifortis" he included a drawing of a chastity belt (picture below), with the inscription "Est florentinarum hoc bracile dominarum ferreum et durum ab antea sit reseratum" ("breeches of hard Florentine iron that are closed at the front"). This chastity belt was worn by the women of Florence, Italy as a method of preventing rape. The Bellifortis manuscript is held in the library of Goettingen University, Germany.

The emergence of the Male Chastity..........
Unlike female chastity belts, the development of the male chastity belt or device has been much easier to follow. It's history is much more recent and can be traced through patients records. Below are 4 examples - the top 2 are American and the lowest one is of a patent held at Leeds County Council, Yorkshire. The middle called "The Timely Warning" is also an American design of 1905 and is similar to the "Kali's Teeth Bracelet" (an anti-erection device).
ST Photo Gallery
Photo News
Embassy Events
Econo People 2005
Fashion Images
New Movies
Travel Images
Nayan Sthankiya's Photo Features New
Abuses of Iraqi Prisoners of War
Academy Awards Photos 2004
Adolf Hitler
Aishwarya Rai-Indian actress
Buddha`s Birthday 2004
Cannes 2004 — 57th Cannes Film Festival
Choi Tae-Ji Photo Gallery
Comfort Woman Picture Gallery
Crown Prince Felipe of Spain
Dokdo Photo Gallery
Erotic Paintings of Hyewon and Danwon
Franz`s Art Exhibition
Gando Photo Gallery
Geisha in Japan
Gwangju Massacre
Jeju Island
Kim Jong-Il and Kim Il-Sung
Koguryo Murals
Korean War (1950-53)
Madonna
Miss Universe 2004
Miss World Contest 2003
Mt. Kumkang or Mt. Diamond New
Natural Beauty of Korea
Rape of Nanjing (Nanjing Massacre)
Rio Carnival 2004
Ronald Reagan`s Life in Pictures
ST Family
Sonia Gandhi and Gandhi Clan
Taj Mahal Photo Gallery
Ukrainian Embassy
World War Two
Photo Gallery of World Newspapers/Media
Times of India
Hindustan Times
SantaBanta.com
Straights Times (Singapore)
Chicago Sun-Times
Moscow Times