New Movies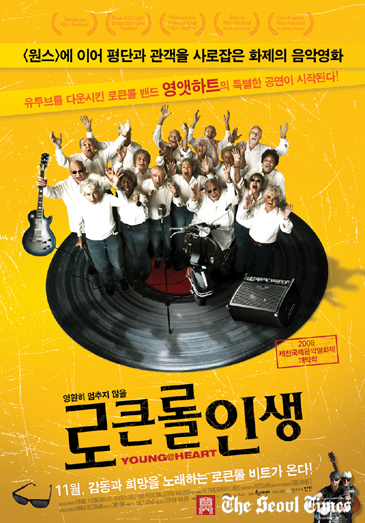 Young@Heart (로큰롤 인생)Synopsis

Members of a senior citizens' chorus from New England perform rock songs by such artists as The Clash and Coldplay.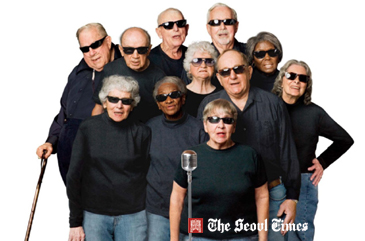 Young@Heart (로큰롤 인생)


About the Movie

Young@Heart is a New England senior citizens chorus that has delighted audiences worldwide with their covers of songs by everyone from The Clash to Coldplay. Based in Northampton, Massachusetts, the group is made up of two dozen spirited seniors who specialize in reinterpreting rock, punk and R & B classics from a unique perspective. Their lineup includes former schoolteachers, executives, doctors and food service workers, and the chorus is guided by their longtime director Bob Cilman. With less than two months to go until a one night only concert in their hometown, the performers struggle with the new lyrics and unfamiliar melodies of seven new songs. During their thrice weekly rehearsals, they gradually take possession of music ranging from R&B classics like Allen Toussaint, Yes We Can Can, to Coldplay, emotionally powerful ballad, Fix You, upending assumptions about old age, love, sex and death.

Cast & Crew

Produced by: Jane Villiers, Sally George
Production Co.: Walker George Films, Channel Four
Starring: Bob Cilman, Young@Heart
Genres: Art/Foreign, Documentary and Musical/Performing Arts
Running Time: 1 hr. 48 min.
Release Date: April 9th, 2008 (limited)
MPAA Rating: PG for some mild language and thematic elements.
Distributors: Fox Searchlight Pictures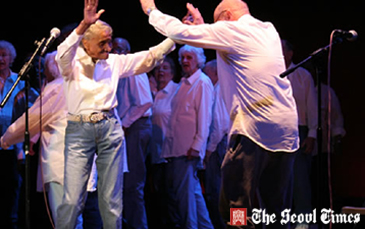 Young@Heart (로큰롤 인생)


Synopsis

미국 매사추세츠 노스햄튼 출신의 노인들로 구성된 로큰롤 코러스밴드 '영앳하트'. 양로원에서 남은 여생을 마무리하고 있을 나이지만, 이들은 오늘도 쑤시는 몸을 이끌고 흥겨운 로큰롤을 배우기 위해 모인다. 가사를 외우는 것도 리듬을 익히는 일도 쉽지는 않지만, 무대에 서서 관객들에게 노래를 들려줄 생각을 하면 벌써부터 기대와 흥분으로 설렌다는 사람들.

About the Movie

유투브를 다운시킨 로큰롤 밴드 영앳하트의 특별한 공연이 시작된다!
로큰롤 정신 담긴 노란 배경 포스터에 관객들의 이목 집중!!

노란색 바탕이 보는 이들의 눈길을 단박에 사로잡는 <로큰롤 인생>의 공식 포스터! 그 가운데 웬 할머니할아버지들의 모습이 보인다. 선글라스를 끼고 청바지에 흰색 상의를 맞춰 입은 모습이 범상치 않아 보이는 이들은 바로 세계에서 가장 특별한 코러스밴드 '영앳하트'! 두 팔을 벌려 하늘을 향해 소리를 지르고 있는 이들의 다이나믹한 모습에서 남다른 매력이 느껴진다. 검은색 LP판을 타고 전자 기타를 손에 든 채 로큰롤 스피릿을 뿜어내고 있는 영앳하트 멤버들의 모습이 인상적인 포스터는 음악을 통해 계속해서 즐거운 인생을 살아가는 그들의 이야기를 점점 더 궁금하게 만든다.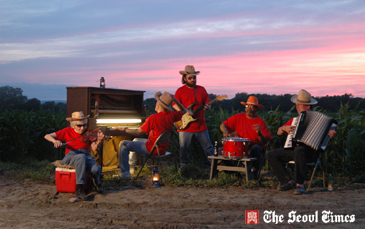 Young@Heart (로큰롤 인생)


또한 <로큰롤 인생> 포스터는 선댄스영화제 상영과 아틀란타, 로스엔젤레스영화제 관객상 수상 등의 심볼로 헤드를 장식하고, "유투브를 다운시킨 로큰롤 밴드 영앳하트의 특별한 공연이 시작된다"는 문구로 관객들의 호기심을 자극한다. 특히 노인네 밴드와 유투브라는 서로 어울리지 않을 것 같은 조합은 영앳하트가 단순한 밴드가 아님을 짐작케 한다. 또한 오토바이, 선글라스 등 로큰롤 아이템을 곳곳에 배치하고, 노란색 배경에 거친 질감을 더해 좀 더 로큰롤적인 느낌을 강조하고 젊음의 느낌을 살렸다.

관객들에게 흥겨운 로큰롤 정신을 전해줄 영화! <로큰롤 인생>

2008년 제천국제음악영화제 개막작으로 선정, 관객과 평단을 사로잡은 화제의 음악영화 <로큰롤 인생>은 미국 매사추세츠 노스햄튼 출신의 범상치 않은 노인네들로 구성된 특별한 코러스밴드 '영앳하트'를 주인공으로, 공연을 준비하는 멤버들의 모습부터 감동의 공연 현장까지 7주간의 생생한 기록들을 카메라에 담은 영화다. 클래쉬, 라디오헤드, 콜드플레이 등 세계적인 밴드들의 곡을 자신들만의 스타일로 재창조해 큰 사랑을 받고 있는 영앳하트 멤버들! 이들이 이야기하는 음악의 매력과 행복한 인생론이 흥겨운 로큰롤과 함께 펼쳐진다.



Cast & Crew

제목: 로큰롤 인생
원제: Young At Heart
감독: 스티븐 워커
수입/배급: 영화사 진진
출연: 영앳하트 멤버
상영시간: 108분
개봉일: 2008년 11월 27일
장르: 뮤지컬, 무대연극

홈페이지: http://www.foxsearchlight.com/youngatheart
ST Photo Gallery
Photo News
Embassy Events
Econo People 2005
Fashion Images
New Movies
Travel Images
Nayan Sthankiya's Photo Features New
Abuses of Iraqi Prisoners of War
Academy Awards Photos 2004
Adolf Hitler
Aishwarya Rai-Indian actress
Buddha`s Birthday 2004
Cannes 2004 — 57th Cannes Film Festival
Choi Tae-Ji Photo Gallery
Comfort Woman Picture Gallery
Crown Prince Felipe of Spain
Dokdo Photo Gallery
Erotic Paintings of Hyewon and Danwon
Franz`s Art Exhibition
Gando Photo Gallery
Geisha in Japan
Gwangju Massacre
Jeju Island
Kim Jong-Il and Kim Il-Sung
Koguryo Murals
Korean War (1950-53)
Madonna
Miss Universe 2004
Miss World Contest 2003
Mt. Kumkang or Mt. Diamond New
Natural Beauty of Korea
Rape of Nanjing (Nanjing Massacre)
Rio Carnival 2004
Ronald Reagan`s Life in Pictures
ST Family
Sonia Gandhi and Gandhi Clan
Taj Mahal Photo Gallery
Ukrainian Embassy
World War Two
Photo Gallery of World Newspapers/Media
Times of India
Hindustan Times
SantaBanta.com
Straights Times (Singapore)
Chicago Sun-Times
Moscow Times