New Movies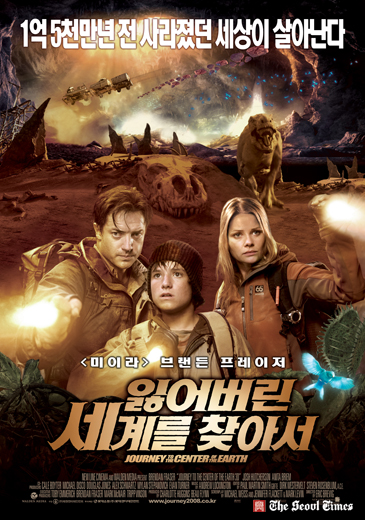 Journey To The Center Of The Earth
(잃어버린 세계를 찾아서)Synopsis

Trevor Anderson (Brendan Fraser) is a Bostonian volcanologist whose 13-year-old nephew, Sean (Josh Hutcherson), is supposed to spend ten days with him.

Trevor has forgotten that Sean is coming until he receives several messages from Sean's mother. When Sean's mother drops him off, she leaves Trevor with a box of items that belonged to Max, Trevor's brother and Sean's father, who disappeared years before. Sean suddenly takes interest in what Trevor has to say after he tells him about his father, whom he never really had a chance to know. Trevor discovers in the box Max's old baseball glove, a yo-yo, and the novel Journey to the Center of the Earth by Jules Verne. Inside the book Trevor finds notes written by his late brother. Trevor goes to his laboratory to find out more about the notes. There he realizes that he must go to Iceland to investigate for himself.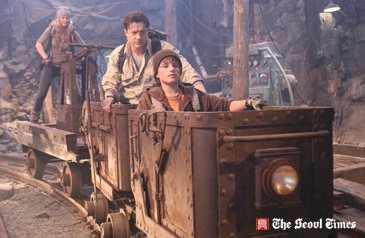 Journey To The Center Of The Earth (잃어버린 세계를 찾아서)


About the Movie

Journey to Center of Earth is a 3-D film released on July 11, 2008.

The film stars Brendan Fraser, Josh Hutcherson, and Anita Briem. The story follows three modern day characters who go on an adventure by following clues from the novel of the same name by Jules Verne; the film is often mistakenly considered to be an adaptation of the novel.

Cast & Crew

Director: Eric Brevig
Writers (WGA): Michael D. Weiss (screenplay)
Jennifer Flackett (screenplay)
Cast: Brendan Fraser, Josh Hutcherson, Anita Briem
Genre: Action, Adventure, Family, Fantasy, Sci-Fi, Thriller
Language: English
Release Date: 18 December 2008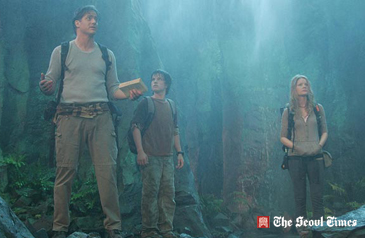 Journey To The Center Of The Earth (잃어버린 세계를 찾아서)


Synopsis

그 누구도 찾을 수 없었던, 지구 중심세계의 문이 열린다!

지각변동을 늘 예의주시하고 있던 지질학자 트레버(브랜든 프레이저)는 수년 전 실종된 형의 오래된 상자 속에서 우연히 <지구 속 여행>이라는 고서를 발견하게 된다.
책 속에 남겨진 암호가 지구 속 세상의 비밀을 밝힐 중요한 단서라고 여긴 트레버는 조카 션(조쉬 허처슨)과 함께 암호를 해독해가며 불과 얼음으로 뒤덮인 땅 아이슬란드로 향한다. 고서에 명시된 대로 찾아간 산장에서 미모의 산악가이드 한나(애니타 브리엠)의 도움을 받아 사화산 분화구에 오르지만 급작스런 기후 변화로 동굴에 갇히게 된다. 그 곳에서 그들은 지구 중심 세계로 통하는 빅 홀로 빠지게 되는데…

About the Movie

상상을 불허하는 공상모험 소설의 아버지'쥘 베른'의 SF고전
<지구 속 여행> 스크린에서 부활하다!

공상과학 소설가의 아버지라 일컬어지는 쥘 베른은 '경이의 여행'이라고 불리는 수많은 걸작 시리즈를 1년에 1~2편씩 40여 년 동안 꾸준히 집필했다. 1905년, 사망하기까지 <80일간의 세계일주>,<15소년 표류기>,<해저2만리>등 자그마치 100편이 넘는 소설로 전세계 독자들을 작가가 상상한 미지의 세계로 끌어들이며 SF 소설의 대가로 군림하게 되었다. 그의 넘치는 상상력에 심취되어 소설 속 세상을 마치 실존의 세상으로 믿는 '베르니안'이라 불리는 독자들까지 생겨날 정도로 그의 영향력은 경이적이다.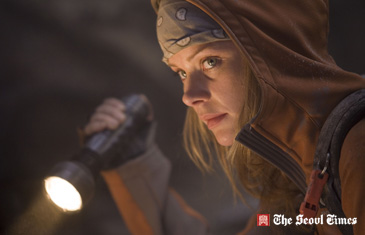 Journey To The Center Of The Earth (잃어버린 세계를 찾아서)


<잃어버린 세계를 찾아서> 폭발적인 관심 속에 벌써부터 대박 예감!

<미이라>시리즈의 강인하고 모험심 강한 브랜든 프레이저 주연의 액션 어드벤처 <잃어버린 세계를 찾아서>는 <반지의 제왕>시리즈로 유명한 J.R.R 톨킨 보다도 100여년이나 앞서 미지의 세계를 보여준 쥘 베른의 원작을 영화화 했다는 사실 뿐만 아니라 <반지의제왕><캐리비안의 해적><스타워즈>의 최강의 제작군단이 최첨단 신 기술력으로 제작, 더욱 뜨거운 관심이 집중되고 있다. 게다가, 감독인 에릭 브레빅은 아카데미 시각효과상을 수상한 이력까지 가지고 있어 영화에 대한 기대감을 상승시킨다. 20대의 젊은 관객 뿐만 아니라 가족까지 폭 넓은 연령대의 관객들 모두가 즐길 수 있는 올 겨울 유일한 액션 어드벤처<잃어버린 세계를 찾아서>는 12월 18일 개봉한다.

Cast & Crew

원제: Journey To The Center Of The Earth
감독: 에릭 브레빅
출연: 브랜든 프레이저(미이라1,2,3),
조쉬 허처슨(비밀의 숲 테라비시아), 애니타 브리엠 (튜더스 시즌2)
수입: ㈜태원엔터테인먼트
투자/배급: 롯데쇼핑㈜롯데엔터테인먼트
관람등급: 전체관람가
국내개봉: 2008년 12월 18일



홈페이지: http://www.journey3dmovie.com
ST Photo Gallery
Photo News
Embassy Events
Econo People 2005
Fashion Images
New Movies
Travel Images
Nayan Sthankiya's Photo Features New
Abuses of Iraqi Prisoners of War
Academy Awards Photos 2004
Adolf Hitler
Aishwarya Rai-Indian actress
Buddha`s Birthday 2004
Cannes 2004 — 57th Cannes Film Festival
Choi Tae-Ji Photo Gallery
Comfort Woman Picture Gallery
Crown Prince Felipe of Spain
Dokdo Photo Gallery
Erotic Paintings of Hyewon and Danwon
Franz`s Art Exhibition
Gando Photo Gallery
Geisha in Japan
Gwangju Massacre
Jeju Island
Kim Jong-Il and Kim Il-Sung
Koguryo Murals
Korean War (1950-53)
Madonna
Miss Universe 2004
Miss World Contest 2003
Mt. Kumkang or Mt. Diamond New
Natural Beauty of Korea
Rape of Nanjing (Nanjing Massacre)
Rio Carnival 2004
Ronald Reagan`s Life in Pictures
ST Family
Sonia Gandhi and Gandhi Clan
Taj Mahal Photo Gallery
Ukrainian Embassy
World War Two
Photo Gallery of World Newspapers/Media
Times of India
Hindustan Times
SantaBanta.com
Straights Times (Singapore)
Chicago Sun-Times
Moscow Times