New Movies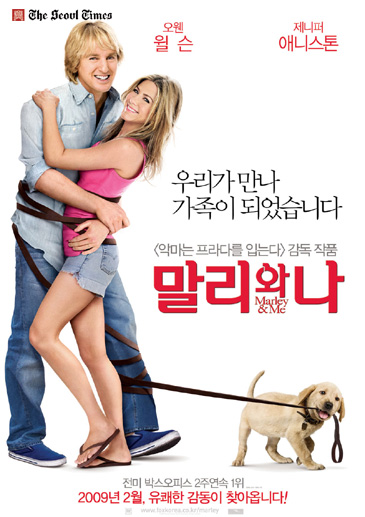 Marley & Me (말리와 나)Synopsis

Soon after their wedding, John and Jenny escape the brutal Michigan winters and relocate to a cottage in southern Florida, where they are hired as reporters for competing newspapers. At The Palm Beach Post, Jenny immediately receives prominent front-page assignments, while at the South Florida Sun-Sentinel, John finds himself writing obituaries and two-paragraph articles about mundane news like a fire at the local garbage dump.

When John senses Jenny is contemplating motherhood, his friend and co-worker Sebastian Tunney suggests the couple adopt a dog to see if they're ready to raise a family. From a litter of newborn yellow labrador retrievers they select Marley, who immediately proves to be incorrigible. They bring him to Ms. Kornblut, who firmly believes any dog can be trained, but after he tries to have sex with her believing her to be a poodle she expels them from her class. Afterwards Jenny suggests they have Marley neutered due to the previous incident, but on the way Marley jumps out the window and ends up walking on the sidewalk with his front paws and his back legs being held in the car by John.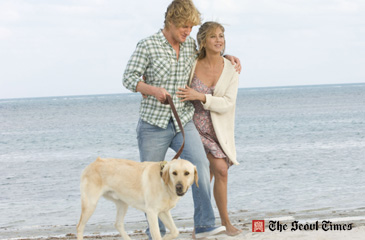 Marley & Me (말리와 나)


About the Movie

The filmmakers behind 'The Devil Wears Prada' take on another bestseller in the family film 'Marley and Me'. Based on the hit memoir by John Grogan, 'Marley and Me' chronicles the relationship of John (Owen Wilson) and Jen (Jennifer Aniston) as they face the challenges of marriage and work to start a family. By their side is their beloved dog, Marley, who can chew through drywall, got kicked out of obedience school, and never met a leg he didn't like. The cute pup's antics come to signify the unexpected challenges that everyone faces in adulthood, and the film is ultimately a paean to unconditional love; others may see Marley as the "world's worst dog," but throughout it all, he proves to be the couple's most faithful friend. 'Marley and Me' plays like a modern day Norman Rockwell portrait with a little more bite, courtesy of the snark-friendly screenwriters and the title's wild mutt. The sets are sumptuous, with every shot lovingly lit to look like a Hallmark card. The winning lead performances help elevate the picture above its feel-good counterparts; Aniston is radiant and Wilson shows off sharp dramatic chops, giving some maturity to his loveable comedic persona. Alan Arkin gives a scene-stealing performance as Wilson's boss, and Kathleen Turner proves to be a great sport with her physically demanding cameo as Marley's obedience instructor. But in the end the picture belongs to the dogs, and for once that's a good thing. A film that keeps the audience cooing, cracking up, and crying, 'Marley and Me' is sure to become a family favorite.

Cast & Crew

Director: David Frankel
Writer: Scott Frank, Don Roos
Starring: Owen Wilson, Jennifer Aniston
Genre: Comedy, Drama, Family, Romance
Country: USA
Language: English
Release Date: Feb. 19, 2009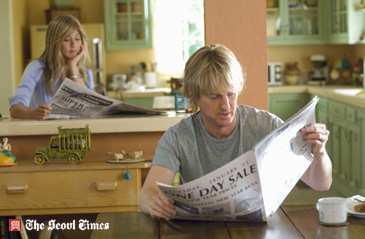 Marley & Me (말리와 나)


Synopsis

인생 Stage 1. 행복했던 그들에게 기상천외한 선물이 도착했다!

일과 가정 모두 완벽함을 추구하는 제니 (제니퍼 애니스톤)와 그녀와는 정반대로 꿈을 좇으며 자유로운 인생을 살고 싶어 하는 존 (오웬 윌슨). 극과 극의 성격을 가진 제니와 존은 뜨거운 열애 끝에 마침내 결혼에 골인하고 따뜻한 플로리다에서 신혼의 달콤함을 즐긴다. 그러던 어느 날, 존은 새로운 가족을 원하는 제니를 위해 특별한 선물을 준비하는데...

인생 Stage 2. 매일 매일이 살얼음판~ 그래도 우리는 가족입니다!

하루아침에 생긴 사랑스러운 가족, 강아지 말리로 인해 새로운 삶을 살게 된 제니와 존. 하지만 가족이 늘어간다는 건 그들이 예상했던 것보다 더 쉽지 않은 일이었다. 하루가 멀다하고 사고를 치는 사고뭉치 말리 때문에 제니와 존은 스펙터클한 시간을 보낸다. 그러나 자신들의 곁을 지키는 든든한 말리 덕분에 점점 가족의 의미를 알게 되는 존과 제니. 하지만 이들에게도 이별의 시간은 점점 다가오는데...

About the Movie

베스트셀러가 전하는 감동 실화!
<말리와 나>

발간 당시 40주 동안 뉴욕 타임즈 베스트셀러 부분을 뜨겁게 달구며 전세계인을 감동시킨 에세이 <말리와 나>가 할리우드의 유쾌남 '오웬 윌슨'과 매력적인 패셔니스타 '제니퍼 애니스톤'의 열연에 의해 영화로 탄생, 관객들을 찾아온다. 특히 이들은 휴먼 감동 드라마 <말리와 나>에서 사랑 풋풋한 신혼부부로 출연, 알콩달콩한 결혼 생활을 선보인다.

젊은 커플이 가족의 참된 의미와 인생을 알아가는 휴먼 감동 드라마!

겉모습만으로도 완벽함을 자랑하는 '오웬 윌슨'과 '제니퍼 애니스톤'은 영화 속에 가진 직업마저 비슷해 한 쌍의 잉꼬를 떠오르게 한다. 바로 '오웬 윌슨'과 '제니퍼 애니스톤'은 극 중 주 무대 중 하나인 플로리다 웨스트팜비치의 지역 신문사에서 저널리스트로 일하고 있는 것. 이에 부부는 아침마다 신문에 실린 서로의 글을 봐주며 의견을 나누는가 하면, 상대방의 글이 좀 더 큰 지면에 나오기라도 하면 질투 아닌 질투를 하는 등 상대방의 커리어에 도움이 될 만한 충고를 해주며 즐거운 나날을 보낸다.

뿐만 아니라 언제나 함께 있고 싶은 마음에, 떨어져 있을 때면 밤낮 가리지 않고 서로 통화하기에 바쁘다. 침대에 누워 통화하는 '제니퍼 애니스톤'의 새침한 모습은 반대편에서 전화를 받고 있을 '오웬 윌슨' 행복한 표정을 상상하게 만든다. 영화 속에서 환상적인 궁합을 자랑하며 언제나 행복한 모습을 보여주는 이들의 모습은 뭇 솔로들의 마음에 불을 지르며 결혼에 대한 달콤한 환상을 심어 줄 것이다. 특히, 어느 날 갑자기 자신들만의 신혼생활에 침입한 '말리'로 인해 완벽한 가족으로 변모하는 '오웬 윌슨'과 '제니퍼 애니스톤'은 그 어떤 가족보다 순수한 사랑을 함께 나누며 인생에 있어 가장 소중한 것이 무엇인지 깨닫게 된다. 이러한 과정은 관객들로 하여금 커다란 감동을 안겨주며 보는 이들의 이성과 감성을 동시에 매료시킬 것이다.

순수한 사랑과 인생의 참된 행복을 안겨 줄 <말리와 나>는 오는 2월 19일, 국내 개봉과 함께 극장가를 해피 바이러스로 물들일 것이다.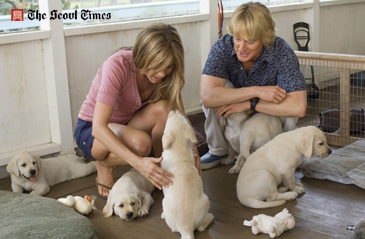 Marley & Me (말리와 나)


Cast & Crew

원제: Marley & Me
감독: 데이빗 프랭클
출연: 오웬 윌슨, 제니퍼 애니스톤
장르: 로맨스, 드라마, 코미디, 휴먼
관람등급: 12세 이상 관람가
배급사: 이십세기 폭스 코리아
제작국: 미국
개봉예정일: 2009년 2월 19일



홈페이지: www.foxkorea.co.kr
ST Photo Gallery
Photo News
Embassy Events
Econo People 2005
Fashion Images
New Movies
Travel Images
Nayan Sthankiya's Photo Features New
Abuses of Iraqi Prisoners of War
Academy Awards Photos 2004
Adolf Hitler
Aishwarya Rai-Indian actress
Buddha`s Birthday 2004
Cannes 2004 — 57th Cannes Film Festival
Choi Tae-Ji Photo Gallery
Comfort Woman Picture Gallery
Crown Prince Felipe of Spain
Dokdo Photo Gallery
Erotic Paintings of Hyewon and Danwon
Franz`s Art Exhibition
Gando Photo Gallery
Geisha in Japan
Gwangju Massacre
Jeju Island
Kim Jong-Il and Kim Il-Sung
Koguryo Murals
Korean War (1950-53)
Madonna
Miss Universe 2004
Miss World Contest 2003
Mt. Kumkang or Mt. Diamond New
Natural Beauty of Korea
Rape of Nanjing (Nanjing Massacre)
Rio Carnival 2004
Ronald Reagan`s Life in Pictures
ST Family
Sonia Gandhi and Gandhi Clan
Taj Mahal Photo Gallery
Ukrainian Embassy
World War Two
Photo Gallery of World Newspapers/Media
Times of India
Hindustan Times
SantaBanta.com
Straights Times (Singapore)
Chicago Sun-Times
Moscow Times