New Movies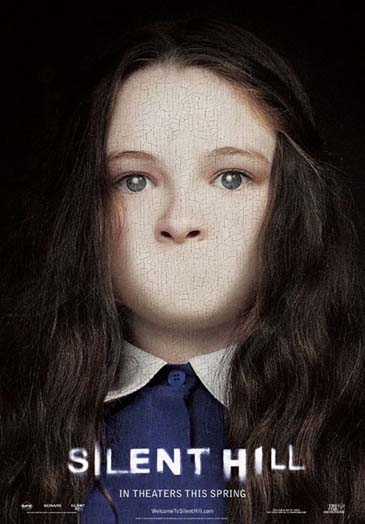 사일런트 힐 (Silent Hill, 2006)Director: Christophe Gans
Starring: Radha Mitchell, Sean Bean, Laurie Holden, Deborah Kara Unger, Kim Coates
Producer: Victor Hadida, Andrew Mason, Akira Yamaoka
Screen Play: Roger Avary
Length: 127 min
Rated: R
Distributor: TriStar Pictures
Release Date: 2006-08-03

Movie Review

By Peter Hartlaub

I have not played the video game upon which this film is based, and I assume that that's not a prerequisite. If the game is anywhere as creepy and odd as this movie, perhaps I should. The plot concerns a typical family with atypical problems, their young daughter Sharon (played by the J-horror-haired Jodelle Ferland) is a sleepwalker and it seems as though her somnambulistic journeys take her further and further from the safety of home (in the opening minutes of the movie we see her standing atop a particularly dangerous cliff face). Her parents Rose (Radha Mitchell) and the dour Christopher (Sean Bean) are at odds over what to do. Christopher opts for medication, while Rose decides to follow Sharon's lead. When she's dreaming, Sharon mentions a town called Silent Hill. Rose decides she'd better bring Sharon to the town and find out just what all the fuss is about. Turns out, Silent Hill is off limits ? the place is a ghost town after a disastrous fire. And the fire still burns under its decaying crust.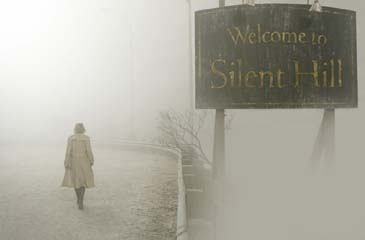 사일런트 힐 (Silent Hill, 2006)



A car accident, a nosy cop on a motorcycle (Laurie Holden), and Sharon's escaping into the deserted town that rains ash, all collide in a chain reaction that leads Rose into a literal heart of darkness. Silent Hill, the town, inhabits a peculiar limbo ? it is quite literally cut off from the rest of the world ? where air raid sirens (surely some of the creepiest sound effects you're ever likely to hear in a film) precede the coming of a dark tide that washes over the ghost town with surprising regularity. With the arrival of the eldritch dark, the walls literally shred away, revealing an industrial hellscape that lies somewhere beneath the reality of the decaying town, populated by human-faced, screaming insects, twisted lava infants, and something called "Pyramid Head," that has an incredibly unwieldy helmet and one of the largest swords in cinema history. It's a brutal, dark, and hideous place and the highlight of the film.

Phantasmagorical. That's the best word to describe the grotesque, dark world of Silent Hill. Director Christophe Gans and scripter Roger Avary (Pulp Fiction) have created a singularly strange, at times agonizingly frightening, dream-like film. And like any dream, some parts of the film work, others don't. Some sequences are labored and sketchily delivered, forgettable, while others are intensely realized tableaus of horror and fantasy.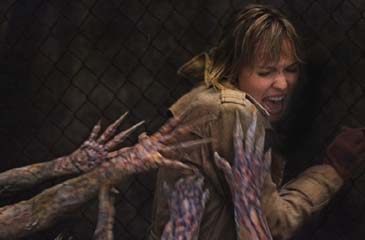 사일런트 힐 (Silent Hill, 2006)



Christophe Gans' second feature film, the arthouse fav Brotherhood of the Wolf, had a certain fascination with storybook fantasy. It looked like a stripped down, ghoulish version of The Neverending Story ? set-based and fantastical. Silent Hill also has this quality. The CGI landscapes and monstrosities are seamlessly combined with strange and terrifying prosthetics and sets, lending the picture an otherworldly feeling. At times it's like watching a puppeteer's version of Dante's Inferno or the brothers Quay's interpretation of Labyrinth. A long sequence towards the end of the picture, in which all the bizarre, mind-bending twists are elucidated, is one of the finest flashbacks I've ever seen. It's shot like a grainy reel of a forgotten 8mm home movie and it looks perfect. It is truly brilliant. I could watch that one sequence a thousand times over and still be fascinated by it. The soundtrack is also enthralling, veering back and forth between industrial dirges that that wouldn't be out of place on a Tool or Ministry album and piano solos that are both childish and haunting.

Avary's script is like a lucid dream where people speak but what they say is nonsensical and oddly stilted. Clearly the plot was more important than characterization. That's fine, because the acting is, frankly, underwhelming. Gans' direction is good, a few shots are outstanding, and while the pacing slowly considerably towards the end as the movie rushes to fill us in (losing a lot of its early atmosphere), Gans does a fine job catching up the slack the last few minutes.

Silent Hill will remain something of an oddity, the first half is deliriously horrific and disorienting (Suspiria-like in its lurid imagery), and the second is bogged down by too much exposition but highlighted by clever effects, and is just plain jarring. That being said, Silent Hill is probably the closest you'll get to actually having a nightmare in a movie theatre outside of a midnight screening of David Lynch's Eraserhead.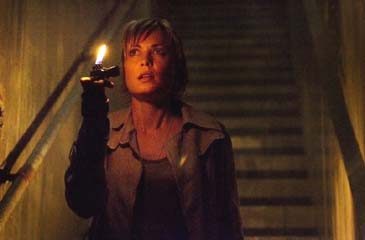 사일런트 힐 (Silent Hill, 2006)



Synopsis

거대한 어둠의 저주에 사로잡힌 그 곳, <사일런트 힐>!

크리스토퍼와 로즈의 딸 샤론은 몽유병 증세를 보인다. 잠든 상태에서 기이한 행동을 보이지만, 깨어나면 아무것도 기억하지 못하는 딸. 로즈는 무의식적으로 자꾸만 '사일런트 힐'로 가려는 딸 샤론을 찾아 30년전 불타버린 마을'사일런트 힐'로 향한다. 그러다가 현실과 환상의 경계에서 길을 잃고, 30년간 침묵하고 있던 저주가 꿈틀거리는 그 곳으로 들어선다. 이제 로즈는 딸의 과거를 감추고 있는 어둠의 존재에 맞서 사랑스런 딸을 현실 세계로 되찾아와야만 한다!

About movie

<사일런트 힐>, 궁극의 공포가 스크린에서 부활하다!

<사일런트 힐>, 절정의 공포의 근원지는 소니의 PS(플레이스테이션) 게임. 일본 KONAMI사가 PS를 위해 개발한 3차원 호러 어드벤쳐 게임이다. 이 게임은 1996년 첫 출시 이후 네번째 시리즈까지 전세계적으로 도합 400만장이라는 기록적인 판매고를 올렸다. 그리고 <레지던트 이블>, <둠> 등 호러 게임들의 연이은 영화화를 지켜보며 그 어떤 호러 게임보다 더 강렬한 공포감을 자아내는 것으로 악명 높은(!)'사일런트 힐'의 영화화를 손꼽아 기다리던 매니아들의 기다림에 보답하듯 게임보다 더욱 스펙타클하고 웅장한 공포를 선보이게 된다. 주연을 맡은 라다 미첼은 <폰부스>와 <네버랜드를 찾아서>에서 차분하면서도 중심을 잃지 않는 연기력을 입증한 바 있으며, 크리스토퍼 역의 숀 빈은 <반지의 제왕>, <아일랜드> 등에서 선 굵은 연기를 선보이며 국내 관객들에게 친숙한 배우이다. <크라잉 프리맨>과 <늑대의 후예들>에서 독특한 작품세계를 선보였던 감독 크리스토퍼 강스가 연출을 맡았고, 각본은 <펄프픽션>으로 아카데미 각본상을 수상한 로저 에버리이다.

원 제: 사일런트 힐 (Silent Hill, 2006)
감 독: 크리스토프 강스
각 본: 로저 어베어리
주 연: 라다 미첼, 로리 홀든, 숀 빈
제 작: 트리스타 픽쳐스
수입/배급 :
제작국가: 미국, 일본, 프랑스
등 급: 연소자 관람가
상영시간: 153분
장 르: 호러
개봉일: 2006.08.03
홈페이지:http://www.foxkorea.co.kr/garfield2
ST Photo Gallery
Photo News
Embassy Events
Econo People 2005
Fashion Images
New Movies
Travel Images
Nayan Sthankiya's Photo Features New
Abuses of Iraqi Prisoners of War
Academy Awards Photos 2004
Adolf Hitler
Aishwarya Rai-Indian actress
Buddha`s Birthday 2004
Cannes 2004 — 57th Cannes Film Festival
Choi Tae-Ji Photo Gallery
Comfort Woman Picture Gallery
Crown Prince Felipe of Spain
Dokdo Photo Gallery
Erotic Paintings of Hyewon and Danwon
Franz`s Art Exhibition
Gando Photo Gallery
Geisha in Japan
Gwangju Massacre
Jeju Island
Kim Jong-Il and Kim Il-Sung
Koguryo Murals
Korean War (1950-53)
Madonna
Miss Universe 2004
Miss World Contest 2003
Mt. Kumkang or Mt. Diamond New
Natural Beauty of Korea
Rape of Nanjing (Nanjing Massacre)
Rio Carnival 2004
Ronald Reagan`s Life in Pictures
ST Family
Sonia Gandhi and Gandhi Clan
Taj Mahal Photo Gallery
Ukrainian Embassy
World War Two
Photo Gallery of World Newspapers/Media
Times of India
Hindustan Times
SantaBanta.com
Straights Times (Singapore)
Chicago Sun-Times
Moscow Times