New Movies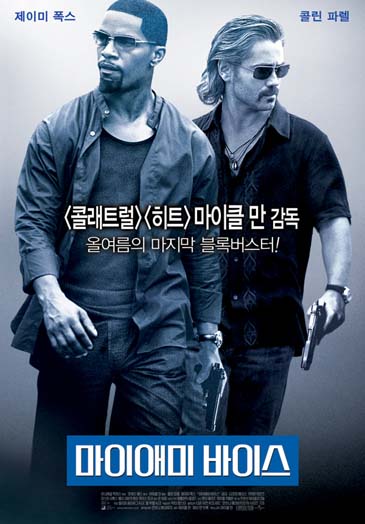 마이애미 바이스 (2006, Miami Vice)Director: Michael Mann
Starring: Jamie Foxx, Colin Farrell, Gong Li, Naomie Harris
Producer: Anthony Yerkovich, Michael Mann, Pieter Jan Brugge
Screen Play: Roger Avary
Length: 132 min
Rated: R
Distributor: Universal Pictures Distribution
Release Date: 2006-08-17

Movie Review

by Richard Rorder

Some of the best TV series-to-movie makeovers occur when the filmmakers take just the core idea and the characters of the TV show and create a world unto itself. Think "The Fugitive."

Some of the worst such efforts — and there have been so many in recent years that they haunt me in my dreams — occur when they take utter junk and turn it into campy, obnoxious crap. Think "Charlie's Angels." "Charlie's Angels 2." "The Dukes of Hazzard." And so on.

Save for Nonpoint's update of Phil Collins' "In the Air Tonight" over the closing credits, Michael Mann's megabudget remake of "Miami Vice" doesn't make any winking references to the seminal piece of eye candy from the 1980s, which was executive produced by Mann and featured Don Johnson and Philip Michael Thomas (the Man With Three First Names) as the pastel-wearing undercover police officers Crockett and Tubbs, respectively. (Thomas' ego was such that he sported a necklace that spelled out "EGOT" — for Emmy, Grammy, Oscar and Tony. Last I checked, he's only two consonants and two vowels shy of reaching his goal.)

While this "Vice" isn't in the same league as Mann's "Collateral" (2004) or "Heat" (1995), it's a gritty, ultra-dark thriller, and it contains two of the best "kill shot" scenes in recent years. Mann's movies earn their R ratings.

Colin Farrell plays Crockett and Jamie Foxx is Tubbs, and like their TV predecessors, they love the fast cars and the slick clothes and the speedboats and the thrill of the hunt for bad guys — but Johnson and Thomas were a wisecracking Felix and Oscar compared to this morose pair. When Foxx mutters, "I hate this job" late in the story, he's telling us something we already know.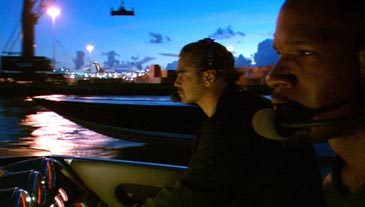 마이애미 바이스 (2006, Miami Vice)



The opening sequence plunges us neck-deep into the lives of Crockett and Tubbs, who seem to be on duty about 22 hours a day. (The other two hours are reserved for steamy shower scenes with their respective lovers.) They're on a stakeout in a Miami nightclub, but they're pulled away when Crockett gets a call from a longtime informant, who's been working for the FBI as the middleman in an insanely complicated drug deal involving everyone from South Florida white supremacists to ruthless Colombian crime lords to operatives working out of Ciudad del Este, located at the point where Paraguay, Brazil and Argentina meet. (And that's a very bad place to meet.) In fact much of "Miami Vice" takes place outside of Miami, as Crockett and Tubbs get themselves deputized by the FBI so they can go (as Eddie Murphy said in "Beverly Hills Cop") deep deep DEEP undercover to bust up an international drug ring.

It takes Crockett about six minutes to fall in love with Isabella, a sophisticated vixen in super-tight skirts who handles the financial details for an international drug lord and also happens to be his girlfriend, though he doesn't seem to mind if she gets involved with the clientele as long as she keeps it casual. Isabella is played by Chinese superstar Gong Li, who struggles nobly — but nonetheless struggles — with her English. There are times when it is nearly impossible to understand what she is saying.

And this "Vice" is already plenty confusing, what with the ever-changing rules of the drug deals, and the deliberately flat and quiet line readings from Farrell and Foxx, not to mention Dion Beebe's gorgeous but dark high-definition digital cinematography, dripping in dark blues and shades of gray. There were moments when I had very little idea of who was buying what drugs at what point from whom, and for that matter why anyone was doing what he or she was doing.

Beyond that, who are these guys? Why did Crockett and Tubbs become cops? For the guns? We know these guys are best friends only because they spell it out: "I'm with you 100 percent." "I'd never doubt you." Unlike most famous cop-buddy tandems (e.g., Gibson and Glover in the "Lethal Weapon" series), they don't seem to enjoy much of anything about their work or their friendship. They're tough guys doing ugly work, and that's that.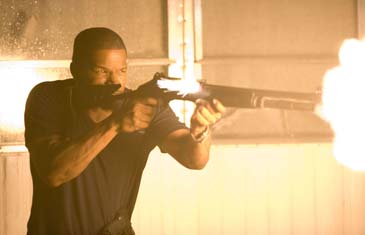 마이애미 바이스 (2006, Miami Vice)



Luis Tosar's Colombian kingpin is a disposable villain who inexplicably disappears from the final sequences. His evil right-hand man, Jose (John Ortiz), sports designer glasses and comes across more like a petulant grad student than a bloodthirsty madman. More interesting in lesser roles are Mann regular Barry Shabaka Henley as the Miami police lieutenant who gives his guys a very long leash, Ciaran Hinds as an FBI liaison and Elizabeth Rodriguez as a Miami cop who has maybe the best variation yet on Dirty Harry's "Well, do ya, punk?" speech. Her big moment actually trumps anything Farrell or Foxx do with their oversized guns.

The plot machinations of "Miami Vice" left me confused and a bit frustrated, yet there's 2-1/2 stars' worth of movie here simply because Mann is the premier visual architect of night action sequences and because he adds a touch of art to even the simplest shots, day or night. A small plane buzzing above the clouds, overhead shots of a drug lord's compound, a dance sequence in a nightclub — all are executed with exquisite grace.

The other half-star goes to that "Dirty Harry" tribute scene, and to say any more would be to rob you of the moment when you'll find it hard to resist the urge to actually clap in a movie theater.

Synopsis

법의 양쪽을 넘나드는 위험천만한 작전이 시작된다.

플로리다 남부로 유입되는 마약 공급책을 수사 중이던 FBI, CIA, DEA 연합 합동 작전이 정보 유출로 인해 실패로 돌아가고 연이은 세 건의 살인 사건이 발생한다. 내부 정보 유출로 더 이상의 사건 개입이 불가능해진 FBI는 합동 작전에 연루되지 않았던 비밀경찰 리코(제이미 폭스)와 소니(콜린 파렐)를 마약 운반책으로 위장시켜 조직에 잠입시킨다. 범죄조직의 시스템을 누구보다 잘 아는 두 사람은 첫 거래를 완벽하게 성사시키며 조직원으로 합류하게 되는데…

한치의 방심도 용납될 수 없는 생존 게임

수사에 착수한 리코와 소니는 이번 사건과 연루된 조직이 단순한 마약상이 아니라 국제적으로 거대 조직망을 가진 위험한 조직임을 직감한다. 기밀을 파헤치기 위해 소니는 보스 몬토야의 정부 이사벨라(공리)에게 접근하지만, 반대로 점차 그녀에게 빠져들게 된다. 마침내 대규모 마약운반 임무를 맡으며 일망타진의 결정적 기회를 확보한 두 사람. 하지만 너무 완벽한 리코와 소니의 업무 처리 능력에 의심을 품은 중간 마약 운반책 '예로'는 리코의 여자친구 트루디(나오미 해리스)를 납치, 그들을 제거할 계획을 세운다. 거대 범죄 조직 안에서 고립된 두 사람! 그들은 경찰 내부의 배신자까지 상대하며 트루디의 구출과 마지막 마약운반이라는 두 가지 작전을 준비하는데…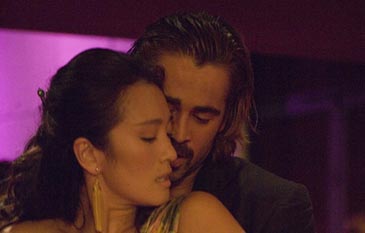 마이애미 바이스 (2006, Miami Vice)



About movie

마이클 만 감독이 선사하는 올 여름 마지막 블록버스터!

액션 스릴러의 거장 마이클 만이 <마이애미 바이스>로 돌아왔다! <히트><콜래트럴>등 탄탄한 스토리, 스타일리쉬한 영상, 사실적인 액션, 단 하나도 놓치지 않는 걸작만을 만들어낸 마이클 만. 범죄조직을 조사하기 위해 조직에 잠입한 형사 이야기를 그린 <마이애미 바이스>는 그가 5년간의 작업기간을 걸쳐 만들어낸 액션 스릴러이다. "이번 작품은 모험과도 같았다"라고 밝힌 마이클 만의 말처럼 <마이애미 바이스>는 마이클 만 최고의 영화이자 2006년 여름을 마무리할 액션 블록버스터로 기억될 것이다.

콜린 파렐, 제이미 폭스, 공리. 그들이 전 세계를 열광시킨다!

헐리우드 최고의 섹시가이 콜리 파렐과 아카데미 남우주연상에 빛나는 제이미 폭스, 세계적인 스타 공리의 만남과 변신으로 기대를 모으고 있는 <마이애미 바이스>. 콜린 파렐과 제이미 폭스는 거친 형사, 지능적인 형사로 분해 두 남자의 끈끈한 의리와 우정을 그려낸다. 또한 <게이샤의 추억>으로 미국 비평가 협회 여우 주연상을 수상한 공리가 팜므파탈로 등장, 콜린 파렐과 제이미 폭스 사이에서 전혀 밀리지 않는 카리스마와 섹시함을 선보일 예정!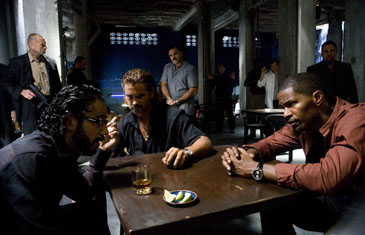 마이애미 바이스 (2006, Miami Vice)



실제 FBI, CIA, SWAT의 자문으로 탄생된 위험한 범죄의 세계!

영화는 범죄 조직에 잠입한 비밀 첩보원들의 작전 수행 과정과 위험한 범죄세계의 모습을 리얼하게 펼쳐 보인다. 기획단계부터 FBI, SWAT, DEA, ATF등 세계 최고 수준의 비밀 수사관들로부터 협조를 받아낸 감독은 조직 잠입방법과 임기 응변 대화술, 적의 표적에서 벗어나는 법 뿐만 아니라 범죄 조직의 체계와 마약의 구입에서 철저한 보안의 운송방법까지 영화 속에 고스란히 담아냈다. 또한 형사 역을 위해 3개월동안 잠입수사 요원과 동일한 트레이닝과 가상훈련을 받은 콜린 파렐과 제이미 폭스의 액션연기도 압권!

육해공을 넘나드는 대형 스케일과 사실적인 액션의 향연

사실적인 도심 액션에 정평이 나있는 마이클 만은 <마이애미 바이스>에서 도심 총격씬, 항공 추격씬, 보트 질주 씬 등 육해공을 넘나드는 대형 스케일 액션을 선보인다. 120km가 넘는 보트 촬영에서 엄청난 움직임으로 인해 카메라들이 모두 부서져 버렸을 정도. 무엇보다 사람들의 시선을 끄는 것은 리얼한 액션 씬이다. 실제 현장을 방불케 하는 강렬한 총소리와 현란한 카메라 워크로 완성된 마지막 총격 씬은 실제 가능한 사격 각도까지 치밀하게 계산하여 촬영한 것으로, 올 여름 액션 카타르시스의 진수를 선사할 것이다.

Preview



원 제:마이애미 바이스 (2006, Miami Vice)
감 독: 마이클 만
주 연: 콜린 파렐 / 제이미 폭스, 공리
제 작: Universal Pictures
수입/배급 : UIP 코리아
제작국가: 미국
등 급: 18세 이상 관람가
상영시간: 132 분
장 르: 드라마 / 범죄 / 액션
개봉일: 2006.08.17
홈페이지:http://www.miamivice.co.kr
ST Photo Gallery
Photo News
Embassy Events
Econo People 2005
Fashion Images
New Movies
Travel Images
Nayan Sthankiya's Photo Features New
Abuses of Iraqi Prisoners of War
Academy Awards Photos 2004
Adolf Hitler
Aishwarya Rai-Indian actress
Buddha`s Birthday 2004
Cannes 2004 — 57th Cannes Film Festival
Choi Tae-Ji Photo Gallery
Comfort Woman Picture Gallery
Crown Prince Felipe of Spain
Dokdo Photo Gallery
Erotic Paintings of Hyewon and Danwon
Franz`s Art Exhibition
Gando Photo Gallery
Geisha in Japan
Gwangju Massacre
Jeju Island
Kim Jong-Il and Kim Il-Sung
Koguryo Murals
Korean War (1950-53)
Madonna
Miss Universe 2004
Miss World Contest 2003
Mt. Kumkang or Mt. Diamond New
Natural Beauty of Korea
Rape of Nanjing (Nanjing Massacre)
Rio Carnival 2004
Ronald Reagan`s Life in Pictures
ST Family
Sonia Gandhi and Gandhi Clan
Taj Mahal Photo Gallery
Ukrainian Embassy
World War Two
Photo Gallery of World Newspapers/Media
Times of India
Hindustan Times
SantaBanta.com
Straights Times (Singapore)
Chicago Sun-Times
Moscow Times