New Movies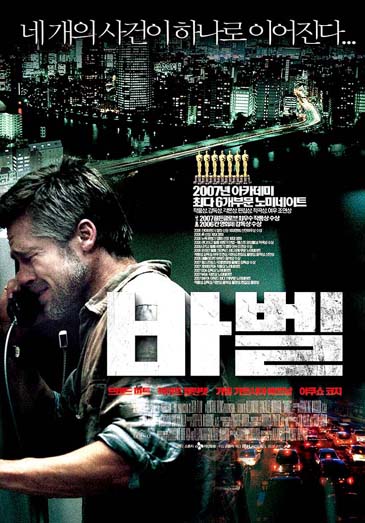 Babel (바벨)Title: Babel, 2006
Starring: Brad Pitt, Cate Blanchett, Gael Garcia Bernal, Koji Yakusho
Director: Alejandro Gonzalez Inarritu
Release Date (USA): 2006-10-27
Release Date (UK): 2007-01-19
Rating (USA): R
Rating (UK) : NA
Genre: Drama
Running Time: 142 min.
Producer: Steve Golin;Jon Kilik
Studio: Paramount Classics
Writer/s: Guillermo Arriaga
Official Website: http://www.paramountvantage.com/babel/

Synopsis: Babel

Armed with a Winchester rifle, two Morrocan boys set out to look after their family's herd of goats. In the silent echoes of the desert, they decide to test the rifle… but the bullet goes farther than they thought it would.


Babel (바벨)


Cast & Crew

Cast:

RICHARD - Brad Pitt
SUSAN - Cate Blanchett
SANTIAGO - Gael Garcia Bernal
YASUJIRO - Koji Yakusho
AMELIA - Adriana Barraza
CHIEKO - Rinko Kikuchi
DEBBIE - Elle Fanning

Crew:

Director: Alejandro Gonzalez Inarritu
Screenwriter: Guillermo Arriaga Jordan
Producer: Steve Golin, Jon Kilik, Alejandro Gonzalez Inarritu, Corrine Golden Weber
Associate Producer: Raul Olvera Ferrer
Director of Photography: Rodrigo Prieto
Composer: Gustavo Santaolalla
Production Designer: Brigitte Broch
Editor: Stephen Mirrione

Movie Review: Babel

Despite its provocative elements, there's less to Alejandro Gonzalez Inarritu and Guillermo Arriaga's variations on the theme of miscommunication and careless acts than meets the eye.

It begins in rural Morocco, where weathered goatherd Mohammed (Mustapha Amhita) buys a neighbor's rifle so his adolescent sons, Yussef and Ahmed (Boubker Ait El Caid, Said Tarchani), can protect his flock from jackals. When there are no jackals to rout, the bored, restless brothers take turns shooting at increasingly far-flung targets, eventually striking a tour bus.


Babel (바벨)


Their random bullet finds American traveler Susan (Cate Blanchett), who's vacationing with her husband, Richard (Brad Pitt); the trip is a last-ditch effort to salvage their marriage, in ruins since the death of their baby and Richard's subsequent abandonment of his grieving wife and children. With Susan losing blood at an alarming rate and the nearest hospital hours away over rough roads, the tour group's translator, Anwar (Mohamed Akhzam), suggests a detour to his nearby village. But help is slow to come and as Susan bleeds, Richard rages helplessly and the other tourists grow increasingly militant about wanting to leave.

Prickly government officials and overeager reporters recast the accidental shooting as an act of terrorism. Meanwhile, in San Diego, Richard and Susan's housekeeper, Amelia (Adriana Barraza), is caught between her responsibility to Debbie and Mike (Elle Fanning, Nathan Gamble), the children she's raised from infancy, and her own son, who's getting married in her Mexican hometown. Unable to find anyone to whom she can entrust Mike and Debbie for the day, she takes them along.

Everything is fine until the drive back with Amelia's nephew, Santiago (Gael Garcia Bernal). Slightly drunk and seething with the accumulated hurt of a thousand petty indignities, Santiago butts heads with an officious guard (Clifton Collins Jr.) at the U.S./Mexican border and rashly decides to flee. Pursued by border agents, he leaves Amelia and the children in the desert, promising to return later.

And in Japan, a deaf-mute teenager, Chieko (Rinko Kikuchi), displaces the suffocating rage born of her mother's recent suicide and her own disability into a series of blatant, joyless sexual displays. As in Arriaga and Inarritu's previous collaborations, AMORES PERROS (2001) and 21 GRAMS (2003), the flashy spectacle of intersecting narratives and its crosscutting and fractured chronology nearly overwhelms the film's simple message, in this case that despite divisions of language, race and geography, we're all connected.

Ironically, by the time BABEL debuted at the Cannes Film Festival, Inarritu and Arriaga were publicly feuding, apparently over Arriaga's insistence that screenwriters and directors deserve equal credit for a film's success.

By Maitland McDonagh


Babel (바벨)


Synopsis : 바벨

모로코 사막에서 울려퍼진 한 발의 총성!! 모든 사건은 여기서부터 시작된다.

아이를 잃고 실의에 빠진 아내를 위로하기 위해 모로코로 여행 온 미국인 부부.리처드(브래드피트)와 수잔(케이트 블란챗). 아들의 결혼식에 참석하기 위해 리처드의 두 아이들을 데리고 멕시코 국경을 넘는 유모 아멜리아. 사격솜씨를 뽐내려 조준한 외국인 투어버스에 총알이 명중하면서 비밀을 가지게 된 모로코의 유세프와 아흐메드 형제.엄마의 자실 이후 마음의 문을 닫아버린 청각장애 여고생 치에코에게 어느날 한 형사가 찾아온다.

모든 사건들이 하나로 이어진 순간, 닫힌 마음의 문이 열린다.

About the Movie: 바벨

모로코 산악의 사막지대. 양치기 남자가 두 아들에게 라이플 총을 맡기고, 두 아들의 형이 장난으로 달리는 버스에 총을 발사한다. 그 총알은 관광 버스 안에 타고있던 미국인 여성 수잔(케이트 블란쳇)을 맞힌다. LA 상류층 부부인 수잔과 남편 로버트(브래드 피트)는 셋째 아이의 죽음에 대한 상처를 씻기 위해 모로코를 관광하던 중이었다. 총에 맞아 빈사지경에 이른 수잔을 시골집에 눕혀놓고 로버트는 미국대사관 등에 전화를 걸어 도움을 요청, 앰뷸런스를 기다리지만 그 기다림은 한없이 지속된다. 지구 건너편의 일본 동경. 라이플의 원래 주인 야수지로(야쿠쇼 코지)는 아내와 사별한 뒤 딸 치에코과 소원해져 있는데, 듣지도 말하지도 못하는 치에코는 아버지와의 소통 단절에 대한 아픔을 반항적인 행동으로 분출한다. 미국 LA. 로버트와 수잔 부부의 저택에서 일하는 멕시코인 가정부 아멜리아는 멕시코 티와나에서 열리는 아들의 결혼식에 참석하려 하지만, 로버트-수잔 부부의 아이들을 돌봐줄 베이비시터를 구하지 못하자 조카 산티아고(게일 가르시아 베르날)의 차에 아이들을 태우고 멕시코 국경을 넘는다. 다시 모로코. 양치기 남자는 자신의 두 아들에게 테러리스트가 버스를 사격, 미국인 관광객이 사망했다고 알려준다. 이 테러 사건은 매스컴을 타고 전세계로 퍼져나가는데...


Babel (바벨)
Cast & Crew
제목: 바벨
감독: 알레한드로 곤잘레스 이냐리투
주연: 브래드 피트, 케이트 블란쳇, 가엘 가르시아 베르날, 야쿠쇼 코지
각본: 기예르모 아리아가 호르단
촬영: 로드리고 프리에토
편집: 더글러스 크리즈, 스티븐 미리온, 키스 H. 사우터
장르: 드라마
수입: 스폰지
상영시간: 142분
등급: 청소년 관람불가
개봉일: 2007년 2월 22일
Preview: Babel
ST Photo Gallery
Photo News
Embassy Events
Econo People 2005
Fashion Images
New Movies
Travel Images
Nayan Sthankiya's Photo Features New
Abuses of Iraqi Prisoners of War
Academy Awards Photos 2004
Adolf Hitler
Aishwarya Rai-Indian actress
Buddha`s Birthday 2004
Cannes 2004 — 57th Cannes Film Festival
Choi Tae-Ji Photo Gallery
Comfort Woman Picture Gallery
Crown Prince Felipe of Spain
Dokdo Photo Gallery
Erotic Paintings of Hyewon and Danwon
Franz`s Art Exhibition
Gando Photo Gallery
Geisha in Japan
Gwangju Massacre
Jeju Island
Kim Jong-Il and Kim Il-Sung
Koguryo Murals
Korean War (1950-53)
Madonna
Miss Universe 2004
Miss World Contest 2003
Mt. Kumkang or Mt. Diamond New
Natural Beauty of Korea
Rape of Nanjing (Nanjing Massacre)
Rio Carnival 2004
Ronald Reagan`s Life in Pictures
ST Family
Sonia Gandhi and Gandhi Clan
Taj Mahal Photo Gallery
Ukrainian Embassy
World War Two
Photo Gallery of World Newspapers/Media
Times of India
Hindustan Times
SantaBanta.com
Straights Times (Singapore)
Chicago Sun-Times
Moscow Times