New Movies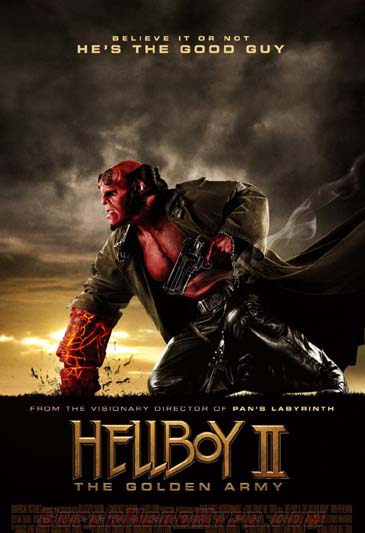 Hellboy2 : The Golden Army (헬보이2: 골든 아미)Synopsis

The mythical world starts a rebellion against humanity in order to rule the Earth, so as Hellboy and his team returns they must save the world from the rebellious creatures. Now, as the creatures who inhabit the spiritual realm gear-up for an all out attack on the human plane, the only one capable of saving the Earth is a tough-talking hellspawn rejected by both worlds.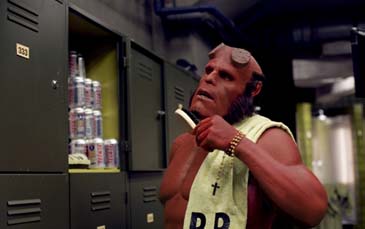 Hellboy2 : The Golden Army (헬보이2: 골든 아미)


About the Movie

Hellboy II: The Golden Army

Is a 2008 film based on the fictional Dark Horse Comics character Hellboy. The film is directed by Guillermo del Toro and is a sequel to the 2004 film Hellboy, which del Toro also directed. Ron Perlman reprises his role as the titular character. The film was commercially released on July 11, 2008 in the United States and Canada.

Hellboy II opened on July 11, 2008 in 3,204 theaters in the United States and Canada. The film ranked first at the box office, grossing an estimated $35.9 million over the weekend, outperforming the opening of its predecessor Hellboy, which had opened with $23.2 million. The opening was the biggest of Guillermo del Toro's directing career.

According to CinemaScore, audiences gave the film a B grade. The demographic for Hellboy II was mostly male, and the age distribution for moviegoers below and above 25 years old was evenly split. Over half of the audiences were urban and Latino moviegoers. Outside of the United States and Canada, Hellboy II had a limited release on 533 screens in Mexico, Thailand, Malaysia, and Singapore, grossing $4.6 million.

In its second weekend in the United States and Canada, Hellboy IIs box office performance dropped 71% to gross $10.1 million, a larger drop than its predecessor, which dropped 53% in comparison. The sequel's larger drop was attributed to the significant opening of the Batman film The Dark Knight. As of September 9, 2008 Hellboy II has grossed $75,612,855 in the United States and Canada. The film came top in the UK and Ireland box office charts upon its release on August 22 and earned an additional International gross of $51,739,393 bringing its worldwide total to $127,352,248, meaning it has currently outgrossed the first film by nearly $28 million, and has yet to open in a number of countries.


Hellboy2 : The Golden Army (헬보이2: 골든 아미)


Cast & Crew

Directed: Guillermo del Toro
Writing credits(WGA): Guillermo del Toro(screenplay), Guillermo del Toro (story) & Mike Mignola(story), Mike Mignola(comic book)
Casted:
Ron Perlman: Hellboy
Selma Blair: Liz Sherman
Doug Jones: Abe Sapien / The Chamberlain / The Angel of Death
James Dodd: Johann Krauss
Jeffrey Tambor: Tom Manning
John Alexander: Johann Krauss
Luke Goss: Prince Nuada
Anna Walton: Princess Nuala

Synopsis

흔해 빠진 훈남 히어로의 시대는 끝났다! 영화 속에 항상 등장하는 완벽한 외모와 몸매, 섹시한 여성의 사랑까지 독차지하는 주인공에 지겨워진 관객들을 위해 태생부터 다른 A형 슈퍼 히어로 헬보이가 돌아오는 것. 세상을 구하기 위해 훨씬 더 강력하게 무장하여 4년 만에 돌아온 판타지 블록버스터 <헬보이2: 골든 아미> (수입/배급: UPI 코리아)가 오는 9월 25일 국내 개봉을 확정지었다.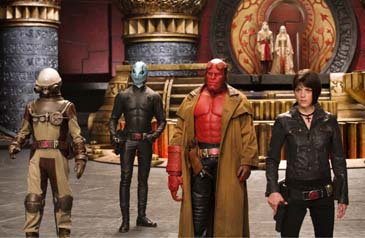 Hellboy2 : The Golden Army (헬보이2: 골든 아미)


About the Movie

훈남 영웅에 도전장을 낸 A형 슈퍼 히어로 헬보이!
2배 더 커진 스케일, 2배 더 놀라운 영상, 2배 더 웃기는 유머!

<헬보이2: 골든 아미>는 지구상에서 가장 못생겼지만 유머만큼은 최고인 슈퍼 히어로 헬보이가 '골든 아미(Golden Army)'의 이름으로 세상을 지배하려는 세력과 맞서 거대한 대결을 벌이는 판타지 블록버스터. '골든 아미'에 맞서 세상을 구할 헬보이 군단은 전편에 이어 불을 자유자재로 다룰 수 있는 헬보이의 여자 친구 리즈와 물의 기운을 가진 에이브는 물론 가장 강한 초능력을 소유한 새로운 히든 카드 요한까지 합세했다. 그리고 세상을 지배하기 위해 혈통도 버리고 골든 아미를 깨우는 베스무라 왕국의 누아다 왕자와 그의 쌍둥이 동생이지만 평화를 추구하는 누알라 공주 등 <헬보이2>에는 새로운 캐릭터들이 다양하게 등장해 특별한 재미를 선사할 것이다.

<판의 미로> 전세계를 사로잡은 길예르모 델 토로의 블록버스터!

<판의 미로> 등을 통해 자신만의 환상적인 판타지로 전세계 관객들을 사로잡은 길예르모 델 토로는 <헬보이2>를 통해 누구도 상상할 수 없는 놀라운 비주얼과 스케일을 준비했다. 특히 그 동안 수많은 슈퍼 히어로 영화에서 많이 등장해온 미끈한 외모와 잘빠진 몸매의 영웅이 아닌, 이 세상에서 단 하나뿐인 특이한 외모의 헬보이를 거대한 스케일과 유머와 함께 선사할 것이다.

독특한 매력의 판타지 영상으로 전세계를 열광시킨 길예르모 델 토로 감독의 창의적인 감각과 지구상 단 하나의 특별한 캐릭터로 기대되는 <헬보이2>는 오는 9월 25일 하반기 최고 블록버스터 기대작으로 국내 관객들을 찾아간다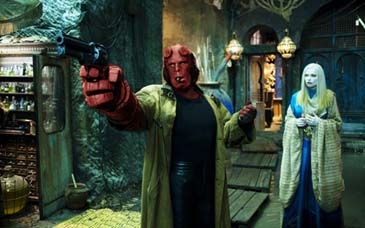 Hellboy2 : The Golden Army (헬보이2: 골든 아미)


Cast & Crew

제 목: 헬보이2 (Hellboy2: The Golden Army)
장 르: 판타지 블록버스터
감 독: 길예르모 델 토로
주 연: 론 펄먼, 셀마 블레어
수입/ 배급: UPI 코리아
국내 개봉: 2008년 9월 25일 (예정)
ST Photo Gallery
Photo News
Embassy Events
Econo People 2005
Fashion Images
New Movies
Travel Images
Nayan Sthankiya's Photo Features New
Abuses of Iraqi Prisoners of War
Academy Awards Photos 2004
Adolf Hitler
Aishwarya Rai-Indian actress
Buddha`s Birthday 2004
Cannes 2004 — 57th Cannes Film Festival
Choi Tae-Ji Photo Gallery
Comfort Woman Picture Gallery
Crown Prince Felipe of Spain
Dokdo Photo Gallery
Erotic Paintings of Hyewon and Danwon
Franz`s Art Exhibition
Gando Photo Gallery
Geisha in Japan
Gwangju Massacre
Jeju Island
Kim Jong-Il and Kim Il-Sung
Koguryo Murals
Korean War (1950-53)
Madonna
Miss Universe 2004
Miss World Contest 2003
Mt. Kumkang or Mt. Diamond New
Natural Beauty of Korea
Rape of Nanjing (Nanjing Massacre)
Rio Carnival 2004
Ronald Reagan`s Life in Pictures
ST Family
Sonia Gandhi and Gandhi Clan
Taj Mahal Photo Gallery
Ukrainian Embassy
World War Two
Photo Gallery of World Newspapers/Media
Times of India
Hindustan Times
SantaBanta.com
Straights Times (Singapore)
Chicago Sun-Times
Moscow Times