New Movies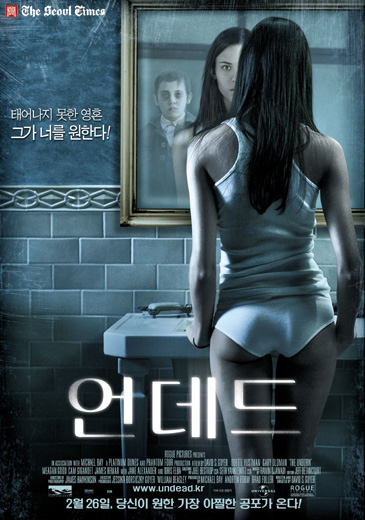 The Unborn (언데드)Synopsis

The Unborn is a supernatural thriller that draws upon the legend of a dybbuk, a malevolent spirit that refuses to leave the human world and inhabits the body of a person. Protagonist Casey Beldon (Odette Yustman) is plagued by merciless dreams, visions of strange looking dogs, and an evil child with bright blue eyes. After being hit with a mirror by her neighbor's son, Casey's eyes begin to change color and she learns she had a twin brother who died in the womb. Casey begins to suspect that the spirit haunting her is the soul of her dead twin, being possessed by a dybbuk, wanting to be born so it can transfer to the world of the living. Casey meets a woman named Sofi, who is revealed to be her grandmother. Sofi explains that she had a twin brother who was killed in Nazi experiments in Auschwitz when they were both just children. The boy was brought back to life by a dybbuk who intended to use his body as a portal into the world of the living. Sofi killed her twin to stop the dybbuk, and now it haunts her family for revenge. Sofi refers Casey to Rabbi Sendak (Gary Oldman), who can perform a Jewish exorcism to remove the dybbuk. The exorcism is performed, but things go awry as the dybbuk tries to stop Rabbi Sendak from completing the ritual. The dybbuk disappears after the exorcism and the death of Casey's boyfriend. Soon afterward, Casey learns she is pregnant with twins.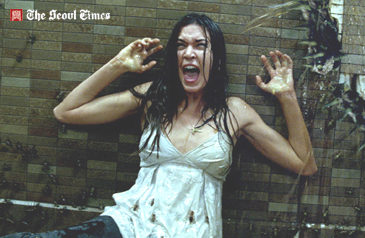 The Unborn (언데드)


About the Movie

Sometimes the soul of a dead person has been so tainted with evil that it is denied entrance to heaven. It must endlessly wander the borderlands between worlds, desperately searching for a new body to inhabit.

And sometimes it actually succeeds.

Writer/director David Goyer gives a terrifying glimpse into the life of the undead in The Unborn, a supernatural thriller that follows a young woman pulled into a world of nightmares when a demonic spirit haunts her and threatens everyone she loves.

Casey Beldon hated her mother for leaving her as a child. But when inexplicable things start to happen, Casey begins to understand why she left. Plagued by merciless dreams and a tortured ghost that haunts her waking hours, she must turn to the only spiritual advisor, Sendak, who can make it stop.

With Sendak's help, Casey uncovers the source of a family curse dating back to Nazi Germany-a creature with the ability to inhabit anyone or anything that is getting stronger with each possession. With the curse unleashed, her only chance at survival is to shut a doorway from beyond our world that has been pried open by someone who was never born.

Cast & Crew

Director: David S. Goyer
Writer: David S. Goyer
Producer: Michael Bay, Andrew Form, Brad Fuller
Starring: Odette Yustman, Gary Oldman, Cam Gigandet
Genre: Horror, Thriller
Country:USA
Language: English, Croatian
Release Date: Feb. 26, 2009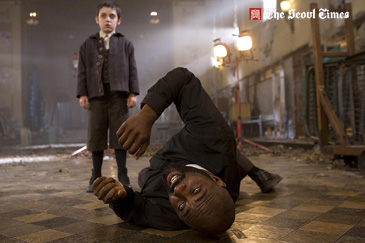 The Unborn (언데드)


Synopsis

너로 인해 죽은 영혼...
그가 지금 너의 몸을 원하고 있다!

알 수 없는 악몽에 시달리던 케이시(오뎃 유스트만)는 어느 날 갑자기 이웃집 아이에게 공격을 받고 '그가 지금 태어나길 원한다' 는 섬뜩한 경고를 듣는다. 그 후 보이지 않는 무엇가가 자신을 노리고 있다는 것을 느낀 케이시는 자살한 엄마의 과거에 대해 알아보던 중 자신의 탯줄에 감겨 사산된 쌍둥이 오빠의 존재를 찾게 되고, 이 모든 끔찍한 일들이 자신의 몸을 통해 다시 태어나려는 악령 때문임을 알게 된다. 점점 더 강해지는 악령의 위협 속에 케이시는 존경받는 랍비 센닥(게리 올드만)을 찾아가 도움을 청하지만 악령의 존재를 믿지 않는 센닥은 그녀를 무시하고, 케이시를 지키려는 친구들은 악령에 의해 그녀를 위협하는 자들로 변하며 그녀의 목숨을 위협하는데...

About the Movie

<트랜스포머> 마이클 베이, <다크 나이트> 데이빗 S. 고이어의 만남!
오감을 자극하는 섬뜩한 공포로 2009년 첫 번째 공포 영화의 시작을 알린다!

영화 <언데드>는 보이지 않는 무언가에게 쫓기는 매력적인 여대생이 자신의 몸을 통해 다시 태어나려는 악령으로 인해 주변 사람들이 그녀를 위협하는 자들로 변하며 죽게 되고 그녀의 생명마저 위협 당하게 되는 2009년을 여는 가장 섬뜩한 공포. <트랜스포머><아일랜드>를 통해 혁신적인 액션을 선사한 마이클 베이 감독이 제작하고, 2008년 최고의 영화로 평가받는 <다크 나이트>의 각본가 데이빗 S. 고이어가 직접 각본과 연출을 맡은 영화 <언데드>는 탄탄하고 치밀한 스토리와 새롭고 감각적인 영상이 함께 만나 여느 공포 영화와는 차별화된, 숨막히도록 섬뜩한 공포와 짜릿한 영상을 선사할 것이다.

헐리우드의 떠오르는 신예 배우 캐스팅으로 섹시한 매력 발산!
헐리우드 연기파 배우 게리 올드만 합류로 영화의 완성도 입증!

2009년 새로운 공포 <언데드>에서 주목할 만한 점은 헐리우드에서 떠오르는 신예 배우들을 캐스팅하여 영화의 신선하고 섹시한 매력을 배가시키는 것. 포스터에서 확인할 수 있는 섹시한 뒷모습의 오뎃 유스트만은 최근 헐리우드가 주목하는 매력적인 여배우로 <클로버필드>에 이어 그녀만의 성숙하면서도 섹시한 매력을 발산하고, 그녀를 지켜주는 남자친구 역의 캠 지갠뎃은 최근 폭발적인 인기를 누린 <트와일라잇>에서 피에 굶주린 뱀파이어 역할로 인상적인 연기를 선보인 바 있다. 또한 어떤 장르, 어떤 캐릭터라도 완벽하게 소화해내는 연기파 배우 게리 올드만이 여주인공을 돕는 랍비로 출연해 악령과 대결을 펼치는 실감나는 연기를 선사하며 헐리우드의 신예 배우들의 신선한 매력과 함께 <언데드>의 새로운 공포에 완성도까지 높이고 있다.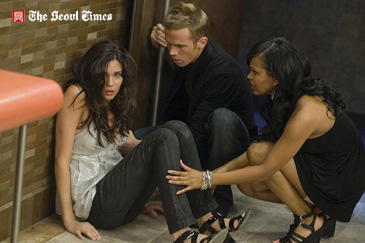 The Unborn (언데드)


Cast & Crew

원제: The Unborn
감독: 데이빗 S. 고이어
출연: 오뎃 유스트만, 캠 지갠뎃, 게리 올드만
장르: 공포
관람등급: 15세 이상 관람가
제작국: 미국
배급사: UPI 코리아
개봉예정일: 2009년 2월 26일



홈페이지: www.theunbornmovie.net
ST Photo Gallery
Photo News
Embassy Events
Econo People 2005
Fashion Images
New Movies
Travel Images
Nayan Sthankiya's Photo Features New
Abuses of Iraqi Prisoners of War
Academy Awards Photos 2004
Adolf Hitler
Aishwarya Rai-Indian actress
Buddha`s Birthday 2004
Cannes 2004 — 57th Cannes Film Festival
Choi Tae-Ji Photo Gallery
Comfort Woman Picture Gallery
Crown Prince Felipe of Spain
Dokdo Photo Gallery
Erotic Paintings of Hyewon and Danwon
Franz`s Art Exhibition
Gando Photo Gallery
Geisha in Japan
Gwangju Massacre
Jeju Island
Kim Jong-Il and Kim Il-Sung
Koguryo Murals
Korean War (1950-53)
Madonna
Miss Universe 2004
Miss World Contest 2003
Mt. Kumkang or Mt. Diamond New
Natural Beauty of Korea
Rape of Nanjing (Nanjing Massacre)
Rio Carnival 2004
Ronald Reagan`s Life in Pictures
ST Family
Sonia Gandhi and Gandhi Clan
Taj Mahal Photo Gallery
Ukrainian Embassy
World War Two
Photo Gallery of World Newspapers/Media
Times of India
Hindustan Times
SantaBanta.com
Straights Times (Singapore)
Chicago Sun-Times
Moscow Times