New Movies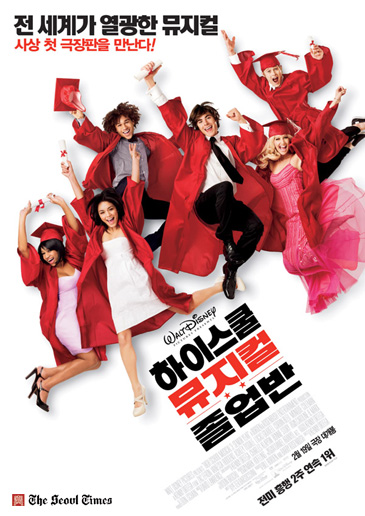 High School Musical 3: Senior Year (하이스쿨뮤지컬3)Synopsis

It's the end of the Wildcats' championship basketball game against the West High Knights, where team captain Troy (Zac Efron) immediately rallies their spirits (Now or Never). With the teams' spirit raised, they win, thanks to the winning shot from their newest team member Jimmie "The Rocket" Zara (Matt Prokop). Later, at Troy's after-match party at his house, Troy and Gabriella (Vanessa Hudgens) are seen thinking about their future and wishing that their last few months at East High would not end (Right Here, Right Now). Meanwhile, Sharpay (Ashley Tisdale) meets Tiara Gold (Jemma McKenzie-Brown), a British exchange student whom she hires to be her personal assistant.

When drama teacher Ms. Darbus (Alyson Reed) notices that there were so few sign-ups for the spring musical, Sharpay suggests she could do a one-woman show. This alarms Kelsi (Olesya Rulin), who is writing the show, so she signs up almost everyone in the class for it instead. This results in Ms. Darbus announcing they will create a play about their final days at East High. In addition, she reveals that Sharpay, Ryan (Lucas Grabeel), Kelsi, and Troy have all been considered for a scholarship at Juilliard, but only one of them is to be chosen. Sharpay becomes desperate to win the scholarship, and knowing that Kelsi will give the best songs to Troy and Gabriella in the musical, she gets Ryan to try to persuade Kelsi to give them a song, by predicting her (and Ryan's) future (I Want It All).


High School Musical 3: Senior Year (하이스쿨뮤지컬:졸업반)


About the Movie

'High School Musical 3: Senior Year' finds high school seniors Troy and Gabriella facing the prospect of separation as they head off to different colleges. Joined by the rest of the Wildcats, they stage an elaborate spring musical reflecting their experiences, hopes and fears about the future. With incredible new music and exciting dance numbers designed to take maximum advantage of the big screen, this motion picture extravaganza delivers plenty of high-energy entertainment from East High's talented ensemble.

Cast & Crew

Director: Kenny Ortega
Writer: Peter Barsocchini
Starring: Zac Efron, Vanessa Anne Hudgens, Ashley Tisdale,
Lucas Grabeel
Genre: Comedy, Drama, Family, Musical, Romance
Distributor: Walt Disney Pictures
Country: USA
Language: English
Release Date: Feb. 19, 2009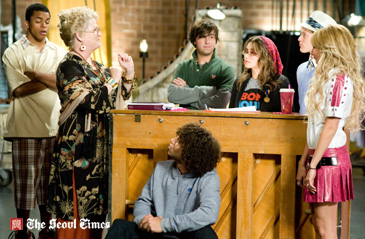 High School Musical 3: Senior Year (하이스쿨뮤지컬:졸업반)


Synopsis

무겁고 칙칙한건 우리 스타일이 아니지!
신나는 음악, 화려한 댄스, 힙 스타일의 스쿨 라이프!
우리가 궁금해? 자 따라와봐!

신나는 음악과 화려한 댄스가 어우러진 멋진 뮤지컬을 선보이며 모두의 선망이 대상이 된 교내 아이돌 집합소! 이스트 고교 드라마 클럽에도 드디어 올 것이 오고야 말았다. 교내 최고의 완소남 트로이, 사랑스러운 천재 소녀 가브리엘라, 핑크공주 샤페이. 모두의 우상이었던 그들의 졸업이 오고야 만 것!
그러나 그들에겐 졸업도 신나고 즐거운 스쿨라이프의 한 부분일 뿐. 트로이, 가브리엘라, 샤페이 등은 친구들과 함께 졸업에 맞춰 지난 3년 간의 학교 생활을 멋진 뮤지컬로 선보이기로 결심하는 데. 특히 이번 뮤지컬은 직접 작곡한 음악과 직접 만든 안무로 꾸며진 그야말로 그들만의 뮤지컬!

모두가 함께 '졸업' 뮤지컬을 준비하는 가운데 트로이와 가브리엘라는 커플 라이프에 최고의 위기를 맞이하고야 말았다. 바로 '올 A학점 걸' 천재소녀 가브리엘라가 사랑하는 트로이를 뒤로 한 채 덜컥 과학 영재로 아이비리그에 수시합격 해버린 것이 아닌가?! 그러나 트로이는 농구와 뮤지컬의 갈림길에서 아직 진로를 결정하지 못한 상황. 이렇게 트로이를 뒤로한 채 가브리엘라는 아이비리그로 진학할 것인가? 농구소년 트로이의 미래와 커플의 운명은? 그리고 모두가 합심하여 준비한 '졸업' 뮤지컬은 과연 성공할 수 있을까?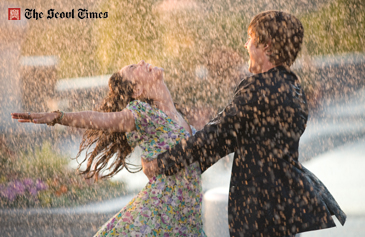 High School Musical 3: Senior Year (하이스쿨뮤지컬:졸업반)


About the Movie

공전의 히트작 <하이스쿨 뮤지컬>, 사상 첫 극장판 탄생!

현재 전세계에서 가장 유명한 고등학생 6인방! 잭 애프론, 바네사 허진스, 애쉴리 티즈데일, 루카스 그라빌, 코빈 부로, 모니크 콜맨이 돌아왔다. <하이스쿨 뮤지컬:졸업반>은 지난 2006년과 2007년, 디즈니 채널에서 TV 영화로 제작돼 공전의 히트를 기록했던 <하이스쿨 뮤지컬> 시리즈의 첫 극장판 영화이다. 전세계가 열광한 청춘 뮤지컬을 드디어 스크린에서 볼 수 있게 된 것이다.

하이스쿨 6인방, 그들이 졸업반이 되어 다시 돌아왔다!

이제 주인공들은 고등학교 3학년이 되었다. 농구 챔피언전, 교내 댄스파티, 그리고 와일드캐츠 전원이 등장하는 봄 뮤지컬이 한창일 때, 트로이와 가브리엘라는 평생 소원이었던 대학 생활의 꿈을 앞두고 있다. 하지만 대학 진학은 이들에게 이별의 순간을 만들 지도 모를 일! 두 사람은 매 순간을 마지막인 것처럼 함께 하기로 약속한다. 그리고 다른 친구들과 함께 자신들의 학창 시절 추억을 교내 뮤지컬로 만들면서 다시금 사랑과 우정을 확인한다.

Cast & Crew

영제: High School Musical 3: Senior Year
감독: 케니 오티가
각본: 피터 바소치니
출연: 잭 애프론, 바네사 허진스, 애쉴리 티즈데일
장르: 뮤지컬, 로맨스, 코미디
제작: 월트 디즈니 픽쳐스
수입/배급: 소니 픽쳐스 릴리징 브에나 비스타 영화㈜
제작국: 미국
관람등급: 전체 관람가
개봉예정일: 2009년 2월 19일



홈페이지: adisney.go.com/disneyvideos/television/highschoolmusical
ST Photo Gallery
Photo News
Embassy Events
Econo People 2005
Fashion Images
New Movies
Travel Images
Nayan Sthankiya's Photo Features New
Abuses of Iraqi Prisoners of War
Academy Awards Photos 2004
Adolf Hitler
Aishwarya Rai-Indian actress
Buddha`s Birthday 2004
Cannes 2004 — 57th Cannes Film Festival
Choi Tae-Ji Photo Gallery
Comfort Woman Picture Gallery
Crown Prince Felipe of Spain
Dokdo Photo Gallery
Erotic Paintings of Hyewon and Danwon
Franz`s Art Exhibition
Gando Photo Gallery
Geisha in Japan
Gwangju Massacre
Jeju Island
Kim Jong-Il and Kim Il-Sung
Koguryo Murals
Korean War (1950-53)
Madonna
Miss Universe 2004
Miss World Contest 2003
Mt. Kumkang or Mt. Diamond New
Natural Beauty of Korea
Rape of Nanjing (Nanjing Massacre)
Rio Carnival 2004
Ronald Reagan`s Life in Pictures
ST Family
Sonia Gandhi and Gandhi Clan
Taj Mahal Photo Gallery
Ukrainian Embassy
World War Two
Photo Gallery of World Newspapers/Media
Times of India
Hindustan Times
SantaBanta.com
Straights Times (Singapore)
Chicago Sun-Times
Moscow Times