New Movies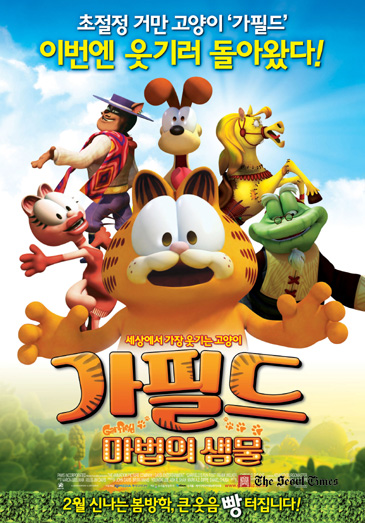 Garfield's Fun Fest (가필드-마법의 샘물)Synopsis

Garfield, long-running champion of the Fun Fest talent show, believes he can't lose. Problem is, his sidekick (and girlfriend) Arlene wants to change the act. When Garfield refuses, Arlene hooks up with a suave, narcissistic newcomer, Ramon, for a show-stopping Tango. Not one for solo performances, Garfield loses his humor mojo! With hours ticking away till showtime, Garfield, with pal Odie in tow, sets out to find the Holy Grail of Guffaws — the magic pond of funny water within the Mystical Forest he read about in a fairy tale storybook. On a journey filled with riddles, jokes, quirky characters and a comedy guru (Freddy the Frog, the very first funny... anything!), can Garfield learn the lessons of true comedy and make it back in time to capture first prize and win Arlene back?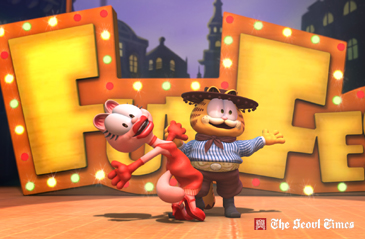 Garfield's Fun Fest (가필드-마법의 샘물)


About the Movie

Garfield emerges victorious at the end of every single Fun Fest, a competition for the best in comic strip characters. It's a given; he can do it with his paws tied behind his back. But this year, it looks like a dashing new contestant by the name of Ramone is going to give everyone's favorite fat cat a run for his lasagna, especially after the G-Man's usual partner-in-fun, Arlene, decides to pair up with the suave new competition and Garfield is saddled with Odie. Can Garfield remain on top? Or is he going to have to slum it with "Family Circus" or, worse yet, go the way of "Marmaduke?" The entire Garfield gang returns for his second all-computer-generated feature-length outing voiced by cartoon vocal actor extraordinaire Frank Welker and written by Garfield creator Jim Davis.

Cast & Crew

Directors: Mark A.Z. Dippe, Eondeok Han
Writer: Jim Davis
Genre: Animation
Starring: Frank Welker (Garfield), Tim Conway (Freddy Frog),
Gregg Berger (Odie), Audrey Wasilewski (Arlene)
Country: USA, South Korea
Language: English
Release Date: Feb. 19, 2009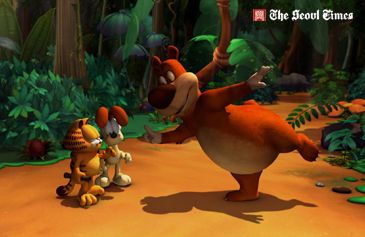 Garfield's Fun Fest (가필드-마법의 샘물)


Synopsis

세상에서 가장 웃긴 고양이 '가필드'가 돌아왔다!

'큰 웃음 대회'에서 매년 우승을 차지하며 잔뜩 거만해진 고양이 '가필드'. 엇! 그런데 이게 왠 일?!
더 이상 가필드의 유머에 사람들이 웃지 않게 된 것!!
여기에 엎친데 덮친 격으로 여친 '알린'까지 제멋대로인 가필드 대신 다른 대회 파트너를 찾는다. 완전 충격 먹은 우리의 가필드는 절친 '오디'와 함께 한 모금이면 '큰 웃음' 빵 터지게 해준다는 '마법의 샘물'을 찾아 신비의 숲으로 모험을 떠나게 된다.

과연 우리의 못 말리는 고양이 가필드는 잃어버린 웃음을 되찾고 여친 '알린'의 사랑과 '큰 웃음 대회' 1위의 영광을 차지할 수 있을까?

About the Movie

2월 19일, 세상에서 가장 웃긴 고양이 '가필드'를 맞이하라!
FULL 3D 애니메이션의 판타스틱한 영상과
귀여운 캐릭터들이 만났다!

토실토실 뚱보 고양이 '가필드'는 1978년 짐 데이비스에 의해 미국에서 카툰 캐릭터로 탄생된 이후 TV 애니메이션과 실사 영화까지 종횡무진 활약하며 전세계에서 가장 많은 사랑을 받아온 역대 최고의 캐릭터. 초절정 거만의 대명사로 웃음폭탄을 선사했던 가필드 시리즈, 2009년 새롭게 선보이는 가필드는 'FULL 3D 애니메이션'이다. 국내에서도 개봉되어 어린이들에게 큰 인기를 끌었던 1편과 2편에 이어 이번에는 눈을 뗄 수 없는 화려한 색감과 무빙, 마법 같은 비주얼로 '가필드'를 만날 수 있게 됐다.

뿐만 아니라 반쯤 감긴 눈의 뚱한 표정과 느릿한 말투, 코믹한 행동, 관객들의 마음을 사로잡을 매력 삼박자를 고루 갖춘 '가필드'를 필두로 애교 넘치는 가필드의 영원한 친구이자 라이벌 강아지 '오디', 가필드의 여친인 어여쁜 암고양이 '알린' 등 기존 가필드 시리즈에서 함께 해왔던 귀여운 캐릭터들이 총출동해 2월 극장가를 사로잡을 것으로 기대된다.

난~ 웃음 대회 나갔을 뿐이고! 사람들은 폭소할 뿐이고!
큰 웃음을 주기 위해 '마법의 샘물'을 찾아 떠나는
가필드의 무한상상 대모험!

<가필드-마법의 샘물>은 '큰 웃음 대회'에서 매년 우승을 차지하며 잔뜩 거만해진 고양이 '가필드'가 어느 날 더 이상 자신의 유머가 사람들에게 통하지 않음에 충격을 받고 잃어버린 웃음을 되살리기 위해 '마법의 샘물'을 찾아 떠나는 스펙타클한 대 모험극.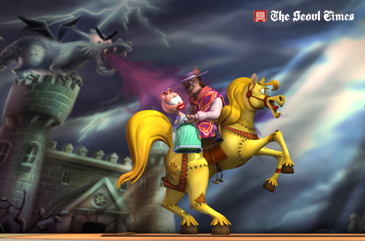 Garfield's Fun Fest (가필드-마법의 샘물)


Cast & Crew

원제: Garfield's Fun Fest
감독: 마크 A.Z. 디페, 한언덕
더빙: 프랭크 웰커, 팀 콘웨이, 그레그 버거
장르: 3D 애니메이션, 가족, 모험, 코미디
관람등급: 전체 관람가
제작국: 미국, 한국
수입/배급: ㈜케이디미디어
개봉예정일: 2009년 2월 19일



홈페이지: www.garfield.com
ST Photo Gallery
Photo News
Embassy Events
Econo People 2005
Fashion Images
New Movies
Travel Images
Nayan Sthankiya's Photo Features New
Abuses of Iraqi Prisoners of War
Academy Awards Photos 2004
Adolf Hitler
Aishwarya Rai-Indian actress
Buddha`s Birthday 2004
Cannes 2004 — 57th Cannes Film Festival
Choi Tae-Ji Photo Gallery
Comfort Woman Picture Gallery
Crown Prince Felipe of Spain
Dokdo Photo Gallery
Erotic Paintings of Hyewon and Danwon
Franz`s Art Exhibition
Gando Photo Gallery
Geisha in Japan
Gwangju Massacre
Jeju Island
Kim Jong-Il and Kim Il-Sung
Koguryo Murals
Korean War (1950-53)
Madonna
Miss Universe 2004
Miss World Contest 2003
Mt. Kumkang or Mt. Diamond New
Natural Beauty of Korea
Rape of Nanjing (Nanjing Massacre)
Rio Carnival 2004
Ronald Reagan`s Life in Pictures
ST Family
Sonia Gandhi and Gandhi Clan
Taj Mahal Photo Gallery
Ukrainian Embassy
World War Two
Photo Gallery of World Newspapers/Media
Times of India
Hindustan Times
SantaBanta.com
Straights Times (Singapore)
Chicago Sun-Times
Moscow Times