New Movies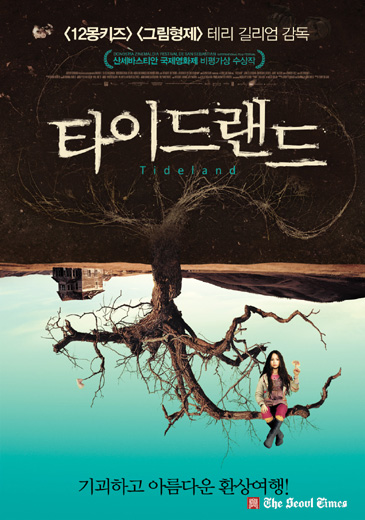 Tideland (타이드랜드)Synopsis

From the world's most visionary contemporary filmmaker comes the unforgettable tale of one extraordinary little girl. Poetic, darkly funny, and infused with amazing performances and beautiful photography this unique and incredible film is director Terry Gilliam at his very best.

Enter the magical world of Jeliza-Rose (Jodelle Ferland), an unusual child with an even more unusual story. Hers is a world where squirrels talk, where fireflies have names, and where the heads of dolls, long since separated from their bodies, are her closest friends.

After the sudden death of her junkie mother (Jennifer Tilly), Jeliza embarks on a strange journey with her father (Jeff Bridges), a rock-and-roll musician well past his prime, who quickly over-doses and leaves Jeliza only having her own imagination, the crazy bee lady, and the neighborly mentally handicapped boy to look after her. But this journey offers little for Jeliza by way of consolation and as the vast loneliness of her new existence grows she falls deeper and deeper into the twisted world of fantasy that she has created in her mind. Leaving you exhausted at the amazingness and power behind the story you just were told.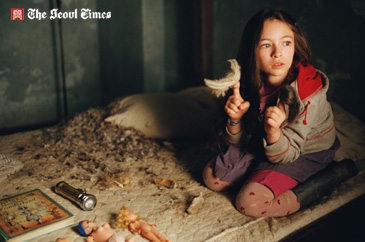 Tideland (타이드랜드)


About the Movie

Tideland is a 2005 film co-written and directed by Terry Gilliam, an adaptation of Mitch Cullin's novel of the same name. The movie was shot in Regina, Saskatchewan and surrounding area in the fall and winter of 2004. The world premiere was at the 2005 Toronto International Film Festival, where the film was met with mixed response from both viewers and critics. After little interest from U.S. distributors, THINKFilm picked the film up for a U.S. release date in October 2006.

The film's title appears in dialogue written by Gilliam and co-writer Tony Grisoni in which Noah says, "Daddy's gonna stroll down that far subterranean shore, all littered with the flotsam of hopes and dreams. Relics of ancient times. Lonely cenotaphs. Standing along that melancholy tideland." In Cullin's novel, however, there is no such dialogue from the character of Noah, and the only mention of the book's title comes at the end of Chapter 21, last paragraph, when the first-person voice of Jeliza Rose says, "Before sleep, the last sound to fill my ears was the beating of my heart, and I knew I was slipping past the tideland, going beneath the ocean and sinking away from What Rocks."

Tideland centers on an abandoned child, Jeliza-Rose and her solitary adventures during one summer in rural Texas while staying at a rundown farmhouse called What Rocks, and focuses on the increasingly dark, imaginative fantasy life the girl creates with the aid of dismembered Barbie doll heads that she often wears on her fingertips. With names such as Mustique, Sateen Lips, Baby Blonde and Glitter Gal, the doll heads not only engage in long conversations with Jeliza-Rose, reflecting different aspects of the girl's psyche, but also act as her companions while she explores the barren Texas landscape.

Cast & Crew

Director: Terry Gilliam
Writer: Tony Grisoni, Terry Gilliam
Starring: Jodelle Ferland, Janet McTeer,
Brendan Fletcher, Jeff Bridges
Genre: Drama, Fantasy, Thriller
Award: San Sebastian International Film Festival FIPRESCI Prize
Country: Canada, UK
Language: English
Release Date: Feb. 5, 2009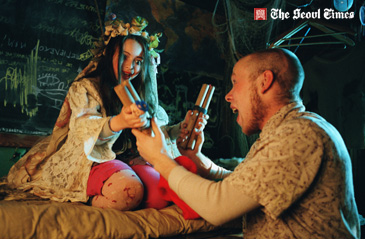 Tideland (타이드랜드)


Synopsis

세상의 끝에서 벌어지는 아름답고 기괴한 환상여행!

조숙하고 상상력 풍부한 11살 소녀 질라이자 로즈!
학교도 가지 않고, 마약중독자 히피 부모를 돌보며 살고 있지만 '이상한 나라의 앨리스'를 읽으며 상상의 여행을 하고 머리만 남은 바비인형 친구들과 놀면서 외로움을 견디어 낸다. 엄마가 죽자, 아빠 노아와 함께 할머니의 집으로 가게 된 질라이자는 집 주변을 탐험하던 중 비밀에 휩싸인 검은 옷의 유령과 해적 선장을 만나 충격적인 가족의 비밀을 알게 되는데...

About the Movie

이상한 나라의 앨리스가 된 소녀!
그녀의 환상적인 모험이 시작된다!

<타이드랜드>는 <그림형제><12몽키즈><피셔킹><브라질: 여인의 모험> 등 영화사 걸작들을 만들어왔던 테리 길리엄 감독의 신작으로 현실과 환상의 경계를 넘나들며 광기와 모험의 세계를 그려내는데 탁월한 능력을 보여주었던 감독의 장기가 유감없이 발휘된 영화이다. 이 영화의 주인공은 마약중독자인 히피 부모 아래서, 학교도 가지 않고 머리만 남은 바비인형 친구들과 놀면서 외로움을 달래는 11살 소녀 질라이자 로즈. 엄마도 죽고, 아빠도 죽고, 남은 건 허물어져가는 집과 시체 뿐이지만 질라이자 로즈의 상상 속에서 이 악몽 같은 현실은 환상적인 모험으로 탈바꿈한다. 왕자님과의 밀회, 새로운 가족의 탄생, 그리고 아무도 모르는 가족의 비밀. '이상한 나라의 앨리스'를 연상시키는 그녀의 환상여행은 대단히 충격적이면서도 대단히 아름답고, 흥미롭다.

베스트셀러 작가 '미치 컬린'의 원작소설 영화화
산세바스티안 국제영화제 비평가상 수상작

<타이드랜드>는 뉴욕타임즈 및 유수 언론으로부터 "인간 본성에 대해 가장 잘 아는 작가" 중 하나로 손꼽히는 베스트셀러 작가 미치 컬린의 원작소설을 영화로 옮긴 작품. 판타지와 스릴러, 미스터리와 순수문학을 오가는 원작소설의 매력은 테리 길리엄 감독의 손끝을 거쳐 환상적인 모험으로 거듭났다. 이미 산세바스티안 국제영화제 비평가상을 수상하며 작품성을 인정받았다.

환상적인 비쥬얼로 가득한 예고편을 공개하며 화제가 되고 있는 <타이드랜드>는 2월 5일 개봉예정이다.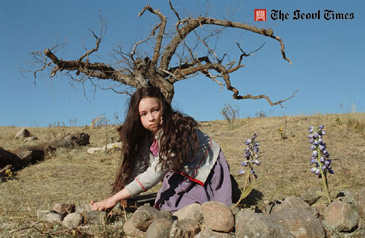 Tideland (타이드랜드)


Cast & Crew

원제: Tideland
감독: 테리 길리엄
출연: 조델 퍼랜드, 쟈넷 맥티어, 브랜든 플레쳐, 제프 브리짓
장르: 판타지, 드라마
수상: 산세바스티안 국제영화제 비평가상
관람등급: 15세 이상 관람가
제작국: 영국, 캐나다
수 입/배 급: 마스 엔터테인먼트
개봉예정일: 2009년 2월 5일



홈페이지: www.tidelandthemovie.com
ST Photo Gallery
Photo News
Embassy Events
Econo People 2005
Fashion Images
New Movies
Travel Images
Nayan Sthankiya's Photo Features New
Abuses of Iraqi Prisoners of War
Academy Awards Photos 2004
Adolf Hitler
Aishwarya Rai-Indian actress
Buddha`s Birthday 2004
Cannes 2004 — 57th Cannes Film Festival
Choi Tae-Ji Photo Gallery
Comfort Woman Picture Gallery
Crown Prince Felipe of Spain
Dokdo Photo Gallery
Erotic Paintings of Hyewon and Danwon
Franz`s Art Exhibition
Gando Photo Gallery
Geisha in Japan
Gwangju Massacre
Jeju Island
Kim Jong-Il and Kim Il-Sung
Koguryo Murals
Korean War (1950-53)
Madonna
Miss Universe 2004
Miss World Contest 2003
Mt. Kumkang or Mt. Diamond New
Natural Beauty of Korea
Rape of Nanjing (Nanjing Massacre)
Rio Carnival 2004
Ronald Reagan`s Life in Pictures
ST Family
Sonia Gandhi and Gandhi Clan
Taj Mahal Photo Gallery
Ukrainian Embassy
World War Two
Photo Gallery of World Newspapers/Media
Times of India
Hindustan Times
SantaBanta.com
Straights Times (Singapore)
Chicago Sun-Times
Moscow Times