New Movies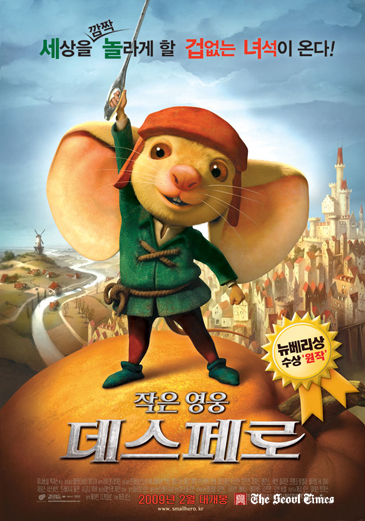 The Tale of Despereaux (작은 영웅 데스페로)Synopsis

Once upon a time, in the faraway kingdom of Dor, there was magic in the air, laughter aplenty and gallons of mouthwatering soup. But an accident left the King broken-hearted, the Princess filled with longing and the townsfolk without their soup. Sunlight disappeared. The world became gray. All hope was lost in this land& until Despereaux Tilling was born.

A brave and virtuous mouse, Despereaux is simply too big for his small world. Though tiny, wheezy and saddled with comically oversized ears, Despereaux refuses to live a life of weakness and fear believing he was destined to be celebrated in the tales of chivalry he so adores.

When he's banished from his home for not following the rules that society expects of a mouse, Despereaux befriends fellow outcast Roscuro, a good-hearted rat who can't bear to look in the mirror and hopes to live far from the grim underground of his kind. While Despereaux begins his noble quest to rescue Pea - a princess who can't see beyond her distorted view of the world - his pal Roscuro receives a painful rejection from her highness that sets him on a course of self-destruction.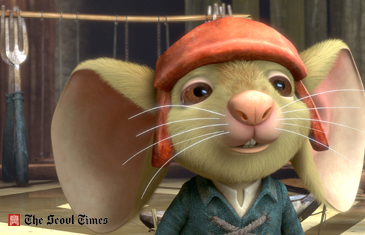 The Tale of Despereaux (작은 영웅 데스페로)


About the Movie

Written by Kate DiCamillo -author of "Because of Winn-Dixie" - 2003's "The Tale of Despereaux," spent 96 weeks on the New York Times bestseller list, and the recently published paperback version has been on the New York Times Top Ten list for the past 14 weeks. The book, which won the 2004 Newbery Medal for the most distinguished offering in children's literature, has sold more than 1.6 million copies to date.

A modern fairy tale from visionary filmmaker Gary Ross, together with directors Sam Fell & Rob Stevenhagen, The Tale of Despereaux tells the story of several unlikely heroes: Despereaux (Matthew Broderick), a brave mouse banished to the dungeon for speaking with a human; Roscuro (Dustin Hoffman), a good-hearted rat who loves light and soup, but is exiled to darkness; Pea (Emma Watson), a Princess in a gloomy castle who is prisoner to her father's grief; and Mig (Tracey Ullman), a servant girl who longs to be a Princess, but is forced to serve the jailer (Robbie Coltrane).

Cast & Crew

Directors: Sam Fell, Robert Stevenhagen
Writer: Kate DiCamillo, Will McRobb
Starring: Emma Watson, Matthew Broderick, Dustin Hoffman
Genre: Adventure, Animation, Comedy, Family, Fantasy
Studio: Universal Pictures
Country: USA, UK
Language: English
Release Date: Feb. 12, 2009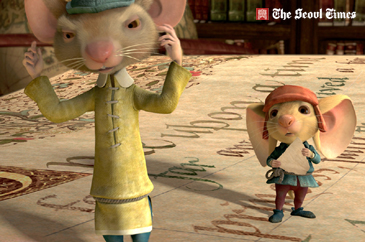 The Tale of Despereaux (작은 영웅 데스페로)


Synopsis

남들에겐 바늘, 내겐 검! 남들에겐 고양이, 내겐 귀여운 '복실이'!
세상을 깜짝 놀라게 할 겁 없는 녀석이 온다!

두려움이 미덕인 생쥐 세계에서 쥐덫을 놀이기구로 삼고, 미술 시간에 고양이 그림을 그리는 등 용감무쌍 행동으로 마을을 놀래키는, 엉뚱하지만 사랑스러운 데스페로.

항상 새로운 세상에 대한 호기심으로 가득 차 있던 데스페로는 어느 날 인간 세상으로 여행을 떠나게 되고, 빛과 활기를 잃은 도르 왕국에서 우연히 아름다운 피(Pea) 공주를 만나 어둠 속의 왕국과 공주를 구하기 위해 모험을 시작하는데…

About the Movie

<해리 포터> 대신 <작은 영웅 데스페로>로 찾아오는 '엠마 왓슨'
<작은 영웅 데스페로>로 첫 성우 연기에 도전 화제!

<작은 영웅 데스페로>는 '겁'이 미덕인 생쥐 세계에서 용감무쌍한 행동으로 마을을 놀래키는 데스페로가 빛을 잃은 왕국의 공주와 왕국을 구하기 위한 모험을 그린 애니메이션이다. 미국 도서관 협회에서 매해 가장 우수한 아동 문학 도서에 수여하는 뉴베리상 수상 및 뉴욕 타임즈 96주간 장기 베스트셀러를 기록하며 영화화 자체로만으로도 관심이 모이고 있는 <작은 영웅 데스페로>에서 <해리 포터> 시리즈에서 똑똑한 마법 소녀 '헤르미온느' 역으로 최고의 스타로 자리매김한 엠마 왓슨의 목소리 출연은 더욱 더 많은 기대를 모으고 있다.

똑똑한 마법 소녀에서 범상치 않는 공주로 변신!
당돌하고 호기심 많은 10대의 공주 역할 완벽 소화!

<작은 영웅 데스페로>를 통해 목소리 연기에 첫 도전하는 엠마 왓슨은 실의의 빠져 빛을 잃어버린 도르 왕국의 피(Pea) 공주 역할을 맡았다. 기존의 애니메이션에 등장하는 왕자와의 로맨스를 꿈꾸는 평범한 공주 캐릭터가 아닌 우아하고 따뜻한 마음을 가졌지만 반면 호기심 많고 당돌한 10대의 공주 캐릭터이다. <작은 영웅 데스페로>를 통해 처음 성우에 도전하는 엠마 왓슨은 특유의 발랄하고도 절제된 목소리로 호기심 많고 당당한 피(Pea) 공주의 매력을 잘 살렸다는 평가를 받고 있다. 특히 빛을 잃은 도르 왕국이 활기차고 밝은 예전으로 돌아갈 수 있다는 희망을 잃지 않으며 왕국에 대해 걱정하는 피(Pea) 공주의 모습은 실제로 대학 입학 이후 연기자로서의 삶에 대한 고충을 털어놓으며 미래에 대한 고민을 하고 있는 현재의 엠마 왓슨과 많이 닮아있다. 그래서 그녀의 연기는 더욱 더 진정성을 가지면서 피(Pea) 공주 캐릭터와 닮아있는 것.

쥐덫을 놀이기구 삼아 놀거나, 생쥐들에게는 천적인 고양이에게 '복실이'라는 이름을 지으며 귀여워하는 등 태어날 때부터 유난히 엉뚱하면서도 용감무쌍한 매력을 가진 데스페로의 모험담이 기대되는 애니메이션 <작은 영웅 데스페로>. 몸집은 작지만 큰 웃음과 감동으로 전세계를 놀라게 할 애니메이션으로, <해리 포터> 히로인 '엠마 왓슨'의 목소리 출연으로 커다란 화제가 되고 있는 <작은 영웅 데스페로>는 2009년 2월 12일 개봉 예정이다.


The Tale of Despereaux (작은 영웅 데스페로)


Cast & Crew

원제: The Tale of Despereaux
원작: 케이트 디카밀로
각본: 윌 맥롭, 게리 로스, 크리스 비스카디
감독: 샘 펠, 롭 스티븐헤이겐
출연: 피아 공주역- 엠마 왓슨, 데스페로역- 매튜 브로데릭,
로스쿠로역- 더스틴 호프먼, 나레이터- 시고니 위버
장르: 3D 애니메이션, 어드벤처, 코미디
관람등급: 전체 관람가
제작국: 영국, 미국
수입/배급: UPI 코리아
개봉예정일: 2009년 2월 12일




홈페이지: www.thetaleofdespereauxmovie.com
ST Photo Gallery
Photo News
Embassy Events
Econo People 2005
Fashion Images
New Movies
Travel Images
Nayan Sthankiya's Photo Features New
Abuses of Iraqi Prisoners of War
Academy Awards Photos 2004
Adolf Hitler
Aishwarya Rai-Indian actress
Buddha`s Birthday 2004
Cannes 2004 — 57th Cannes Film Festival
Choi Tae-Ji Photo Gallery
Comfort Woman Picture Gallery
Crown Prince Felipe of Spain
Dokdo Photo Gallery
Erotic Paintings of Hyewon and Danwon
Franz`s Art Exhibition
Gando Photo Gallery
Geisha in Japan
Gwangju Massacre
Jeju Island
Kim Jong-Il and Kim Il-Sung
Koguryo Murals
Korean War (1950-53)
Madonna
Miss Universe 2004
Miss World Contest 2003
Mt. Kumkang or Mt. Diamond New
Natural Beauty of Korea
Rape of Nanjing (Nanjing Massacre)
Rio Carnival 2004
Ronald Reagan`s Life in Pictures
ST Family
Sonia Gandhi and Gandhi Clan
Taj Mahal Photo Gallery
Ukrainian Embassy
World War Two
Photo Gallery of World Newspapers/Media
Times of India
Hindustan Times
SantaBanta.com
Straights Times (Singapore)
Chicago Sun-Times
Moscow Times