New Movies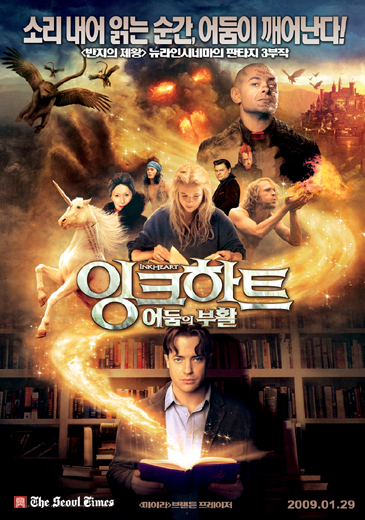 Inkheart (잉크하트: 어둠의 부활)Synopsis

When Mo (Brendan Fraser) reads aloud from books, he has the ability to make the characters come out of the book, into real life. Mo discovered his power when his daugther Meggie (Eliza Bennett), was just a baby.

Mo read aloud from the book Inkheart, which caused several of the book's wicked characters, including Capricorn (Andy Serkis), to literally come to life. But while he read them out of the book, he accidentally read Meggie's mother, Resa (Sienna Guillory) into the story.

Meggie is 12 years old, but knows nothing of her father's bizarre and powerful talent. But Meggie is annoyed that Mo still refuses to read to her. Capricorn, a man who burns books for pleasure and being so evil that he would "feed a bird to a cat on purpose, just to watch it being torn apart", has searched for Meggie's father for years, seeking to twist Mo's powerful talent to his own dark means. Finally, Capricorn realizes that the best way to lure Mo to his remote mountain hideaway is to use his beloved daughter Meggie as bait...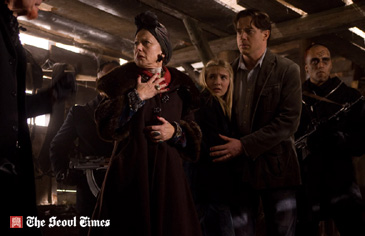 Inkheart (잉크하트: 어둠의 부활)


About the Movie

Based on the best-selling book by Cornelia Funke, "Inkheart" is a fantasy adventure that sends a father and daughter on a quest through worlds both real and imagined.

Mortimer "Mo" Folchart and his 12-year-old daughter, Meggie, share a passion for books. What they also share is an extraordinary gift for bringing characters from books to life when they read aloud. But there is a danger: when a character is brought to life from a book, a real person disappears into its pages.

On one of their trips to a secondhand book shop, Mo hears voices he hasn't heard for years, and when he locates the book they're coming from, it sends a shiver up his spine. It's Inkheart, a book filled with illustrations of medieval castles and strange creatures—a book he's been searching for since Meggie was three years old, when her mother, Resa, vanished into its mystical world.

Cast & Crew

Director: Iain Softley
Writer: David Lindsay-Abaire, Cornelia Funke
Starring: Brendan Fraser, Andy Serkis, Helen Mirren,
Paul Bettany, Eliza Bennett
Genre: Adventure, Family, Fantasy
Distributor: New Line Cinema
Country: Germany, UK, USA
Language: English
Release Date: Jan. 29, 2009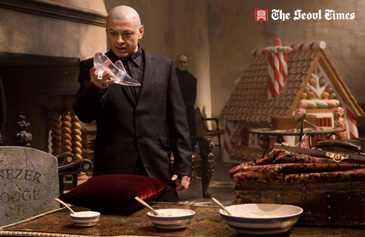 Inkheart (잉크하트: 어둠의 부활)


Synopsis

소리 내어 읽으면 책 속의 인물을 현실 세계로 불러낼 수 있는 신비한 능력을 가진 실버통 '모'.

그는 9년 전, 우연히 <잉크하트> 책을 읽고, 그 속에서 어둠의 제왕 카프리콘과 불을 다스리는 마법사 더스트핑거를 현실로 불러내고 만다.
하지만 반대로 모의 아내 리사는 책 속으로 빨려 들어가게 된다.
<잉크하트>를 가지고 사라진 카프리콘 군단. 모는 딸 메기와 함께 아내를 구하기 위해 <잉크하트>를 찾던 중, 카프리콘 군단이 현실 세계를 장악하기 위해 책 속에서 절대 악 섀도우를 불러내려는 음모를 알게 되는데…

이제, 세상을 지키려는 실버통 군단과 세상을 지배하려는 카프리콘 군단의 대격돌이 시작된다!

About the Movie

2009년 포문을 열 첫 번째 판타지 어드벤처가 온다!

소리 내어 읽으면 책 속의 인물을 현실로 불러낼 수 있는 능력을 가진 실버통 '모'와 그가 <잉크하트>라는 소설 속에서 불러낸 인물이자, 현실 세계를 지배하려는 '카프리콘'군단의 대결을 그린 <잉크하트: 어둠의 부활>이 드디어 한국에 상륙한다.

특히 책을 소리 내어 읽으면 책 속의 인물이 현실 세계로 나오게 되고, 반대로 현실 세계에 있던 사람은 책 속으로 빨려 들어간다는 독특한 상상력과 함께, 이들을 불러내는 능력자인 실버통을 소재로 우리에게 익숙한 소설 속의 주인공과 신화 속 캐릭터들이 <잉크하트: 어둠의 부활>의 영상 속에서 함께 등장하며 상상을 초월하는 거대한 모험을 박진감 넘치게 보여줄 예정이다.

또한 <잉크하트: 어둠의 부활>에는 할리우드에서 내로라하는 실력파 배우들이 총출동해 영화에 빛을 더한다. <미이라> 시리즈와 최근 <잃어버린 세계를 찾아서> 등 유독 판타지 어드벤처에서 기량을 마음껏 발휘했던 판타지 영화의 히어로 브랜든 프레이저가 실버통 능력의 소유자 '모'역할을 맡았고, <반지의 제왕> 시리즈에서 골룸 역으로 열연하며 전 세계인들에게 자신의 역량을 과시했던 앤디 서키스가 소설 <잉크하트>에서 현실로 나와 전 세계를 지배하려는 악당 '카프리콘'역을 맡아 브랜든 프레이저와 한 치의 양보도 없는 연기 대결을 펼친다. 그리고 오스카상 여우주연상에 빛나는 헬렌 미렌과 <다빈치코드>에서 인상 깊은 연기를 선보인 폴 베타니가 각각 고전을 사랑하는 메기의 이모할머니 '앨리너'와 불을 다스리는 떠돌이 마법사 '더스트핑거'로 분해 실버통인 모를 도와 카프리콘 군단에 맞선다. 마지막으로 모의 딸이자 어둠의 세력을 저지할 마지막 희망인 '메기'는 할리우드의 떠오르는 신예 엘리자 호프 베넷이 맡아 인상 깊은 연기를 선보일 예정이다.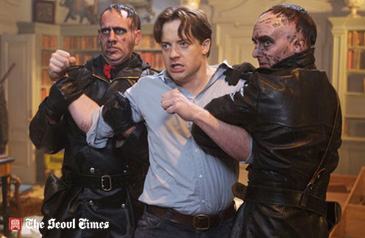 Inkheart (잉크하트: 어둠의 부활)


Cast & Crew

원작: Inkheart (코넬리아 푼케作)
감독: 이안 소프틀리
출연: 브렌든 프레이저, 앤디 서키스, 헬렌 미렌,
폴 베타니, 엘리자 호프 베넷
장르: 판타지, 어드벤처
수입: ㈜아인스M&M / ㈜태원엔터테인먼트
투자 / 배급: ㈜롯데엔터테인먼트
제작사: New Line Cinema
제작국: 독일, 영국, 미국
관람등급: 전체 관람가
개봉예정일: 2009년 1월 29일



홈페이지: www.inkheartmovie.com
ST Photo Gallery
Photo News
Embassy Events
Econo People 2005
Fashion Images
New Movies
Travel Images
Nayan Sthankiya's Photo Features New
Abuses of Iraqi Prisoners of War
Academy Awards Photos 2004
Adolf Hitler
Aishwarya Rai-Indian actress
Buddha`s Birthday 2004
Cannes 2004 — 57th Cannes Film Festival
Choi Tae-Ji Photo Gallery
Comfort Woman Picture Gallery
Crown Prince Felipe of Spain
Dokdo Photo Gallery
Erotic Paintings of Hyewon and Danwon
Franz`s Art Exhibition
Gando Photo Gallery
Geisha in Japan
Gwangju Massacre
Jeju Island
Kim Jong-Il and Kim Il-Sung
Koguryo Murals
Korean War (1950-53)
Madonna
Miss Universe 2004
Miss World Contest 2003
Mt. Kumkang or Mt. Diamond New
Natural Beauty of Korea
Rape of Nanjing (Nanjing Massacre)
Rio Carnival 2004
Ronald Reagan`s Life in Pictures
ST Family
Sonia Gandhi and Gandhi Clan
Taj Mahal Photo Gallery
Ukrainian Embassy
World War Two
Photo Gallery of World Newspapers/Media
Times of India
Hindustan Times
SantaBanta.com
Straights Times (Singapore)
Chicago Sun-Times
Moscow Times