New Movies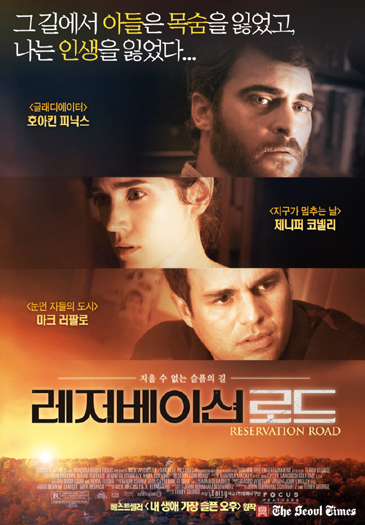 Reservation Road (레저베이션로드)Synopsis

Dwight Arno (Mark Ruffalo), an attorney, is divorced from Ruth (Mira Sorvino). Their son, Lucas (Eddie Alderson), lives with Ruth, but Dwight has him on the weekends. While at Fenway Park watching a Red Sox game they are harassed by telephone calls from Ruth, telling Dwight that he is late returning the boy. Driving the boy home, Dwight hurries to avoid losing his right to weekly visits with Lucas. When he loses control of his vehicle, he accidentally hits a 10-year-old boy, Josh Learner (Sean Curley), who is crossing the road near a gas station to release fire flies he'd caught earlier. Aware that he has hit the boy, Dwight drives on. To Lucas, who has a minor injury, Dwight lies that they had collided with a log. He later hears in the news that the boy died.

Dwight tries to cover up the evidence that he did it: he parks his SUV, which has some damage, in the garage, and rents a car. When the police come by to ask to see the vehicle, he lies to them, saying that he had given it to a charity some time before. Later, when Lucas recalls in passing that Josh's death was on the same day as their trip to Fenway, Dwight lies that they were a week apart.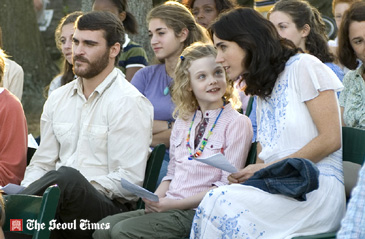 Reservation Road (레저베이션로드)


About the Movie

Based on the critically acclaimed novel of the same name by John Burnham Schwartz, Reservation Road is the compelling new dramatic thriller from two-time Academy Award-nominated writer/director Terry George (Hotel Rwanda). A tale of anger, revenge, and great courage, Reservation Road follows two fathers as their families and lives converge.

On a warm September evening, college professor Ethan Learner (two-time Academy Award nominee Joaquin Phoenix), his wife Grace (Academy Award winner Jennifer Connelly), and their daughter Emma (Elle Fanning) are attending a recital. Their 10-year-old son Josh (Sean Curley) is playing cello ? beautifully, as usual. His younger sister looks up to him, and his parents are proud of their son. On the way home, they all stop at a gas station on Reservation Road. There, in one terrible instant, he is taken from them forever.

Cast & Crew

Director: Terry George
Writer: Terry George, John Burnham Schwartz
Starring: Joaquin Phoenix, Mark Ruffalo, Jennifer Connelly
Genre: Drama, Thriller
Country: USA, Germany
Language: English
Release Date: Jan. 29, 2009

Synopsis

지울 수 없는 슬픔의 길, 레저베이션 로드

귀여운 아이들, 사랑스러운 아내와 행복한 삶을 영위하던 에단은 피크닉을 다녀오던 중, 레저베이션 로드에서 뺑소니 사고로 아들을 잃고 만다. 눈앞에서 아들을 잃은 에단의 가족들은 걷잡을 수 없이 무너져 가고, 급기야 에단은 범인을 잡기 위해 직접 나서기에 이른다. 한편 어린 아들이 함께 탄 차로 사고를 낸 드와이트는 곁에 어린 아들이 받을 충격이 두려워 현장에서 달아났지만, 아이를 죽게 했다는 무거운 죄책감에 시달리며 에단 가족 주위를 맴돌기 시작하는데...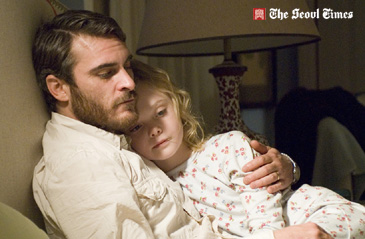 Reservation Road (레저베이션로드)


About the Movie

호아킨 피닉스, 마크 러팔로, 제니퍼 코넬리, 엘르 패닝!
최고의 명품배우들이 오직, 이 영화만을 위해 뭉쳤다!

호아킨 피닉스, 마크 러팔로, 제니퍼 코넬리, 엘르 패닝. 그 이름만으로도 빛나는 최고의 연기파 배우들의 숨 막히는 연기 대결이 스크린 안에서 펼쳐진다. 어린 아들을 잃은 후, 걷잡을 수 없는 아버지 '에단' 역에 호아킨 피닉스, 그런 남편을 눈물겹게 지키는 아내 '그레이스'에 제니퍼 코넬리, 한 순간의 잘못된 판단으로 죄책감에 시달리는 또 다른 아버지 '드와이트'를 마크 러팔로가 맡아 팽팽한 연기대결을 펼친다.

배우들은 각자의 캐릭터 속에 완전히 젖어 들기 위해 각고의 노력을 펼쳤는데, 호아킨 피닉스는 실제 뺑소니 사고로 아이를 잃은 가족들을 만나 그들만이 공유한 아픔을 배웠으며 마크 러팔로는 '에단'에 대한 '드와이트'의 죄책감과 두려움을 극대화하기 위해, 첫 만나는 씬 촬영 전까지 호아킨 피닉스를 보지 않을 정도였다.

한 아이의 아버지이지만 희생자와 범죄자로 만나게 된 이들, 너무도 아프게 어긋난 운명을 알지 못한 채, 얽혀만 가는 두 가족은 관객들의 가슴을 파고드는 농밀한 슬픔을 전할 것이다.

깊은 슬픔에 빠진 남자, 호아킨 피닉스
실제 희생자 가족들을 만나며, 진실함을 배우다!

<레저베이션 로드>는 그의 연기생활을 완성시켜준 작품으로, 뺑소니 사고로 아들을 잃고 무너져 가는 아버지 '에단'을 통해 자신 스스로도 더욱 깊고 성숙해졌다.

피닉스는 "에단은 그의 슬픔에 대해 잘 대처하지도 그리고 표현하지도 못하는 인물이다" 라고 정의했다. 때문에 아픔을 속으로만 삭혀야 하는 내성적 캐릭터를 더욱 잘 이해하기 위해 피닉스는 힘든 경험을 한 사람들과 만날 필요성을 강렬히 느꼈다. 그는 음주운전 피해자들의 어머니들과 만나 그들의 이야기를 들었는데, 많은 시간이 흘렀음에도 불구하고 여전히 자식을 잃은 상처와 아픔을 간직하고 있는 모습에서 에단의 모습을 볼 수 있었다. 또한 슬픔과 잃음에 대한 수많은 책을 읽었고, 남자가 여자와는 달리 다르게 어떻게 상실에 대처하는지, 그리고 어떻게 가족들이 충돌하는지 배울 수 있었다.


Reservation Road (레저베이션로드)


Cast & Crew

원제: Reservation Road
감독: 테리 조지
출연: 호아킨 피닉스, 마크 러팔로, 제니퍼 코넬리
장르: 심리 드라마
관람 등급: 12세 이상 관람
수입: ㈜데이지엔터테인먼트
배급: ㈜영화사 구안
개봉예정일: 2009년 1월 29일



홈페이지: www.daisyent.co.kr
ST Photo Gallery
Photo News
Embassy Events
Econo People 2005
Fashion Images
New Movies
Travel Images
Nayan Sthankiya's Photo Features New
Abuses of Iraqi Prisoners of War
Academy Awards Photos 2004
Adolf Hitler
Aishwarya Rai-Indian actress
Buddha`s Birthday 2004
Cannes 2004 — 57th Cannes Film Festival
Choi Tae-Ji Photo Gallery
Comfort Woman Picture Gallery
Crown Prince Felipe of Spain
Dokdo Photo Gallery
Erotic Paintings of Hyewon and Danwon
Franz`s Art Exhibition
Gando Photo Gallery
Geisha in Japan
Gwangju Massacre
Jeju Island
Kim Jong-Il and Kim Il-Sung
Koguryo Murals
Korean War (1950-53)
Madonna
Miss Universe 2004
Miss World Contest 2003
Mt. Kumkang or Mt. Diamond New
Natural Beauty of Korea
Rape of Nanjing (Nanjing Massacre)
Rio Carnival 2004
Ronald Reagan`s Life in Pictures
ST Family
Sonia Gandhi and Gandhi Clan
Taj Mahal Photo Gallery
Ukrainian Embassy
World War Two
Photo Gallery of World Newspapers/Media
Times of India
Hindustan Times
SantaBanta.com
Straights Times (Singapore)
Chicago Sun-Times
Moscow Times