New Movies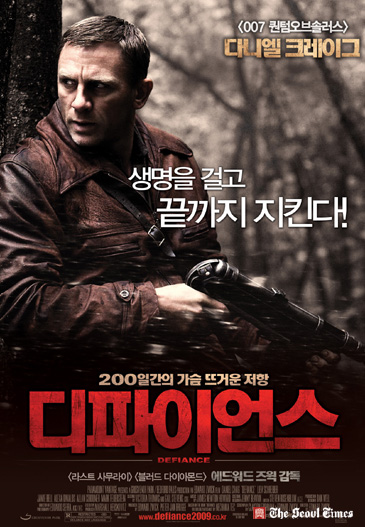 Defiance (디파이언스)Synopsis

Inspired by a true story, director Edward Zwick's epic World War II drama Defiance tells the tale of three Jewish Eastern European brothers (Daniel Craig, Liev Schreiber, and Jamie Bell) who narrowly escape certain death at the hands of the Nazis, subsequently vowing to avenge the deaths of their loves ones by launching a desperate battle against the forces that seek to exterminate their entire race. The year is 1941, and the setting is Nazi-occupied Poland. The Final Solution is in full effect, and the Jews of Eastern Europe are being slaughtered wholesale. Tuvia (Craig), Zus (Schreiber), and Asael (Bell) have miraculously managed to escape into the dense surrounding forest. Having played in these woods since childhood, the brothers have a distinct advantage over their adversaries, and soon decide that simply surviving is not enough. In order to make a difference, they must take action, but in order to take action they will need support. As whispers of their bravery take wind, others like them appear determined to lay their lives on the line for the cause of freedom. Tuvia has become the de facto leader of the group, but he's still somewhat reluctant to take on such a heavy responsibility and his brother Zus expresses concern that his idealistic plan will ultimately bring about the group's downfall. With winter setting in, everyone works to create a functioning community that will help them endure the frigid months that lie ahead, and Asael reluctantly finds himself caught in the crossfire of his older siblings' rivalry. Is it possible to keep faith alive in a time when the world seems devoid of humanity and survival becomes a way of life?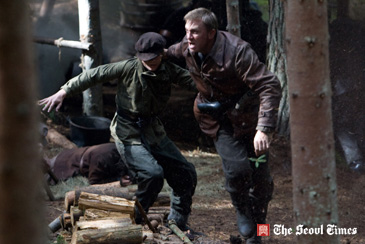 Defiance (디파이언스)


About the Movie

Based on an extraordinary true story, "Defiance" is an epic tale of family, honor, vengeance and salvation in World War II. The year is 1941 and the Jews of Eastern Europe are being massacred by the thousands. Managing to escape certain death, three brothers take refuge in the dense surrounding woods they have known since childhood. There they begin their desperate battle against the Nazis. Daniel Craig, Liev Schreiber and Jamie Bell star as brothers who turn a primitive struggle to survive into something far more consequential a way to avenge the deaths of their loved ones by saving thousands of others. At first it is all they can do to stay alive. But, gradually, as whispers of their daring spreads, they begin to attract others men and women, young and old willing to risk everything for the sake of even a moment's freedom. Tuvia is a reluctant leader and his decisions are challenged by his brother, Zus who worries that Tuvia's idealistic plans will doom them all. Asael is the youngest caught between his brothers' fierce rivalry. As a brutal winter descends, they work to create a community, and to keep faith alive when all humanity appeared to be lost.

Cast & Crew

Director: Edward Zwick
Writer: Edward Zwick, Clayton Frohman
Producer: Marshall Herskovitz, Edward Zwick, Pieter Jan Brugge
Starring: Daniel Craig, Liev Schreiber, Jamie Bell, Alexa Davalos
Genre: Drama, War
Awards: Nominated for Golden Globe
Country: USA
Language: English
Release Date: Jan. 8, 2009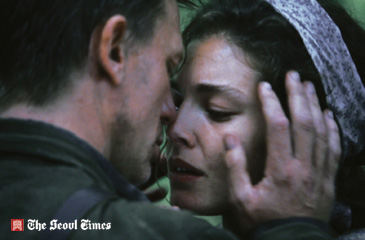 Defiance (디파이언스)


Synopsis

희망이 사라진 순간, 삶을 선사한 단 한 명의 영웅

2차 세계대전, 가족을 모두 잃은 '투비아'는 독일군과 밀고자를 죽인 후 형제들을 이끌고 숲으로 몸을 숨긴다. 그리고 죽음을 피해 숲으로 도망 온 피난민들을 외면하지 못한 '투비아'는 은신처가 발각될 것을 걱정하는 동생 '주스'의 반대를 무릅쓰고 그들을 받아들인다. 독일군에 맞서 유태인들을 보호하는 '투비아'의 명성은 피난민들의 유일한 희망이 되고 숲으로 몰려드는 사람들의 수는 수 천명에 이르게 된다.

하루, 한달… 혹은 일년을 더 살기 위한 200일간의 뜨거운 저항!

한편 '주스'는 적에게 전면전으로 대항하겠다며 은신처를 떠나 러시아군에 합류하고 '투비아'와 막내 '아사엘'은 혹독한 겨울과 독일군의 습격 속에서 남자들을 훈련시키고 노인과 여자, 아이들을 지켜나간다. 살육과 절망의 비참함 속에서 단 하루라도 인간답게 살기 위해 결혼을 하고, 학교를 열고, 가난한 축제를 여는 사람들. '투비아' 역시 아름다운 여인 '릴카'와 사랑에 빠진다. 하지만, '투비아'의 은신처를 초토화하려는 독일군의 대공습과 추격전이 시작된다. 사랑하는 여인과 수천 명의 생명을 지키기 위해 국경을 넘어야 하는 '투비아'와 형제들의 마지막 사투가 다가오는데…

About the Movie

픽션을 넘어서는 실화의 감동!
전쟁 속에서 1,200명을 지켜낸 위대한 영웅이 온다!

"비엘스키 형제가 없었다면 우리는 결코 살아남지 못했을 것이다!"

1941년 여름, 유럽이 히틀러의 군대에 점령당했을 때, 세 명의 비엘스키 형제는 수천 명의 피난민들을 구했다. 그들은 유격대를 결성해 적에게 대항했으며 전쟁 속에서도 자신들을 찾아온 이들이 인간답게 살 수 있도록 모든 것을 내던져 지켜주었다. 다니엘 크레이그가 분한 비엘스키 형제의 맏형 '투비아'는 독일군에 대한 자신의 복수는 뒤로 한 채 수천 명의 생명을 지켜냈고, 그를 따른 모든 이들을 희망으로 이끌었다.

비엘스키 형제는 종전 후에 결코 자신들의 공을 내세우지 않았다. 자식들에게 조차 그들의 과거에 대해 알리지 않은 채 당시 많은 이민자들이 그랬듯이 뉴욕으로 이주한 뒤 트럭 운전사, 택시 운전사로 평범하게 살아갔다. 당시 수천 명을 구한 비엘스키 형제의 위대한 용기는 지금도 5만 여명에 이르는 생존자들의 후손들과 함께 우리 곁에 남아있지만, 이 사건을 알고 있는 사람들은 많지 않다. 역사 속에 가려진 이 위대한 영웅의 이야기는 '투비아'가 사망한 해인 1987년 이후, 그들의 일화를 재조명하기 위한 리서치가 활발히 이루어지고 <디파이언스:비엘스키 유격대>라는 소설이 작가 '네키이마 테크'에 의해 출판되면서 세상에 알려지기 시작했다.

"어쩌면 우리는 짐승처럼 그들의 사냥감이 되었을지도 모르나 우리는 결코 짐승이 되지는 않을 것이다."라는 '투비아'의 말처럼 전쟁 속에서도 1,200명의 피난민들이 인간답게 살 수 있도록 최선을 다한 이들의 명예로운 업적은 2009년 에드워드 즈윅 감독에 의해 영화로 탄생하게 되었다. <디파이언스>는 관객들에게 삶에 대한 희망과 의지를 가슴에 아로새기며 최고의 감동으로 다가갈 것이다.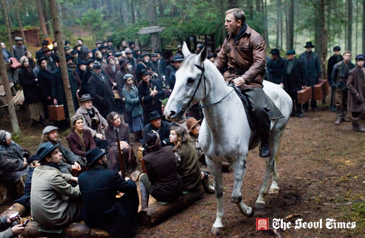 Defiance (디파이언스)


Cast & Crew

원제: Defiance
감독: 에드워드 즈윅
각본: 에드워드 즈윅, 클레이튼 프로만
제작: 에드워드 즈윅, 피터 얀 브루게
출연: 다니엘 크레이그, 리브 슈라이버, 제이미 벨, 알렉사 다바로스
장르: 액션
관람등급: 15세 이상 관람가
수입: (주) 미로비젼
배급: 엠플러스픽쳐스
개봉예정일: 2009년 1월 8일



홈페이지: www.defiance2009.co.kr
ST Photo Gallery
Photo News
Embassy Events
Econo People 2005
Fashion Images
New Movies
Travel Images
Nayan Sthankiya's Photo Features New
Abuses of Iraqi Prisoners of War
Academy Awards Photos 2004
Adolf Hitler
Aishwarya Rai-Indian actress
Buddha`s Birthday 2004
Cannes 2004 — 57th Cannes Film Festival
Choi Tae-Ji Photo Gallery
Comfort Woman Picture Gallery
Crown Prince Felipe of Spain
Dokdo Photo Gallery
Erotic Paintings of Hyewon and Danwon
Franz`s Art Exhibition
Gando Photo Gallery
Geisha in Japan
Gwangju Massacre
Jeju Island
Kim Jong-Il and Kim Il-Sung
Koguryo Murals
Korean War (1950-53)
Madonna
Miss Universe 2004
Miss World Contest 2003
Mt. Kumkang or Mt. Diamond New
Natural Beauty of Korea
Rape of Nanjing (Nanjing Massacre)
Rio Carnival 2004
Ronald Reagan`s Life in Pictures
ST Family
Sonia Gandhi and Gandhi Clan
Taj Mahal Photo Gallery
Ukrainian Embassy
World War Two
Photo Gallery of World Newspapers/Media
Times of India
Hindustan Times
SantaBanta.com
Straights Times (Singapore)
Chicago Sun-Times
Moscow Times