New Movies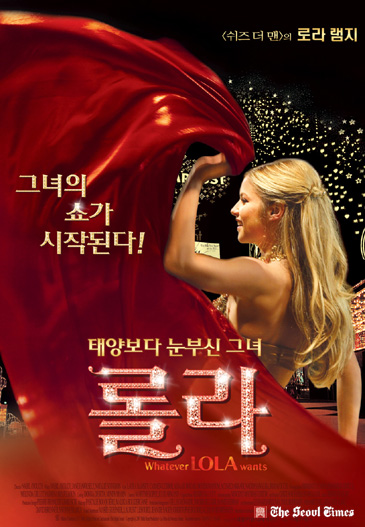 Whatever Lola Wants (롤라)Synopsis

Lola(Laura Ramsey) was born and raised in Wisconsin but has moved to Manhattan in hopes of finding a more exciting career, though so far she's making ends meet working as a letter carrier. Lola's secret passion is belly dancing, and she devotes her spare time to lessons in the ancient art; her close friend Yussef(Achmed Akkabi) offers encouragement, but so far she's only been able to perform in public at a ratty strip club. While delivering mail, Lola meets Zach(Assad Bouab), the handsome son of a wealthy Egyptian family who is studying business in the United States. Zach is clearly attracted to Lola, and it isn't long before she finds herself falling for him, and when he's called home on short notice, Lola decides buy a ticket to Cairo to follow him. It doesn't take long for Lola to realize that while Zach may have pursued her in New York, he's not about to at home, but she becomes fascinated with Cairo and decides to stay for a while in hopes of learning belly dancing in the land where it was born. Lola finds Ismahan(Carmen Lebbos), once one of the world's greatest belly dancers, and asks her for lessons, but Lola learns she retired in disgrace after a scandal and luring her back into action is no easy task.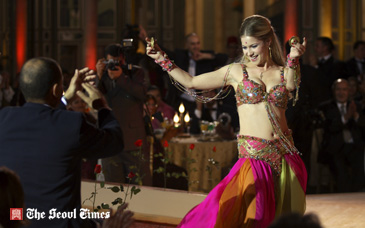 Whatever Lola Wants (롤라)


About the Movie

In the sweet-natured comic drama "Whatever Lola Wants," a naive American woman travels to Cairo to find a former love but ends up pursuing a passion for belly dancing and discovering her true self. In his English-language debut, Paris-based Moroccan helmer Nabil Ayouch aims to provide a corrective to Mideast-set Hollywood pics full of bloodshed and bombs, but ends up relying on some other stereotypes instead. However, despite a considerable number of cringe-inducing moments early on, the sheer brio of the heroine's cross-cultural antics will win over auds by the end.

Cast & Crew

Director: Nabil Ayouch
Writer: Nabil Ayouch, Jane Hawksley
Starring: Laura Ramsey, Carmen Lebbos, Assaad Bouab
Genre: Drama
Country: Canada, France
Language: English, Arabic
Release Date: Jan. 15, 2009

Synopsis

뉴욕부터 카이로까지!
전 세계에 뿌려진 롤라의 희망 바이러스!

임시직 우체부지만 춤에 대한 열정으로 가득 찬 롤라는 매번 오디션에서 떨어지며 현실과 이상 사이에서 방황한다. 더구나 보수적인 남자친구 잭은 롤라가 댄서가 되는 것을 원치 않았기에 이별을 선고하고 자신의 고국인 이집트로 떠나버린다. 롤라는 잭을 만나러 카이로에 쫓아가지만, 약혼녀가 있었다는 사실에 좌절하고, 홀로 낯설고 두려운 이국땅 이집트에 남게 된다. 롤라는 은둔해버린 전설의 댄서 이스마한을 만나 본격적으로 벨리댄스를 배우게 된다. 여성댄서를 창녀 취급하는 이슬람 남성들의 성차별 속에서도 당당히 댄서로서의 길을 걷는 롤라는 벨리댄스 본 고장인 이집트에서 최고의 댄서로 등극하는데...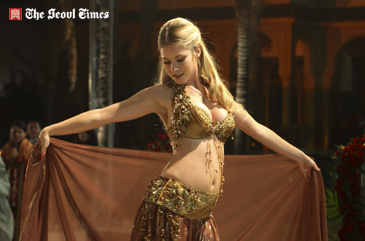 Whatever Lola Wants (롤라)


About the Movie

현실과 이상 사이에서 고민하는 당신에게 필요한 해결책 하나.

오디션에서 매번 떨어지는 댄서 지망생 룰라. 그녀에게 안정된 직장을 얻을 수 있는 절호의 기회가 찾아온다. 하지만 안정된 직장을 선택하는 순간, 댄서로의 미래도 포기해야 할 상황에 놓이는데...

사람이라면 누구나 현실과 이상 사이의 간극에서 방황한다. 1월 15일 개봉하는 <롤라>는 댄서를 꿈꾸는 한 젊은 여성을 통해 지극히 현실인 20대의 공감대를 가볍고 경쾌한 터치로 풀어가며, 좌절의 순간조차 웃음과 희망으로 멋지게 그려낸다.
<롤라>는 20대 여성의 뜨거운 열정과 화려한 매력으로 팍팍한 현실 대신 누구나 꿈꾸는 행복한 이상을 그려내며 단순한 오락 영화 이상의 감동을 선사한다.

미래와 사랑 사이에서 고민하는 당신에게 필요한 해결책 둘.

보수적인 이집트 유학생 잭과 연애중인 롤라.
거기다 잭은 이집트 백만장자의 아들!
하지만 잭은 다른 남성들 앞에서 몸을 흔드는 댄서라는 직업을 용납하지 못하는데...

<롤라>의 주인공 '롤라'에게 댄서는 무엇과도 바꾸지 싶지 않은 미래지만, 누군가에게 그 미래는 하찮은 것으로 보일 수도 있다. 더구나 사랑하는 사람이 자신의 꿈을 이해해 주지 못했을 때 그 상처는 배가 되는 법이다.

영화 <롤라>는 영화의 원제이자 사라본의 대표곡 중 하나인 Whatever Lola Wants처럼 롤라가 원하는 것이 무엇이든 열정으로 모든 것을 이루는 당당한 여성의 모습을 보여준다. 달콤한 사랑을 꿈꾸지만 미래 또한 놓칠 수 없는 당찬 20대 여성들에게 기운을 북돋아 줄 것이다.

원하는 것은 모두 다 이루어지는 기적의 스토리 <롤라>가 2009년 1월 15일 대개봉 한다.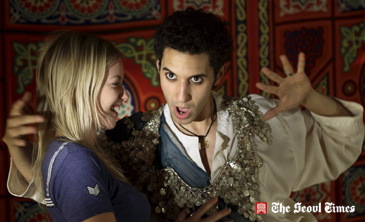 Whatever Lola Wants (롤라)


Cast & Crew

원제: Whatever Lola Wants
감독: 나빌 아우크
출연: 로라 램지, 카멘 레보스, 아사드 보우압
제작: 프랑스, 캐나다
장르: 로맨스, 드라마
배급사: (주)메가박스
수입사: 세종커뮤니케이션스
언어: 영어, 아랍어
개봉예정일: 2009년 1월 15일



홈페이지: http://www.lola2009.co.kr
ST Photo Gallery
Photo News
Embassy Events
Econo People 2005
Fashion Images
New Movies
Travel Images
Nayan Sthankiya's Photo Features New
Abuses of Iraqi Prisoners of War
Academy Awards Photos 2004
Adolf Hitler
Aishwarya Rai-Indian actress
Buddha`s Birthday 2004
Cannes 2004 — 57th Cannes Film Festival
Choi Tae-Ji Photo Gallery
Comfort Woman Picture Gallery
Crown Prince Felipe of Spain
Dokdo Photo Gallery
Erotic Paintings of Hyewon and Danwon
Franz`s Art Exhibition
Gando Photo Gallery
Geisha in Japan
Gwangju Massacre
Jeju Island
Kim Jong-Il and Kim Il-Sung
Koguryo Murals
Korean War (1950-53)
Madonna
Miss Universe 2004
Miss World Contest 2003
Mt. Kumkang or Mt. Diamond New
Natural Beauty of Korea
Rape of Nanjing (Nanjing Massacre)
Rio Carnival 2004
Ronald Reagan`s Life in Pictures
ST Family
Sonia Gandhi and Gandhi Clan
Taj Mahal Photo Gallery
Ukrainian Embassy
World War Two
Photo Gallery of World Newspapers/Media
Times of India
Hindustan Times
SantaBanta.com
Straights Times (Singapore)
Chicago Sun-Times
Moscow Times