New Movies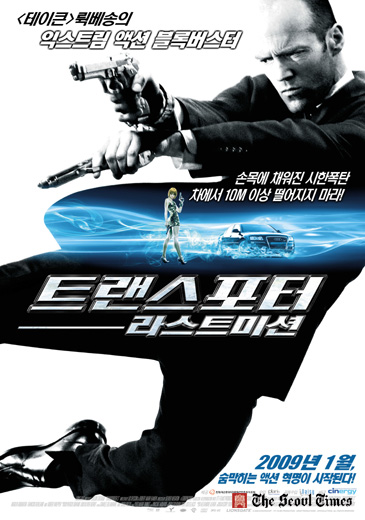 Transporter 3 (트랜스포터:라스트미션)Synopsis

Frank Martin(Jason Statham) has been pressured into transporting Valentina(Natalya Rudakova), the kidnapped daughter of Leonid Vasilev(Jeroen Krabbe), through the use of a device attached to his wrist which will explode if Frank goes more than 75 feet from his car. Vasilev is the head of the Environmental Protection Agency for Ukraine. He must travel from Marseilles through Stuttgart and Budapest until he ends up in Odessa on the Black Sea. With the help of Inspector Tarconi(Francois Berleand), Frank must contend with the people who strong-armed him into taking the job, agents sent by the Ukraine government to intercept him, and the general non-cooperation of his passenger. Despite Valentina's cynical disposition and Frank's resistance to get involved, Frank and Valentina fall for each other, while escaping from one life-threatening situation after another. Statham again drives an armored Audi A8 W12 in the film.

About the Movie

Transporter 3 is a 2008 action film, and is the third installment in the Transporter film series, as well as the first not to be distributed by 20th Century Fox in the United States. Both Jason Statham and Francois Berleand reprised their roles, as Frank Martin and Tarconi, respectively. This is the first film in the series to be directed by Olivier Megaton. The film continues the story of Frank Martin, a professional "transporter" who has returned to France to continue his low-key business of delivering packages without questions.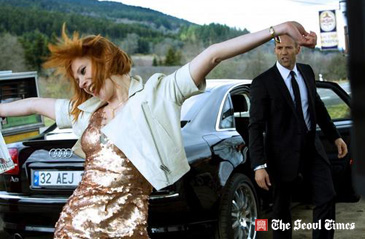 Transporter 3 (트랜스포터:라스트미션)


Cast & Crew

Director: Olivier Megaton
Writer: Luc Besson, Robert Mark Kamen
Starring: Jason Statham, Francois Berleand, Robert Knepper, Natalya Rudakova,
Distributors: Lionsgate
Genre: Action, Adventure, Crime, Gangster
Country: France
Language: English
Release Date: Jan. 8, 2009

Synopsis

손목에 채워진 시한폭탄, 차에서 10m 이상 절대 떨어지지 마라!!

어떤 물건이든 알려 하지 않고 정해진 자신의 룰에 따라 완벽하게 운반하는 전문 '트랜스포터' 프랭크 마틴(제이슨 스테덤). 불법 환경사업가 존슨(로버트 네퍼)은 프랭크를 납치해 목숨을 담보로 의뢰를 하게 되고, 이동하는 동안 차에서 10m이상 떨어지면 폭발하게 되는 시한폭탄을 손목에 장착한다. 그리고 의문의 한 여인을 동행하라는 명령을 받게 되는데…

살고 싶다면 스피드를 올려라!!

살기 위해서라면 질주 할 수밖에 없는 절대 미션. 차에서 떨어지면 폭발해버리는 폭탄. 그리고 의문의 한 여인. 프랭크는 절체절명의 순간에서 과연 마지막 미션을 성공 할 수 있을 것인가.
숨 막히는 광속의 생존게임이 시작된다.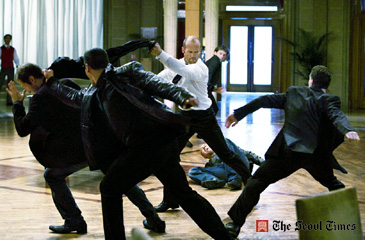 Transporter 3 (트랜스포터:라스트미션)


About the Movie

<레옹>, <테이큰>등의 작품을 통해 특유의 액션감각을 인정받은 프랑스의 거장 '뤽 베송'제작의 익스트림 액션 블록버스터

헐리우드 차세대 액션 히어로로 주목 받고 있는 '제이슨 스타뎀'의 캐스팅 소식과 함께 액션에 열광하는 영화팬들을 흥분시키고 있는 가운데, 그의 강렬한 액션 포스가 물씬 풍겨나는 본 포스터를 공개. 영화에 대한 기대감을 더욱 고조시키고 있다.

<트랜스포터:라스트미션>은 범죄조직의 물건을 비밀리에 운반하는 트랜스포터 '프랭크 마틴(제이슨 스테덤)'이 손목에 채워진 시한폭탄으로 인해 목숨을 건 극한의 미션에 도전해야만 하는 익스트림 블록버스터.

이번에 공개된 <트랜스포터:라스트미션>의 포스터는 복싱과 격투, 동서양의 무예를 넘나드는 화려한 액션 실력을 겸비한 '제이슨 스타뎀'의 전매특허 액션 포즈를 포착해내며 영화팬들의 시선을 사로잡고 있다. 목표물을 노리는 그의 강렬한 눈빛과 카리스마는 흑백톤의 색감으로 한층 액션의 분위기를 더하며, 바람을 가르는 듯한 '아우디'의 질주 본능을 상징적으로 표현해낸 푸른색의 비주얼은 <트랜스포터:라스트미션>이 선사할 스피드 액션에 대한 기대감을 증폭시키고 있다.

한편, '손목에 채워진 시한폭탄, 차에서 10m 이상 절대 떨어지지 마라!'는 경고 문구는 그 어떤 장애물 앞에서도 완벽한 임무 수행 능력을 보여줬던 '프랭크 마틴'에게 닥친 사상 최대의 위험을 예고. 생존을 위해 광속의 게임에 임할 수 밖에 없는 그의 절박한 상황과 더불어 영화 속 긴박함과 긴장감의 스릴을 배가 시킨다.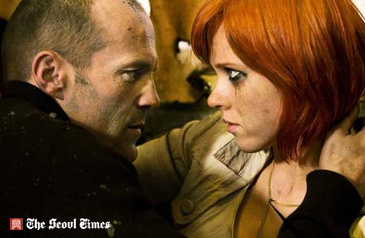 Transporter 3 (트랜스포터:라스트미션)


Cast & Crew

원제: TRANSPORTER3
각본: 뤽 베송
감독: 올리베에 메가턴
출연: 제이슨 스타뎀, 프랑시스 베르린드, 로버트 네퍼
장르: 익스트림 액션
제작국: 프랑스
수입: 플래니스 엔터테인먼트
배급: (주)시너지
개봉예정일 : 2009년 1월 8일



홈페이지: www.transporter3film.com
ST Photo Gallery
Photo News
Embassy Events
Econo People 2005
Fashion Images
New Movies
Travel Images
Nayan Sthankiya's Photo Features New
Abuses of Iraqi Prisoners of War
Academy Awards Photos 2004
Adolf Hitler
Aishwarya Rai-Indian actress
Buddha`s Birthday 2004
Cannes 2004 — 57th Cannes Film Festival
Choi Tae-Ji Photo Gallery
Comfort Woman Picture Gallery
Crown Prince Felipe of Spain
Dokdo Photo Gallery
Erotic Paintings of Hyewon and Danwon
Franz`s Art Exhibition
Gando Photo Gallery
Geisha in Japan
Gwangju Massacre
Jeju Island
Kim Jong-Il and Kim Il-Sung
Koguryo Murals
Korean War (1950-53)
Madonna
Miss Universe 2004
Miss World Contest 2003
Mt. Kumkang or Mt. Diamond New
Natural Beauty of Korea
Rape of Nanjing (Nanjing Massacre)
Rio Carnival 2004
Ronald Reagan`s Life in Pictures
ST Family
Sonia Gandhi and Gandhi Clan
Taj Mahal Photo Gallery
Ukrainian Embassy
World War Two
Photo Gallery of World Newspapers/Media
Times of India
Hindustan Times
SantaBanta.com
Straights Times (Singapore)
Chicago Sun-Times
Moscow Times