New Movies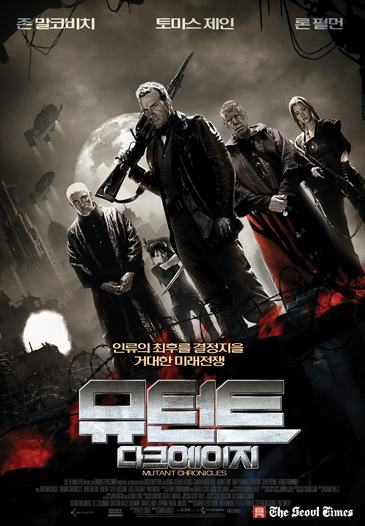 The Mutant Chronicles (뮤턴트 : 다크 에이지)Synopsis

It's the year 2707. Earth's natural resources have been exhausted by mankind. Battle rages between the soldiers of four leading Corporations: the Capitol, Bauhaus, Mishima and Imperial.

Mitch Hunter and Nathan Rooker, battle hardened Capitol soldiers, fight a desperate battle against a Bauhaus advance. When an errant shell destroys an ancient stone seal, they find themselves facing a new enemy: hideous necromutants, with boneblades that grow from their arms. Mitch barely manages to escape. Nathan does not.

The mutants multiply by millions and they destroy all before them. The Corporations' leader, Constantine, is about to abandon the planet and leave countless innocents to their desperate fate, when he is approached by Brother Samuel, leader of the Brotherhood, an ancient monastic order.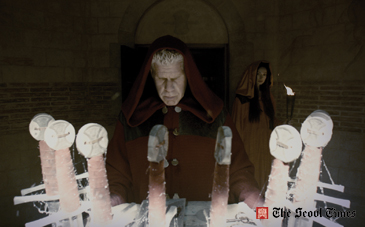 The Mutant Chronicles (뮤턴트 : 다크 에이지)


About the Movie

Mutant Chronicles is an independent sci-fi action film directed by Simon Hunter and starring Thomas Jane and Ron Perlman. The film has been released throughout Europe in an unfinished form, but has yet to be released in the U.S.

A science-fiction epic set 300 years in the future, The Mutant Chronicles is by far the silliest film I've seen at the festival thus far. Kicking off with scene-after-seen of exposition (never a good thing in an a action pic) the film takes place a near post apocalyptic earth which has been decimated by decades of war and pollution. Four giant corporations now control the planet, and their actions awaken a malevolent evil from the underworld.

The result is that an army of mutant demons spring forth from the ground, hell-bent on wiping out what is left of man. And that's just the first 15 minutes.

The rest of the film sees a monk (Ron Perlman) and a soldier (Thomas Jane) assembling a crack team of commandoes to travel into the heart of darkness to destroy the machine that is spewing forth said mutants.

Cast & Crew

Director: Simon Hunter
Writer: Philip Eisner
Starring: Thomas Jane, Ron Perlman, Devon Aoki, John Malkovich
Genre: Action, Adventure, Sci-Fi
Country: USA
Language: English
Release Date: Jan. 8, 2009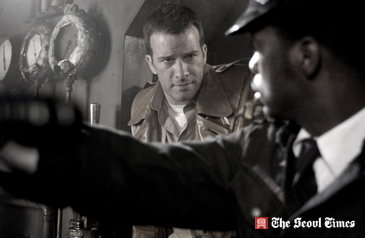 The Mutant Chronicles (뮤턴트 : 다크 에이지)


Synopsis

서기 2707년, 암흑의 시대,
인류 최후의 전쟁이 시작된다!!

서기 28세기. 빈번한 전쟁으로 황폐해진 지구에 4개의 대륙만이 살아남아 지구의 마지막 지하자원을 차지하기 위한 전쟁이 시작된다.
격렬한 전투가 벌어지던 어느 날, 지하 깊숙이 숨겨져 있던 어둠의 문이 열리고 정체불명의 뮤턴트들이 쏟아져 나온다. 그들의 쉴 새 없는 공격으로 전쟁터는 아수라장이 되고 이제 인류의 미래는 새 국면을 맞이한다.

더 이상 머물 수 없게 되어버린 지구. 고대 예언에 따라 모인 8인의 전사들. 인류의 생존을 결정할 최후의 미래전쟁이 지금 시작된다!

About the Movie

당신이 상상한 미래를 뒤엎는 초대형 SF액션
스펙터클한 액션과 새롭게 선보이는 '스팀펑크' 스타일의 미래세계!!
<뮤턴트: 다크에이지>에 남성 관객층 기대 폭주!!

<뮤턴트:다크에이지>는 지하 깊숙이 봉인되어 있던 '머신'에서 쏟아져 나온 '뮤턴트'들과 예언에 따라 조직된 8인의 전사가 벌이는 인류 최후의 전쟁을 그린 작품. 지난 주 개봉일을 확정 지은 후 연이어 포스터와 예고편이 공개되며 네티즌의 호기심을 자극, 각 포털 사이트 개봉예정작 순위 상위를 점령하며 폭발적인 관심을 불러일으키고 있다.

당신이 상상한 미래를 뒤엎는 초대형 SF 액션 블록버스터!
<뮤턴트: 다크에이지> 2009년 1월 8일 대개봉!!

<미스트>의 토마스 제인, <헬보이> 시리즈의 론 펄먼, <베오울프>의 존 말코비치 등 최고의 배우들이 총출동해 긴장감 넘치는 초특급 액션을 선보일 영화 <뮤턴트: 다크에이지>. 영국의'잭 스나이더'라 불리는 사이먼 헌터 감독이 창조해 낸 독특하고 스타일리시한 '스팀펑크(steampunk)'스타일의 새로운 미래세계 위에서 펼쳐질 뮤턴트와 인류의 최후의 전쟁은 2009년 1월 8일 스크린에서 만날 수 있다.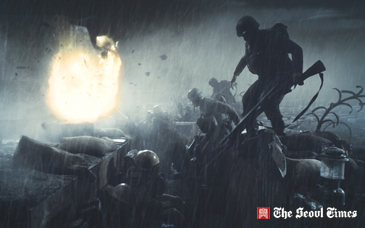 The Mutant Chronicles (뮤턴트 : 다크 에이지)


Cast & Crew

원제: The Mutant Chronicles
감독: 사이먼 헌터
출연: 토마스 제인, 존 말코비치, 론 펄만, 데본 아오키, 숀 퍼트위
장르: SF, 액션, 블록버스터
제작사: 패러독스 엔터테인먼트
배급사: N.E.W.
제작국: 미국
등급: 청소년 관람불가
개봉예정일: 2009년 1월 8일



홈페이지: www.mutantchroniclesthemovie.com
ST Photo Gallery
Photo News
Embassy Events
Econo People 2005
Fashion Images
New Movies
Travel Images
Nayan Sthankiya's Photo Features New
Abuses of Iraqi Prisoners of War
Academy Awards Photos 2004
Adolf Hitler
Aishwarya Rai-Indian actress
Buddha`s Birthday 2004
Cannes 2004 — 57th Cannes Film Festival
Choi Tae-Ji Photo Gallery
Comfort Woman Picture Gallery
Crown Prince Felipe of Spain
Dokdo Photo Gallery
Erotic Paintings of Hyewon and Danwon
Franz`s Art Exhibition
Gando Photo Gallery
Geisha in Japan
Gwangju Massacre
Jeju Island
Kim Jong-Il and Kim Il-Sung
Koguryo Murals
Korean War (1950-53)
Madonna
Miss Universe 2004
Miss World Contest 2003
Mt. Kumkang or Mt. Diamond New
Natural Beauty of Korea
Rape of Nanjing (Nanjing Massacre)
Rio Carnival 2004
Ronald Reagan`s Life in Pictures
ST Family
Sonia Gandhi and Gandhi Clan
Taj Mahal Photo Gallery
Ukrainian Embassy
World War Two
Photo Gallery of World Newspapers/Media
Times of India
Hindustan Times
SantaBanta.com
Straights Times (Singapore)
Chicago Sun-Times
Moscow Times