New Movies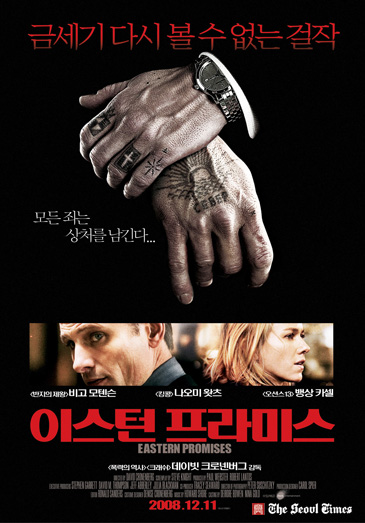 Eastern Promises (이스턴 프라미스)Synopsis

The mysterious and charismatic Russian-born Nikolai Luzhin (Mr. Mortensen) is a driver for one of London's most notorious organized crime families of Eastern European origin. The family itself is part of the Vory V Zakone criminal brotherhood. Headed by Semyon (Academy Award nominee Armin Mueller-Stahl), whose courtly charm as the welcoming proprietor of the plush Trans-Siberian restaurant impeccably masks a cold and brutal core, the family's fortunes are tested by Semyon's volatile son and enforcer Kirill (Vincent Cassel), who is more tightly bound to Nikolai than to his own father.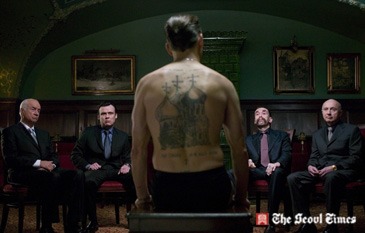 Eastern Promises (이스턴 프라미스)


About the Movie

Eastern Promises is a 2007 crime drama film directed by David Cronenberg, from a screenplay written by Steven Knight.

The film premiered September 8, 2007 at the Toronto International Film Festival, September 20, 2007 in Europe at the San Sebastian International Film Festival and went on general release in North America on September 21, 2007. The film was released in the United Kingdom on October 26, 2007. As of January 31, 2008, the film has grossed $51,202,291 worldwide and has received a positive critical reception, appearing on several US critics' "top ten films" lists for 2007. Eastern Promises has won several awards, including the Audience Prize for best film at the Toronto International Film Festival and the Best Actor award for Mortensen at the 2007 British Independent Film Awards. The film received twelve Genie Award nominations, three Golden Globe Award nominations, and Mortensen was nominated for Best Actor at the 80th Academy Awards, losing to Daniel Day-Lewis.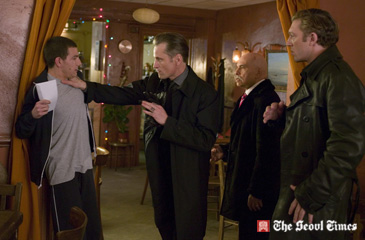 Eastern Promises (이스턴 프라미스)


Cast & Crew

Director: David Cronenberg
Writer: Steven Knight (screenplay)
Cast: Viggo Mortensen, Naomi Watts,
Vincent Cassel, Armin Mueller-Stahl
Genre: Crime, Drama, Mystery, Thriller
Release Date: 11 December 2008
Awards: Nominated for Oscar,
Another 19 wins & 34 nominations
Language: English

Synopsis

런던의 한 병원에서 근무하는 간호사 안나(나오미 왓츠)는 14살의 러시아 소녀가 아이를 낳고 죽는 것을 목격하게 된다. 아기의 연고를 찾아주기 위해 소녀가 남긴 일기장에 쓰여진 곳으로 무작정 찾아간 그녀는 그곳에서 러시아 마피아 조직의 운전수인 니콜라이(비고 모텐슨)를 만나게 된다. 운명적으로 서로에게 끌린 두 사람은 함께 아이의 가족을 찾아가고 그 과정에서 소녀의 죽음이 보스의 아들 키릴(뱅상 카셀)때문에 위기에 처한 조직과 연관이 있음을 알게 된다. 비밀을 파헤칠수록 그들의 신변은 위험해지고, 마침내 그들은 죽은 소녀와 관련된 충격적인 진실과 만나게 되는데...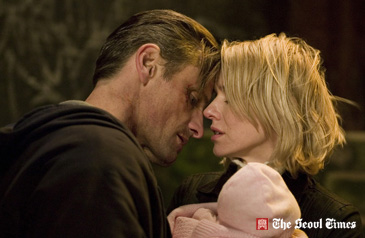 Eastern Promises (이스턴 프라미스)


About the Movie

모든 죄는 상처를 남긴다.

우연히 목격한 14살 소녀의 죽음으로 러시아 거대 마피아의 비밀을 파헤치게 된 여인(나오미 왓츠)과 그녀를 사랑하게 된 조직원 (비고 모텐슨) 의 위험한 동행을 그린 범죄 스릴러.

<크래쉬><스파이더> 등 인간의 외면과 내면을 통한 인간심리의 근원을 탐구하며 독보적인 세계관을 구축한 거장 데이빗 크로넨버그의
<폭력의 역사> 에 이은 폭력미학 2부작의 완결판

<반지의 제왕> '아라곤' 으로 익숙한 배우이자 크로넨버그 감독과 전작을 함께하며 감독의 페르소나로 떠오른 비고 모텐슨은 이번 작품을 통해 완벽한 연기로 올해 아카데미 남우주연상에 노미네이트된 바 있다. 또한 나오미 왓츠는 특유의 눈부신 아름다움과 지성미를, 뱅상 카셀은 관객들의 뇌리에 각인되는 신들린 연기를 선사한다.

결코 놓쳐서는 안될 영화사 빛나는 명 장면!

특히 <이스턴 프라미스> 에는 영화사에 영원히 회자될 화제의 명 장면 '욕탕 결투씬'이 등장한다. 실오라기 하나 걸치지 않은 비고 모텐슨과 그를 암살하려는 두 명의 조직원과의 대결을 보여주는 '욕탕 결투씬'은 보지 않고는 믿을 수 없는 충격적인 강렬함으로 인해 영화사에 길이 남을 명 장면으로 손꼽히고 있다. 절정에 오른 감독의 연출력과 배우들의 빛나는 조합, 강렬한 스토리 전개 등이 관객들의 입소문을 이끌어 내며 박스오피스 상위권을 점령하고, "엄청나게 강력한 범죄 스릴러"라는 평을 받으며 미국 평론가협회가 뽑은 '2007 최고의 범죄영화 TOP10'에 선정되었다.



Cast & Crew

감독: 데이빗 크로넨버그
출연: 비고 모텐슨, 나오미 왓츠, 뱅상 카셀, 아민 뮐러 스탈
장르: 범죄, 스릴러
제작사: BBC 필름스, 포커스 피쳐스
제작국: 미국
개봉예정일: 2008년 12월 11일

홈페이지: http://www.focusfeatures.com/easternpromises
ST Photo Gallery
Photo News
Embassy Events
Econo People 2005
Fashion Images
New Movies
Travel Images
Nayan Sthankiya's Photo Features New
Abuses of Iraqi Prisoners of War
Academy Awards Photos 2004
Adolf Hitler
Aishwarya Rai-Indian actress
Buddha`s Birthday 2004
Cannes 2004 — 57th Cannes Film Festival
Choi Tae-Ji Photo Gallery
Comfort Woman Picture Gallery
Crown Prince Felipe of Spain
Dokdo Photo Gallery
Erotic Paintings of Hyewon and Danwon
Franz`s Art Exhibition
Gando Photo Gallery
Geisha in Japan
Gwangju Massacre
Jeju Island
Kim Jong-Il and Kim Il-Sung
Koguryo Murals
Korean War (1950-53)
Madonna
Miss Universe 2004
Miss World Contest 2003
Mt. Kumkang or Mt. Diamond New
Natural Beauty of Korea
Rape of Nanjing (Nanjing Massacre)
Rio Carnival 2004
Ronald Reagan`s Life in Pictures
ST Family
Sonia Gandhi and Gandhi Clan
Taj Mahal Photo Gallery
Ukrainian Embassy
World War Two
Photo Gallery of World Newspapers/Media
Times of India
Hindustan Times
SantaBanta.com
Straights Times (Singapore)
Chicago Sun-Times
Moscow Times