New Movies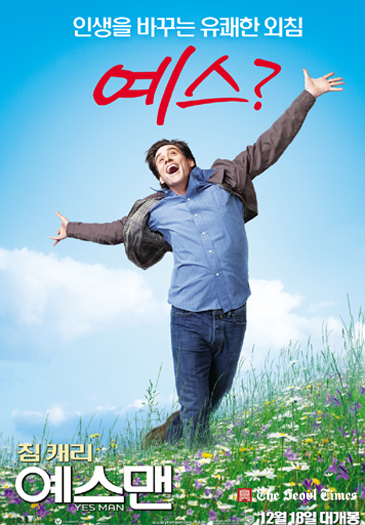 Yes Man (예스맨)Synopsis

"Yes Man" is the story of what happened when Danny decided to say yes to everything, in order to make his life more interesting. And boy, did it get more interesting.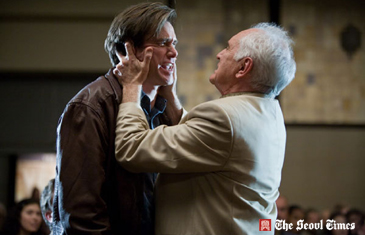 Yes Man (예스맨)


About the Movie

Jim Carrey is receiving no money upfront for his role in the movie. He will instead be paid based on the movie's success. During shooting of a scene where Carrey's character bungee jumps off a bridge, Carrey asked to do the stunt himself. Carrey stated to the stunt double that he intended to do it in one take. When he jumps off, he is seen taking out a cell phone for the scene. The film's soundtrack will feature original music by Munchausen by Proxy, the band to which Jim Carrey's character is incessantly invited to see by an over-eager manager/street promoter. Along with female lead Zooey Deschanel, the fictional Munchausen by Proxy was created by Von Iva. The San Francisco-based all-girl power trio of vocals, keyboards and drums were hired to collaborate with the actress to write and perform the original songs and stylized aesthetic of the group for this pivotal scene.

Cast & Crew

Directed by Peyton Reed
Produced by Jim Carrey, David Heyman, Richard D. Zanuck
Written by Nicholas Stoller, Jarrad Paul, Andrew Mogel
Starring Jim Carrey, Terrence Stamp, Slim Khezri,
Zooey Deschanel, Bradley Cooper, Rhys Darby, Danny Masterson
Editing by Craig Alpert
Distributed by Warner Bros.
Cinematography: Robert D. Yeoman
Release date(s): December 19, 2008
Country: United States
Language: English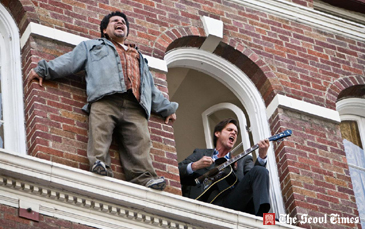 Yes Man (예스맨)


Synopsis

인생이 뒤바뀌는 유쾌한 외침 'YES'! 그런데 하늘이 무너져도 'YES'?

대출회사 상담 직원 칼 알렌(짐 캐리)은 'NO'라는 말을 입에 달고 사는 매사 부정적인 남자. 하지만 친구의 권유로 '인생역전 자립프로그램'에 가입하면서 그의 인생이 180도 뒤바뀐다! '긍정적인 사고가 행운을 부른다'는 프로그램 규칙에 따라 모든 일에 'YES'라고 대답하기로 결심하고 '뭐든지 할 수 있다'는 자세로 새로운 일에 도전하는 칼. 번지점프 하기, 한국어 수업 듣기, 모터사이클 타기, 남의 인생 간섭하기, 온라인으로 데이트상대 정하기...정말로 'YES'라고 대답하니 지루했던 예전의 일상과 달리 인생이 너무나 유쾌하다. 하지만 이 남자, 접수되는 대출 신청서류마다 YES, 구매강요 온라인 쇼핑몰 메일에도 YES, 만나자는 여자들의 전화에도 YES, 무조건 YES를 남발하고. 정말 이렇게 'YES' 해도 되는 걸까?

About the Movie

짐 캐리, 사실 예전부터 한국 팬!

어제(4일) 포털 사이트에서 짐 캐리가 <예스맨>에 출연해 한국어를 한다는 사실이 알려지면서 네티즌들의 폭발적인 반응에 힘입어 온라인을 뜨겁게 달궜다. 평균의 6배 이상의 클릭율을 기록한 것. 실제로 영화 속에서 짐 캐리는 유창하진 않지만 자신만만한 자세로 한국어 대사에 도전, 네티즌들의 기대를 저버리지 않을 것이다. 모든 일에 무조건 '예스'를 외치며 삶을 긍정적으로 바꾸기 위해 '뭐든지 할 수 있다'는 자세로 새로운 일에 도전하는데 그 중 한국어를 배우게 된다. 뿐만 아니라 <예스맨>에는 한국계 여배우 비비안 방이 '수미'라는 배역으로 등장하는 등 여러모로 한국과 관계가 많아 국내 팬들의 많은 호응을 얻을 것으로 기대된다. 사실 짐 캐리는 예전부터 한국을 사랑하는 원조 한류 마니아이다.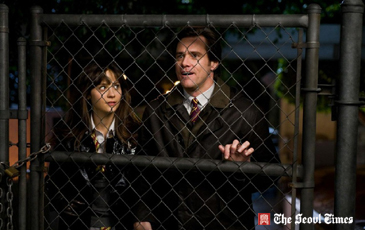 Yes Man (예스맨)


할리우드 속 달라진 한국의 위상!

할리우드 톱스타가 영화 속에서 한국어를 한다는 설정은 할리우드에서 한국의 위상이 그만큼 높아졌다는 것을 의미한다. 예전 할리우드 영화 속에서 그려지는 한국, 한국인의 이미지가 간혹 왜곡되어 문제를 일으켰던 것이 사실. 하지만 이제 한국은 비하의 대상이 아니라 어깨를 나란히 하는 주요 등장인물의 나라이거나 일본, 중국에 못지 않게 대표적인 동양문화를 가진 나라, 또한 최첨단 기술을 가진 나라로 묘사되고 있다. <로스트> 김윤진의 활약이나 <쿵푸팬더>의 한국식 젓가락 문화, <오션스 13> 등에 등장한 최첨단 한국기기 등 다양한 사례들이 이를 증명한다.

Cast & Crew

연출: 페이트 리드
각본: 대니 월레이스, 앤드류 모겔, 재러드 폴, 니콜라스 스톨러
출연: 짐 캐리, 주이 디샤넬
촬영: 로버트 D. 예먼
기획: 마티 P. 에윙
의상: 마크 브릿지
편집: 크레이그 엘퍼트
개봉예정일: 2008.12.18



홈페이지: http://wwws.kr.warnerbros.com/yesman
ST Photo Gallery
Photo News
Embassy Events
Econo People 2005
Fashion Images
New Movies
Travel Images
Nayan Sthankiya's Photo Features New
Abuses of Iraqi Prisoners of War
Academy Awards Photos 2004
Adolf Hitler
Aishwarya Rai-Indian actress
Buddha`s Birthday 2004
Cannes 2004 — 57th Cannes Film Festival
Choi Tae-Ji Photo Gallery
Comfort Woman Picture Gallery
Crown Prince Felipe of Spain
Dokdo Photo Gallery
Erotic Paintings of Hyewon and Danwon
Franz`s Art Exhibition
Gando Photo Gallery
Geisha in Japan
Gwangju Massacre
Jeju Island
Kim Jong-Il and Kim Il-Sung
Koguryo Murals
Korean War (1950-53)
Madonna
Miss Universe 2004
Miss World Contest 2003
Mt. Kumkang or Mt. Diamond New
Natural Beauty of Korea
Rape of Nanjing (Nanjing Massacre)
Rio Carnival 2004
Ronald Reagan`s Life in Pictures
ST Family
Sonia Gandhi and Gandhi Clan
Taj Mahal Photo Gallery
Ukrainian Embassy
World War Two
Photo Gallery of World Newspapers/Media
Times of India
Hindustan Times
SantaBanta.com
Straights Times (Singapore)
Chicago Sun-Times
Moscow Times