New Movies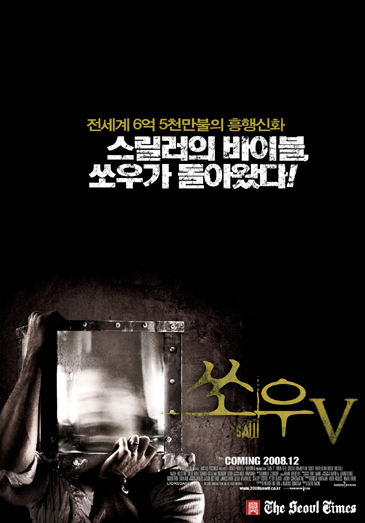 Saw V (쏘우 V)Synopsis

A man named Seth (Joris Jarsky) is in a trap which has a pendulum blade suspended above his body. Seth was a murderer released early from a life sentence on a technicality. He is told to push buttons inside of two devices, his hands will be crushed but the pendulum will be stopped. Reluctantly he does push the buttons but the pendulum descends upon him regardless and cuts him in two, meaning the trap was inescapable, and therefore not one that had been set by Jigsaw.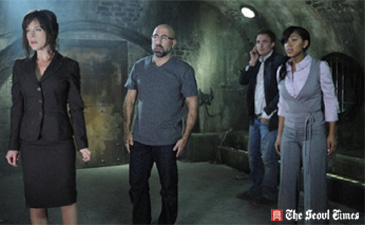 Saw V (쏘우 V)


About the Movie

Saw V was written by Patrick Melton and Marcus Dunstan, and the film went into production after Christmas 2007. Filming began on March 17, 2008 in Toronto, and principal photography concluded on April 28, 2008. Saw V finished filming by May 2, 2008 and had started post-production. By mid-July 2008, there had been three photos released of David Hackl at the set of Saw V. The first trailer, depicting Agent Strahm's box trap, was released at Comic-Con 08 as a short clip and the trailer was also shown before The X-Files: I Want to Believe. The website opened on August 6, 2008 but only led to the teaser trailer after filling out the basic information chart. On September 17, 2008, a new clip was available on the Saw V website, depicting the Pendulum Trap. Starting on September 29, 2008, MySpace began posting advertisements on their website about the movie. Also on September 29, 2008, the website officially opened with other features besides just the trailer. During October, several new clips from Saw V were also released on the internet, one depicting a flashback featuring Hoffman, strapped to a chair with a shotgun pointing to his head, conversing with Jigsaw about Seth, the man in the Pendulum Trap. The other released clip features five people in a room where they are placed in a connected trap while Billy the puppet appears on screen, explaining the rules.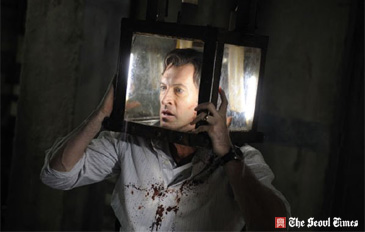 Saw V (쏘우 V)


Cast & Crew

Directed by David Hackl
Produced by Mark Burg, Oren Koules
Written by Patrick Melton, Marcus Dunstan
Starring Tobin Bell, Julie Benz, Meagan Good,
Costas Mandylor, Scott Patterson, Betsy Russell
Music by Charlie Clouser
Cinematography David Armstrong
Editing by Kevin Greutert
Distributed by Lionsgate
Release date(s) United States:October 24, 2008,
Running time 88 minutes
Country United States
Language English
Gross revenue $30 Million [2]
Preceded by Saw IV
Followed by Saw VI

Synopsis

직쏘가 죽고난 후 직쏘의 뒤를 이은 호프만은 사라졌다. 병원에서 치료 중인 여형사 페레즈는 갑자기 사라져버렸고 다른 곳에서 깨어나 새로운 일을 하게 된다. 페레즈는 그녀 자신에게 주어진 시간이 있음을 듣고 자신을 입원시킨 호프만을 찾으려한다. 페레즈는 마침내 스트라움 형사를 만나게 된다. 그둘은 호프만의 행동을 얘기하게 되는데...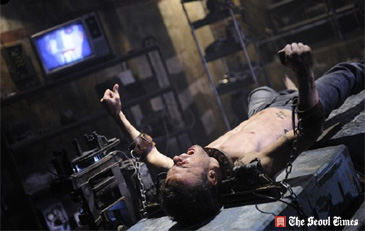 Saw V (쏘우 V)


About the Movie

입소문만으로 뒤집었다!
<쏘우V> 개봉 3일 만에 평일 박스오피스 1위 탈환!

지난 10월 24일 할로윈 시즌 전미 개봉한 <쏘우V>는 상대적으로 스크린수의 열세함에도 불구하고 (<쏘우V> 3,060개 스크린, <하이 스쿨 뮤지컬 3> 3,623개 스크린) 3000만 불이라는 놀라운 흥행 수익과 박스 오피스 2위를 차지 다시 한번 흥행 스릴러 작품으로 저력을 과시했었다. 개봉 3일 만에 총 제작비의 3배나 되는 흥행 수익을 기록한 것이다. 하지만 이는 전초전에 불과한 것, 주말 이후 <맘마미아> <헤어 스프레이>의 오프닝 기록을 갈아치우며 흥행 돌풍을 일으킨 월트 디즈니사의 인기 프랜차이즈 영화 <하이 스쿨 뮤지컬 3>를 꺾고, <쏘우V>가 지난 10/27(월), 10/28(화), 10/29(수) 모두 평일 흥행 수익 1위 역전극을 펼쳤다. 이는 영화 관람 후 입소문을 타고 평일에 관객이 증가한 것으로 이러한 결과는 <쏘우V>가 상상을 뒤엎는 치밀한 시나리오와 빠른 속도로 전개되는 진행 등으로 인해 역시 스릴러의 바이블로서 영화팬들을 사로잡은 것으로 평가된다. 이는 '쏘우' 시리즈의 흥행 신화에 또 하나의 기록을 남기며 역시 '쏘우' 다운 영화 외적인 충격으로 받아들여지고 있다.

흥행에 또 하나의 신화를 남긴 <쏘우V>

스릴러로서는 시도되지 않았던 후속편의 연속 기획 그리고 쏘우 스타일의 유사품들까지 만들어내고 있는 명실상부 1년에 단 한번 만날 수 있는 축제이자 전세계에서 흥행 기록 행진을 펼치고 있는 <쏘우V>는 국내 12월 4일 개봉을 확정 지으며 수많은 영화팬들을 설레게 하고 있다



Cast & Crew

제 목 : <쏘우V>(Saw V, 쏘우 브이)
주 연 : 토빈 벨, 스콧 패터슨 외
감 독 : 데이빗 해클
장 르 : 스릴러
수입/배급 : ㈜성원아이컴
미국개봉 : 2008년 10월 24일
한국개봉 : 2008년 12월 4일 개봉 예정
ST Photo Gallery
Photo News
Embassy Events
Econo People 2005
Fashion Images
New Movies
Travel Images
Nayan Sthankiya's Photo Features New
Abuses of Iraqi Prisoners of War
Academy Awards Photos 2004
Adolf Hitler
Aishwarya Rai-Indian actress
Buddha`s Birthday 2004
Cannes 2004 — 57th Cannes Film Festival
Choi Tae-Ji Photo Gallery
Comfort Woman Picture Gallery
Crown Prince Felipe of Spain
Dokdo Photo Gallery
Erotic Paintings of Hyewon and Danwon
Franz`s Art Exhibition
Gando Photo Gallery
Geisha in Japan
Gwangju Massacre
Jeju Island
Kim Jong-Il and Kim Il-Sung
Koguryo Murals
Korean War (1950-53)
Madonna
Miss Universe 2004
Miss World Contest 2003
Mt. Kumkang or Mt. Diamond New
Natural Beauty of Korea
Rape of Nanjing (Nanjing Massacre)
Rio Carnival 2004
Ronald Reagan`s Life in Pictures
ST Family
Sonia Gandhi and Gandhi Clan
Taj Mahal Photo Gallery
Ukrainian Embassy
World War Two
Photo Gallery of World Newspapers/Media
Times of India
Hindustan Times
SantaBanta.com
Straights Times (Singapore)
Chicago Sun-Times
Moscow Times