New Movies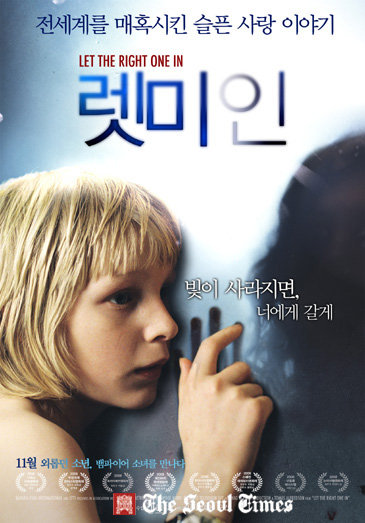 Let The Right One In (렛 미 인)Synopsis

Oskar is a 12-year-old-boy who is being bullied at school. He befriends a mysterious girl, Eli, who moves in next door with her father Håkan. In the course of the story the reader finds out all is not what it seems. Eli is really a vampire and her "father" supplies her with fresh blood by murdering young boys. As Oskar gradually begins to understand who Eli really is, the bond between them grows stronger. Eli teaches him to stand up to his bullies and Oskar grows increasingly fond of her.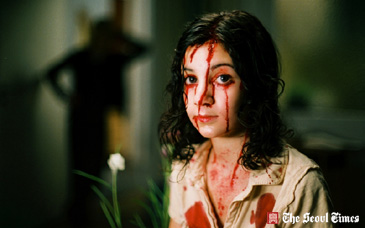 Let The Right One In (렛 미 인)


About the Movie

Let the Right One In received its first performance at the Göteborg International Film Festival in Sweden on 26 January 2008 where Alfredson won the Festival's Nordic Film Prize. It subsequently played at several other film festivals, including the Tribeca Film Festival in New York on 24 April 2008 where it won the Founders Award for Best Narrative Feature, the Edinburgh Film Festival on 25 Jun 2008 where it won the Rotten Tomatoes Critical Consensus Award, and the Neuchâtel International Fantastic Film Festival in Switzerland on 3 July 2008 where it won the Méliès d'Argent (Silver Méliès). It was released on 24 October 2008 in Sweden, Norway and as a limited release in the United States where it received an R rating for "for some bloody violence including disturbing images, brief nudity and language".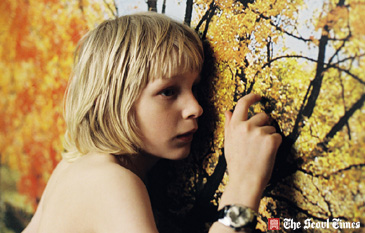 Let The Right One In (렛 미 인)


Cast & Crew

Directed by Tomas Alfredson
Produced by Carl Molinder, John Nordling
Written by John Ajvide Lindqvist (based on his novel)
Starring Kåre Hedebrant, Lina Leandersson, Per Ragnar
Music by Johan Söderqvist
Cinematography Hoyte van Hoytema
Editing by Tomas Alfredson, Daniel Jonsäter
Distributed by Magnolia Pictures (US), Sandrew Metronome (Scandinavia)
Release date(s) 24 October 2008 (NO, SE, US)
Running time 114 min.
Country Sweden
Language Swedish

Synopsis

빛이 사라지면, 너에게 갈게

못된 아이들의 괴롭힘에 시달리는 외로운 소년 오스칼은 어느 눈 내리던 밤, 창백한 얼굴을 한 수수께끼의 소녀 이엘리를 만난다. 둘은 곧 서로에게 하나밖에 없는 친구가 되고, 어느 새 가슴 설레는 감정이 싹튼다. 하지만 이엘리의 등장 이후 마을에서 피가 모두 사라진 채 죽임 당하는 기이한 사건이 계속되고, 비상한 두뇌의 오스칼은 그녀가 뱀파이어라는 사실을 눈치 채는데...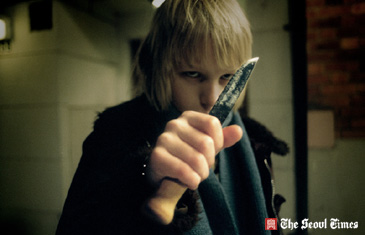 Let The Right One In (렛 미 인)


About the Movie

북유럽에서 찾아낸 금발의 미소년!
<렛 미 인> 카레 헤데브란트

눈처럼 하얀 피부, 모래같이 빛나는 금발의 미소년이 무서운 목소리로 읊조리며, 나무를 찌르고 있다. 언밸런스하고 충격적인 영상으로 시작하는 <렛 미 인>은 차가운 북유럽 정취를 배경으로 외로운 소년과 뱀파이어 소녀의 안타까운 사랑을 그린 영화이다. 흥미로운 스토리와 감각적인 영상미, 빼어난 작품성으로 전세계를 휩쓸고 있는 화제작 <렛 미 인>이 주목 받는 또 다른 이유는 바로 주인공 오스칼을 연기한 아역배우 '카레 헤데브란트'이다. 1년이 넘은 오디션 끝에 치열한 경쟁을 뚫고 캐스팅된 카레 헤데브란트는 첫 영화출연과13살의 어린 나이에도 불구하고 뛰어난 캐릭터 이해력으로 가슴 속에 복수를 품은 여린 소년 오스칼을 완벽하게 표현해냈다. 또한 영하 30도까지 내려가는 혹독한 추위 속에서도 아이답지 않은 인내심으로 힘든 촬영을 견뎌내기도 했다. 반 친구들로부터 괴롭힘을 당하던 약한 아이였던 오스칼은 뱀파이어 소녀 이엘리를 만나면서 자신과 사랑하는 소녀를 지키기 위해 강하게 변해가는데, 카레 헤데브란트는 빼어난 표정연기와 감성으로 캐릭터의 성장을 표현해냈다. 감탄이 절로 나는 완벽한 외모에 연기력까지 갖춘 북유럽의 천재아역배우 카레 헤데브란트는 11월 13일 <렛 미 인> 개봉을 통해, 대한민국 최고 완소남으로 떠오를 것으로 기대된다.

Cast & Crew



타이틀: 렛 미 인
원제: Lat Den Ratte Komma In
원작: 욘 린퀴비스트 'Let the right one in'
수입: ㈜데이지엔터테인먼트
배급: ㈜영화사 구안
감독: 토마스 알프레드슨
출연: 카레 헤데브란트, 리나 레안데르손
국내 개봉: 2008년 11월 13일
장르: 잔혹 러브스토리
런닝타임: 110분
관람등급: 15세이상관람가예정

홈페이지: http://www.daisyent.co.kr
ST Photo Gallery
Photo News
Embassy Events
Econo People 2005
Fashion Images
New Movies
Travel Images
Nayan Sthankiya's Photo Features New
Abuses of Iraqi Prisoners of War
Academy Awards Photos 2004
Adolf Hitler
Aishwarya Rai-Indian actress
Buddha`s Birthday 2004
Cannes 2004 — 57th Cannes Film Festival
Choi Tae-Ji Photo Gallery
Comfort Woman Picture Gallery
Crown Prince Felipe of Spain
Dokdo Photo Gallery
Erotic Paintings of Hyewon and Danwon
Franz`s Art Exhibition
Gando Photo Gallery
Geisha in Japan
Gwangju Massacre
Jeju Island
Kim Jong-Il and Kim Il-Sung
Koguryo Murals
Korean War (1950-53)
Madonna
Miss Universe 2004
Miss World Contest 2003
Mt. Kumkang or Mt. Diamond New
Natural Beauty of Korea
Rape of Nanjing (Nanjing Massacre)
Rio Carnival 2004
Ronald Reagan`s Life in Pictures
ST Family
Sonia Gandhi and Gandhi Clan
Taj Mahal Photo Gallery
Ukrainian Embassy
World War Two
Photo Gallery of World Newspapers/Media
Times of India
Hindustan Times
SantaBanta.com
Straights Times (Singapore)
Chicago Sun-Times
Moscow Times